THE NATIVITY OF CHRIST – THEN AND NOW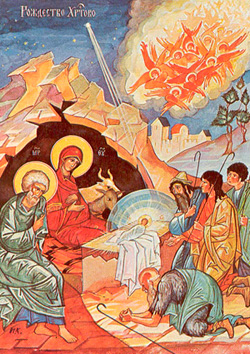 Over 2,000 years have now passed from the actual moment of the Nativity of Christ, from that turning point in human history when God Himself came down to earth and became man, fulfilling the promise given to Adam in the Garden of Eden concerning the coming of a Saviour into the world.
Our Lord Jesus Christ was not born in a palace, nor in a rich mansion, nor in circumstances of importance or grandeur, but in a dark humble cave used for sheltering animals. Near this cave noisily bustled the city of Bethlehem. In that year, over 2,000 years ago, Bethlehem was overflowing with people who had come to the city of their origin for the census. And all this multitude of people busily rushed around without even suspecting that the greatest miracle was taking place nearby – God Himself was coming down to earth and taking upon Himself the form of man.
And not far away, in Jerusalem, civil authority in the person of King Herod and religious authority in the person of the Jewish elders were rising up in arms against the Infant Christ. Fearing to lose his worldly power, Herod raged in his hatred of Christ and prepared to kill Him. The Jewish elders knew very well that the Messiah, the promised Saviour, had come, but in their vanity and their pride they rejected Him.
And thus the humble and unassuming cave of Bethlehem served to guard and protect the Infant Christ from everything that was taking place in the surrounding world. And in the dark cave itself, a great mystery was taking place: in this cave, filled with bright heavenly light and the singing of angels, the way back to paradise was opening up…
Over 2,000 years have passed, and we now find ourselves in similar but more terrible circumstances. Like the city of Bethlehem, modern mankind noisily bustles around, entirely submerged in secular life and not paying the least attention to the spiritual world alongside it. In our times, just as then, secular authority is up in arms against Christ, trying to kill Christ with persecution of Christianity, with abominable blasphemy, with desecration and revilement. Christ is being banished from all aspects of human life on earth. Christ is being eradicated from the souls and hearts of men. An attempt is being made to destroy His teaching and His Church through the terrible heresy of ecumenism. In our times, just as then, man's vain and proud mind is consciously rejecting Christ, giving itself over to all manner of false teachings and the satanic seduction of technetronic wizardry. And just as in those days the Infant Christ quietly stayed in the humble cave of Bethlehem, so He now quietly resides in the humble hearts of those who believe in Him.
But how can we find our way to this wondrous cave, so that the way to paradise would open up for us? The Church tells us that God came down to earth in order to raise us up to heaven. This means that in order to be able to rise to heaven, we must fulfill the conditions under which the Saviour came down to us. What are these conditions? We find them in the description of the Nativity of Christ. First of all, there is perfect humility. The Holy Scriptures tell us that God opposes the proud, but gives His grace to the humble. From His very nativity and throughout His entire life on earth, Christ Himself showed us the greatest example of humility. He was born in the humblest of circumstances, far from mankind's terrible vanity. Thus, if we want to be united with Christ, we must reject all pride and vanity, because we have nothing to boast of in the eyes of God, we have nothing of our own except our sins.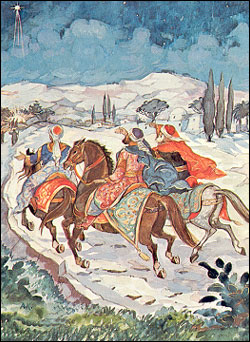 Secondly, the way to God is through purity of heart. In worldly terms it would have seemed proper, for example, that the first people to see the Infant Christ should be the guardians of religious law, i.e. the Pharisees and the Jewish elders. But their pride made them unworthy and, besides, as was already said, they had consciously rejected Christ and were even preparing to counteract Him. Thus the first people to see the Infant Christ after the Holy Virgin and the righteous Joseph were the shepherds, the humble, illiterate, but pure-hearted shepherds, in whom were quite literally fulfilled the words: "Blessed are the pure of heart, for they shall see God."
But some people may well ask in bewilderment: does God completely reject wealth, importance, wisdom, education? And in response to this we see the magi traveling to Jerusalem from far-away lands. They were wealthy, and important, and wise. In their own lands they were kings and astronomers. But they differed from the educated Pharisees and Jewish elders in that they united their great minds and their wisdom with ardent faith, with faith in what had been revealed to them by the bright star that had suddenly appeared in the skies – that God had come down to earth and that the King of the world was born. And this faith of the magi was so strong that they felt no embarrassment at finding the King of the world, the Lord God, in a dark and humble cave; instead, they knelt before Him in joy and awe, and gave Him their gifts – gold, and frankincense, and myrrh.
Let us fill our hearts with the humility of the Infant Christ, the innocence of the shepherds, and the faith of the magi. Then our hearts, too, will shine with the heavenly light and the spiritual joy of the cave of Bethlehem, and for us, too, will open up the way to paradise.
Christ is born – glorify Him!
HOMILY FOR THE FEAST OF THEOPHANY
«God is the Lord and hath appeared unto us». With these words we confess the mystery of God's incarnation, which was revealed only to the Mother of God in Christ's Nativity, and afterwards God became apparent to mankind through the shepherds and the magi.
Now Christ receives baptism in the waters of the river Jordan, in order to appear to all people and begin His service to them. This revelation is for the moment accorded only to John the Baptist, the greatest of all men born of women, the first prophet of the New Testament. And in this world which is buffeted by the winds of false teachings, where there are too many false prophets, too many lies, he stands firm as the prophet of truth, and even greater than a prophet.
The uniqueness of the prophecy of St. John the Baptist lies in the fact that he announces the coming of Christ. Moreover, he speaks to the people not of some distant future, but of that which will happen right at this moment, and which will be revealed to the people here and now. He prepares the people for this event by an appeal for repentance. The power of repentance to which John the Baptist summons everyone is determined by Christ's nearness to us, while the depth of repentance is known to John the Baptist more than to any other person, because from his own experience of prayer in the desert he learned how God reveals Himself. This appeal will sound for all people until the very end of time. And today we confess repentance as a second baptism.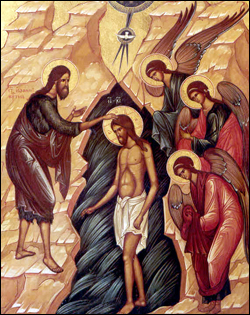 The feast of Theophany reminds us that in order to become Christian, and before receiving the Holy Mysteries and communing with the grace of the Holy Spirit, i.e. before seeing Christ come in the flesh, – we must repent."Repent ye, for the Kingdom of Heaven is at hand," – says the Forerunner.
And again we remind ourselves of the mystery of the Lord's Baptism. The Lord received baptism from John in order for all to know Him as true God and true Man; to know that He is the Son and has been given to us, as we sing at the compline of the feast, that He is the Son of God and the Son of Man. In the Lord's Baptism we come to know Him as true Man. In His Divinity, in His pre-eternal glory He has already accepted the consequences of His Incarnation, but it would have been unjust not to grant His human will, His human body the freedom to accept or reject the consequences of this choice. And here, at Jordan, Christ in His pure humanity accepts the calling to become one with all people, to become one with each one of us.
In His perfect love for us He decisively accepts that of which He has absolutely no need. He has no need whatsoever to be baptized with the baptism of repentance, since sin is completely absent in Him. And when John fearfully sees that the One Whom he is baptizing is Christ the Messiah, the Saviour of the world, – all concepts of human reasoning are turned upside down for the Baptist. And it is in the same manner that Christ – Who is life eternal, Who cannot therefore be subordinate to the natural law of death, – gives Himself over to crucifixion, rejecting His omnipotence and His perfection, in order to take upon Himself mankind's limitation to the very edge, to death itself.
This is the perfect love which the Lord reveals to us in His Baptism. And here we come to know Him as God. His Baptism was a full and perfect identification with the Kingdom which John was prophesying through his witness of the entire truth of the Heavenly Kingdom. And further, with the visible manifestation of the Spirit descending upon Him like a dove, we are given the assurance that Christ is King, the Anointed One, Who is coming into His Kingdom. And He is now coming not in the might of the Last Judgment, but with the meekness of a dove. «Behold, thy King is coming to thee meekly», – these are the words we will hear as He goes to His death. With the words "Here is My beloved Son, in Whom I am well-pleased" the King is revealed as the Son of God, as God. And as was said in the text of today's feast, as the people who came to Jordan entered the water, confessing their sins to John, they were cleansed of their sins, while the water became heavy with these sins. But afterwards Christ entered the water and went out of it, carrying upon His most-holy human body the entire burden of all human sins.
We celebrate this great event of our salvation in joy and hope, for we have been baptized with His baptism. And after the baptism, a path opens before Christ that leads Him to the Cross and the Resurrection. This is what the baptism of each one of us means. It leads both you and me, and all of us, together with Christ towards the Cross, and afterwards grants us Resurrection, but only if we retain this gift of the Lord. We must die for ourselves and arise from the dead for a new life in Christ. We come to Him such as we are – full of sin, but He does not allow us to remain so. The resurrected Christ will not accept anything less than making us part of the Divine life that had been poured out upon us in our baptism through the Holy Spirit.
As St. Seraphim of Sarov says, the grace of baptism is so great and so necessary, so life-giving to man, that no matter how low he may fall, it will not be taken away from him until his very death, i.e. until the time decreed for him from above by God's providence. This is what we are renewing today in our consciousness and in our life.
"Come all of ye," – says the Church to us today, – "all ye baptized, all ye unfaithful and semi-faithful, all ye who have traduced the holiness of baptism with your sins, all ye who calumniate God with your life and with the thought that it is impossible for Him to change anything. It is still not too late. Tomorrow, however, we will all stand before the judgment of Christ's love."
The power of God, which has been imprinted upon our souls and our bodies, is invincible. And whatever may happen to us, today let us turn towards genuine repentance. Let us participate in the daily struggle for the right to become such as we already are in Christ, in order for Christ's precious Kingdom, and power, and glory to become ours by His gift; and, by the grace of Christ, may each one of us who has received holy baptism be a beloved son of the Heavenly Father, in whom He will be eternally well-pleased. Amen.
HOMILY FOR THE MEETING OF THE LORD
Today's feast is the celebration of man's meeting with God. The entire meaning of our life lies in seeing Christ before our death, and in aspiring to this just as did the righteous Simeon, to whom the mystery of life and death was revealed in the Divine Infant – the mystery of God having to take on our death.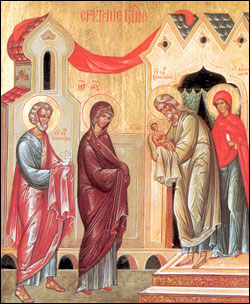 It is the chaste and holy Prophetess Anna who brings these terrible tidings to people by saying that the Infant Christ Who has come down to earth will take on death in order to give us life. To give us His life, so that we, too, would be able to give our entire selves to Him, give our whole life and even our death, just as He gives His entire self unto death for us. And this is what constitutes the Meeting of the Lord, i.e. our meeting with God. This is why the feast announces to us the prophecy that "behold, this Child is set for the fall and rising again of many…" (Luke 2:34). And towards the Mother of God are directed the words that "…a sword shall pierce through Her own soul also, – that the thoughts of many hearts may be revealed" (Luke 2:35).
A meeting with God is inescapable for every person, and it takes place here, on earth, before there is that other meeting – the final and eternal one. Everything in a person's life is decided in relation to the person's attitude towards Christ, and there can be no middle ground here: either we are with Christ our God, or we are against Him. This was revealed when the Lord was crucified upon the Cross, and continues to be revealed throughout the entire history of mankind. This will also be revealed when the Lord appears for His last meeting with us, to judge the whole world, so that some will always remain with Him, while others will be rejected. And here, too, there is no middle ground and cannot be any.
A great multitude of people turn from sinners into saints. To this day we see the miracle of the blind seeing, the deaf hearing, the lepers being cleansed, the poor rejoicing. This mystery, wherein Christ becomes the stumbling block and temptation for many, against which many stumble and fall, continues to exist to this day. And no one can say that he is able to bypass this stumbling block. Either it becomes the foundation of eternal life, or it will be a block against which the person will stumble and fall and be crushed.
Not a single person can remain neutral in regard to Christ, no matter what knowledge he may or may not have about Him. For a while, but only for a while one can refrain from participating in all that happened to Christ and shall be happening until His last hour, until the Second and glorious Coming of Christ. But the time is coming when our silence becomes participation in iniquity and lawlessness. This is what today's feast tells us. Even the people who appear to be outside the church, who appear to not even know Christ or have any wish to know Him, in reality participate in the meeting with Him.
Nowadays it is terrible to be indifferent, because unconcern and lack of feeling promote the lawlessness that is revealing itself more and more in the history of mankind. It is precisely due to indifference that the harshest tyrannies exist in the world, which always base themselves upon human unconcern, and their entire power rests upon it. If people were not indifferent and senseless, these tyrannies would never have been able to survive in all their cruelty.
In this life, even before death comes, every person is summoned to meet Christ, just as was the righteous Simeon. This constitutes the sole meaning of every person's life. But perhaps the most terrible thing is when a person, while still living on earth, through his own indifference dies a second death, as the Apocalypse tells us, even before his actual physical death comes. His soul becomes deadened, insensitive to good and evil, and thus he dies an eternal death – the death by which people are punished for the most terrible and unrepented sins.
All of this is happening throughout the entire history of mankind, among every people. With the Russian people this occurred quite recently, when Christ appeared in His Church for the rising of millions – in the glory of martyrdom, and the fall of millions – through their rejection of faith. And today, when insane iniquity and immorality are being cultivated among all of mankind, the choice between good and evil becomes even more marked, while the pressure of the evil forces surrounding every Christian is passing all boundaries. Today it is so precious and so important to stand firm in Christianity. More precious than ever before, because today evil is revealing itself in its entirety. We must stand firm. We must stand firm in our loyalty to Christ, otherwise there will be no meeting between mankind and God.
Today's feast tells us that the Lord summons all of us to stand on the side of Christ wherever His battle against evil and the devil is going on. And the Church joyously proclaims through the mouth of the righteous Simeon that salvation is opening up for all people. But only those will be saved who remain faithful to Christ, especially in our times, when everything is being done to prevent this.
We pray to the Lord and to the Mother of God for all people to be given this gift – to remain faithful to God and to await a meeting with Him. And amid the feast the Mother of God prays for all of us. Through great sorrows, through great suffering we and all those people who appeal to the Lord and for whom the Mother of God entreats are due to come to repentance, to the miracle of arising from our fall! But no matter how great these sorrows, may the Lord grant us a single wish for ourselves and for all people: that the sorrows serve to make our lives more profound and bring us closer to our meeting with God. And even death itself, no matter it what form it may be given to us, is the perfect revelation of this joyous meeting. Amen.
THRESHOLD OF THE GREAT LENT
Sunday of Zaccheus
A very moving story is presented to us in today's Gospel reading. In His last travel from Galilee (i.e. northern Palestine) to Jerusalem, the Lord approaches the city of Jericho, at the entrance to which He healed a blind beggar. The Jewish people, hearing that the Great Miracle-worker was coming in their direction, thronged towards Him. Together with this crowd came, or rather ran forward, a man by the name of Zaccheus, whom we are now commemorating.
His situation was highly ambiguous. On the one hand, he was an important personage in the city: he was the chief publican, or, in modern terms, the head of the internal revenue service, whom very many people outwardly admired, to whom the city administration pandered, and who was supported by the primary masters of the region – the powerful and proud Romans.
On the other hand, these same fellow-citizens hated Zaccheus with a burning hatred, regarding him as a renegade and betrayer of his people, and also a sinful man guilty of personal avarice and illegal gain at the expense of his compatriots.
But Zaccheus, taking advantage of the circumstances, wanted to see Christ, only to see Him.
It may be assumed that he was not propelled solely by curiosity, that he wanted to see Christ not only with his eyes, but also with his heart. However, his avid desire seemed unfulfillable, because he was short of stature and could not see through the crowd.
Without stopping to think, he forgets his age and his social standing, runs ahead along the route being followed by the Lord Christ and, like a street urchin, climbs up a tree. As he looks down, there before his eyes, against the vivid Mideastern panorama, appears the modest but majestic figure of Christ. Zaccheus froze, immersed in contemplating the God-man Christ. Thoughts chased each other like bees in his head. And then Christ came nearer and, passing over all the other people around Him, suddenly raised His head and said to Zaccheus: "Zaccheus, come down quickly, for today I must be at your house!"
Who and what words can describe the joy of Zaccheus! Even more so, the total upheaval within his soul.
But people are always people: they were not afraid to criticize even the Lord Christ when He acted contrary to their wishes and views. No one knew of the complete transformation of the soul. And thus the same crowd that had admired the Miracle-worker now grumbled: why was Christ planning to visit such an obvious sinner?
As though in response to this Zaccheus said: "Lord, I will give half of my estate to the poor, and whomever I have offended, I will recompense fourfold!"
Zaccheus was not thinking of offering a sumptuous feast for Christ, for he knew what had value in God's eyes. Here it was: a purest diamond, which now glittered with all the colors of the rainbow. Here it was: that most precious pearl – a human soul.
However, the crowd of people, who were spiritually blind from ancient times, regarded the matter quite differently: they started grumbling over why Christ would go and see such an obvious sinner. As though in response Christ said: "Now salvation has come to this house, for the Son of man has come to seek and save the lost ones."
According to tradition Zaccheus later converted to Christianity and became the first bishop of the church in Palestinian Caesaria.
Such, dear brethren, are the salvific lessons that we draw from today's Gospel reading. Such is the sacrifice of the heart that has come to believe. Such is genuine and saving repentance. A human soul has become totally transformed.
Zaccheus changed his sinful habits for the sake of Christ. And if each one of us is in some measure like Zaccheus, are we applying even the least effort to change our petrified habits for the sake of Christ?
"Faith is dead without works," says Apostle James. In a similar manner our faith will be dead, too, if we do not make any effort. Living faith requires life, and life requires change. We change physically; we must also change spiritually.
Thus let each one of us take to heart today's Gospel reading on Zaccheus, let each one of us carefully ponder his or her life and try to cleanse ourselves spiritually, and, seeing our sincerity, the Lord will let us feel that "salvation has come" to our house, too, and that we will be rewarded according to our faith and sincerity. Amen.
CHRISTIAN TEACHING
Let us follow Saint John the Baptist
"He must increase, while I must decrease" (John 3:30). One of the greatest trials for human nature is the realization of one's insignificance before the moral loftiness of another human being. A great deal of humility is needed to yield to a rising luminary, knowing that everything that went before would be replaced by new forces, new points of view.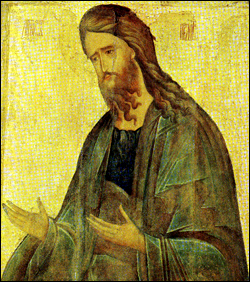 The growing power of the Saviour did not, however, arouse in St. John the Baptist even an iota of envy or bitterness. Being a strong, decisive, and independent person by nature, he could have competed with Christ by attracting the credulous crowd to himself and becoming the founder of a new teaching, establishing a new school of thought. But such an idea was totally foreign to St. John the Baptist. On the contrary, while drawing attention away from himself, he constantly and reverently pointed to Christ. Considering himself to be only the precursor of the Saviour, he was satisfied with announcing His arrival, and then disappeared from view like the morning star before sunrise. He immediately realized the majesty of the coming Saviour; from that moment everything personal in him disappeared and, as a mighty tree felled by lightning, he fell down before Christ, saying: "He must increase, while I must decrease."
Let us learn total humility from St. John the Baptist, and let us learn to disregard our own ego in a common effort, being always ready to give way to another. Let us first and foremost keep in mind the goal which we are striving to attain, without being bogged down in petty details which often hinder the whole matter. The common effort will have greater power and greater benefit if it is not diluted by the personal considerations and petty feelings that so often destroy the entire cause! Following the example of the Baptist, let us always be ready to remain in the shadow and to rejoice over the success of others; let us not be concerned with our own glory, and let us not allow the evil spirit of envy to enter our hearts, but let us rather pray that the grace of selflessness and self-abnegation be granted to us. Let us also remember that John's main concern was to point to Christ, and that his major testimony concerning Him was: "Here is the Lamb of God Who takes upon Himself the sins of the world." He pointed Christ out, he sent the people to Him, he rejoiced over Him and triumphantly proclaimed: "The Father loves the Son and has given all into His hands."
Let our hearts echo John in this; let us glorify Christ with our lips and our lives, so that He may reign supreme in our souls, and so that we (in our sinful nature) may decrease, while He may increase in us.
(From "Day by Day" – a book of spiritual reflections)
DIVINE PROVIDENCE
There is nothing random in the world
What is Providence? It is one of the basic characteristics of God – to see all that is going on, was going on, and will be going on in the future as though it is the present, and to have omnipotent concern for safeguarding all creation and wisely managing all its manifestations. St. John Damascene describes it thus: "Providence is Divine will which maintains everything and wisely rules over everything."
If we examine any kind of events and manifestations without looking into their causes and consequences, then many things may seem random to us. If, however, we look at them from a true point of view, i.e. if we judge the things happening in the world from the viewpoint of Divine intelligence, then we will see that there is nothing in the world that occurs randomly, that occurs without the will and the Providence of God. God's mind is infinite and encompasses everything that we can fathom. The Almighty God penetrates and sees all places in a single moment: the height of the heavens, and the width of the earth, the depth of the sea and the unfathomable abyss.
In all matters of Divine rule His Providence and His care shine forth wondrously, not only directing all creatures by dint of His might, but being inherent in them and essential to them. We, being blind, think that many things in the world happen blindly by chance, whereas everything without exception occurs according to God's pre-eternal counsel, according to His will and Providence.
The blessed Augustine justly said: "Everything that we, without understanding the matter, believe to occur randomly, chaotically, and without God's direction, does, on the contrary, take place according to God's will." Let us explain this by means of an example: a master sends two of his servants to the same place, but along different routes and without telling either of them of the other. Their meeting at that place is accidental as far as the servants are concerned, for they were not expecting to meet each other, but is not accidental in regard to the master. In like manner a beggar finds a hidden trove (buried treasure or money) accidentally, but for God, Who wished the treasure to be buried there for the beggar to find it and become enriched, this is not an accidental occurrence, but God's fatherly Providence, providing for the poor man. For God there are no accidental occurrences.
Often we are deceived in calling accidental certain events in which God's supreme Wisdom and Providence are revealed. It was not by chance that robbers out of fear threw the body of a person they had killed into the tomb of the prophet Elisha, where the dead man, upon touching Elisha's bones, immediately came alive. It was not by chance that Moses was placed in a tar-covered basket and sent down the river, where the Pharaoh's daughter found him and adopted him. It was not by chance that the iniquitous Israeli King Ahab was struck by an arrow that flew in between the seams of his armor. Truly that arrow was directed by the hand of God, just as was the one which struck Julian the Apostate; only for the soldier who let fly the arrow was it accidental. It was not by chance that swallows flew into the home of Tobit and blinded the righteous man. This happened at God's command, in order to hold Tobit up as an example to succeeding generations, as we learn from the Angel who accompanied his son Tobias. Nothing happens by chance. It was not by chance that Caesar Augustus ordered the census to be taken in the year of Christ's Nativity. It was not by chance that Christ met with the Samaritan woman at the well in Sychar and spoke with her. All this was foreseen and written down in the books of Divine Providence before the beginning of time.
Often God, in His wise concern for us, leads us along barely passable paths of life, but He knows well the path that will bring us to the celestial paradisiacal gardens. Why should we utter complaints against the wisest and most reliable Guide in our life? Each one of us is accompanied by God's Providence along our path of life, from the day of our birth to the day of our departure for eternal life, as long as we remain loyal to God's direction, indicated by our Saviour in His holy Gospel.
Speaking of God's Providence, it is impossible not to recall the story of the Israeli King Saul, who, being sent by his father to find their lost donkeys, found himself a kingdom. He was anointed by the prophet Samuel, to whom God revealed that Saul was the one who should be anointed to rule over the Jewish people. Everything happened according to God's unfathomable command, as though in the normal course of events: Saul found both the donkeys and a kingdom, of which he had had no thought. How different are God's fates from human intentions: Saul had no thought of a royal scepter, but by God's will was placed upon a throne. Thus, it was not by chance that the donkeys became lost, not by chance that Saul was sent to find them, not by chance that for a long time he was unable to find them, and not by chance did he go to the seer Samuel to learn of their whereabouts: all of this took place in accordance with God's Providence, in order to enthrone Saul as king of Israel.
At the same time the following question arises of its own accord: why did God wish to anoint Saul to the kingdom, if He knew in advance that the latter would subsequently fall into iniquity and end his life wretchedly?
Instead of a direct answer I will offer you my own questions: why did God create His angels in grace, knowing in advance that some of them would offer resistance to God and would be eternally rejected by Him for their sin? Why did God settle Adam in Paradise, knowing that Adam would not live in Paradise for long, but would be expelled from it? Why did Christ add Judas Iscariot to the circle of the apostles, knowing in advance that the latter would become a traitor to Him? What is the reason for such changes in God's determinations?
The blessed Jerome responds to such questions thusly: "Would you like to learn the reason for such changes? Here it is: God does not judge future deeds, but present ones, and does not condemn anyone by His foreknowledge, although He knows that a good man may subsequently change into an evil one; at the same time, by His mercy he places man in the situation which he deserves at the present time, and thus gives him strength, in the case of a fall, to return to the true path by means of repentance. Adam did not sin because God foresaw his sin, but the reason God foresaw it was because Adam was to sin on the basis of his free will."
St. Ambrose says the same: "Adam did not sin because he received the commandment, nor did Judas sin because he was chosen to be an apostle, for God did not lay upon them the need: for one to transgress the commandment and for the other to become a traitor. Both of them, had they faithfully held on to their responsibilities, could have abstained from sin. Those of whom God knows that they will subsequently lead a virtuous life, are often evil in the beginning, while those of whom He knows that they will sin, are often initially good. You are presently standing, but beware lest you fall. The holy Apostle Peter fell – and you should be careful; Judas fell, in order to deter you from falling."
No effort on our part can protect us without God's help, but by the same token, God's help without man's wish (will) will not bring any benefit either, as we see in the examples of Peter and Judas. We should avoid one-sidedness: we should not remain indolent, placing all care upon God, but equally we should not believe that by dint of our own effort, without God's help or will, we can do good. For God Himself does not do everything, in order not to leave us in idleness, but equally does not allow us to do everything, in order to protect us from pride and vanity. God leads us away from everything that may harm us, but He urges us towards everything that is beneficial for us and helps us attain it.
God's Providence is revealed with the greatest wisdom: usually not every transgression is punished right away, nor, on the other hand, is it left without any punishment at all. If God did not subject evildoing to punishment, many people would think that there is no Providence. Yet if punishment followed immediately upon the transgression, in that case they would think that there are neither rewards, nor punishment after death. For this reason God, by punishing only some, thus reveals His Providence; and when He does not punish others directly after their transgression, He then threatens them with punishment after death in the eternal life, if they do not repent in this one.
God turns all earthly misfortunes to our benefit and for our good; He allows actual sins in order to attain the most supreme, unfathomable, and mysterious goals of His Divine rule. For both the doing of good deeds and the tolerance of evil-doing is a quality belonging exclusively to Divine Providence. Truly God would never have allowed evil, if He were not powerful enough and good enough to produce good consequences from every evil deed. Tell me in conscience: when did a greater or viler evil appear in the world than Adam's transgression and the killing of Christ the Saviour, the new Adam? – However, the original sin brought God from heaven down to earth, to take upon Himself the human body, while Christ's death opened up the heavens to us and gave us back all that we had lost through Adam. The supreme God is also the wisest craftsman, turning all evil actions into a reason for creating the best consequences, just as gold is produced from an amorphous lump. The Magdalene's sins served as cause for the rectification of many; Peter's fall served as an example of genuine repentance for a countless multitude of people; and Thomas's disbelief reassured many of the truth of Christ's resurrection. God did not sow sins, yet reaps from them a rich harvest of virtues. Truly God distills honey out of rock and oil out of granite, when out of the greatest iniquities He produces the most beneficial consequences.
In a similar manner God's Providence is vigilant over us, and keeps vigil indefatigably, so that even our most minute discomforts do not go unnoticed. Consequently each one of us, whenever we are subjected to physical discomfort, should reason thusly: this illness or other misfortune, whether it came as a result of my carelessness, or through human malice, or from some other cause, – has not in any case occurred without God's Providence, which has determined it in accordance with my strength, so that its inception and its weight (weakening or intensification) depend on God. The method of treating and healing it likewise depends on God's Providence, which instructs the physician and indicates the means of treatment, or counteracts it, for all good and bad things, life and death, poverty and wealth, – all come from the Lord. Similarly, in all things that befall us, we must reason that they have been foreseen and allowed by God. If an enemy maligns or curses you – know that all his abuses and words spoken in malice have been placed from eternity upon the scales of God's Providence: he will say only as much as has been allowed him and not a word more. Why are you opposing him and getting angry in vain? In like manner look upon all your other misfortunes, whose provenance, number, weight, duration, and end have all been foreseen by God. Therefore, subject yourself to God's Providence, saying: may Thy will be done, my God! All of this has occurred by Thy Providence and tolerance. And since Thou hast allowed this, I would be an iniquitous sinner if I were to rise against Thee in indignation. Thus I remain in obedience to Thy holy will, my God, and gratefully accept all that Thou sendest me, and will endure everything patiently.
The blessed Augustine says: "The sea of life is turbulent, and Thou, Lord, seest evildoers flourishing and good men being oppressed: this raises a tempest within the heart. O Lord God! Does this constitute Thy truth, that evildoers prosper while good men suffer? – And God replies to you: is such your faith? Is this what I had promised you (i.e. a thriving state)? And is this why you are called a Christian, in order to delight in worldly successes?" Let us humble ourselves before God, and let us soothe our hearts with faith in God's Providence whenever we see the unrighteous dominating, the righteous being persecuted, righteousness being eradicated, and truth being destroyed. None of this would be happening if the Lord did not allow it, and in truth, He would not allow it, if He did not have sufficient reason to believe that it was better to allow than to forbid. You may say that such tolerance gives rise to a multitude of tribulations and the greatest unrest. One may feel sorry for the situation, but within the bounds of reason, for there were justified reasons for God to wish it so, since out of the greatest evil God may produce the most wondrous good, just as easily as slipping a sword out of its sheath.
Do not be surprised, for God's judgment is mysterious and unfathomable: at Christ's second coming, at the dread day of judgment, the entire life of every person will appear as in a mirror; also every reason for which God's Providence produced one or another event, and why, will be totally clarified: for all kingdoms, cities, families, and each individual. Everything will be revealed. It will be revealed how merciful was the Lord to sinners, and each one of them will remain mute; and also the extent to which the image of God's rule of the world accorded with His glory and truth will also be revealed, and how right and beneficial it had been for all.
Let us not forget that out of every evil God creates some good. What was more sorrowful than the fall of Adam and Eve into sin, together with all mankind? However, God has so reconstituted them, that the current state of a Christian is higher than was Adam's state in paradise. Christ's death on the cross was a stumbling block for the Jews and foolishness for the Greeks; however, it became the salvation of the entire world, and for all those who were called – an honor, and glory, and attainment of an eternal life of rapture (1 Cor. 1:23).
(To be continued)
LIVES OF THE SAINTS
On February 25th (the 12th by the old calendar) the Church commemorates Saint Alexis, Metropolitan of Moscow and all Russia, the Wonderworker.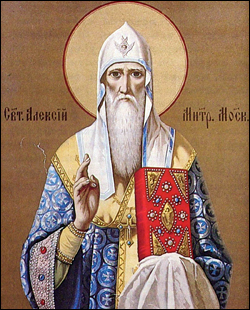 St. Alexis, scion of the noble Pleshcheyev family, was born in Moscow in 1292 and was given the name Eleutherius. By that time all the major Russian cities has been devastated by the Tatars, but Moscow, a small and insignificant town, had been left alone. Now Moscow began to gather strength and importance, as it became populated by masses of people fleeing from the devastated cities. Eleutherius's godfather was Prince Ivan Kalita, the future builder of the principality of Moscow. At the age of twenty the saint entered the Theophany monastery in Moscow and became a monk with the name of Alexis. Twenty years later he was ordained a bishop, and in 1354 he was consecrated a metropolitan by Philotheus, Patriarch of Constantinople.
By that time St. Alexis was so renowned as a wonderworker, that his fame spread even to the stronghold of the Tatars, the Golden Horde, and the Tatar khan ordered the saint to come there and heal his wife, who had gone blind. If not, the khan threatened to launch another attack on Russia. The prince and the nobles began to entreat the saint to comply with the khan's command, in order to save the Church and the homeland. After praying to God for help, St. Alexis embarked on the dangerous journey. Just before his arrival, the khan's wife Taidula saw a dream in which she was healed by Christian priests in glittering robes. The khan welcomed the saint with great honor and led him to his wife. St. Alexis served a moleben and sprinkled Taidula with holy water. And the miracle occurred: her sight returned! The grateful Taidula presented the saint with a parcel of land that belonged to her in the Kremlin and on which the saint subsequently founded the well-known Chudov monastery, (which many centuries later was destroyed by the Communist regime).
St. Alexis was of great importance to Russia, both in the secular and the spiritual fields. When Great Prince Ivan the Second died, St. Alexis became the guardian of his successor, 8-year-old Prince Dimitry, and at the same time he headed the Boyar Duma, the legal body which ruled the principality. The saint was well-aware that Russia's liberation from the Tatars depended on its unification, and that the diverse and warring principalities could be unified only by neutral Moscow, and for this reason he was a great proponent of the Russian principalities' uniting around a single center – Moscow. Through his efforts Russia at that time gained her first victory over the Tatars.
The saint worked just as earnestly in the religious field. He was an adherent of inner prayer according to the teaching of St. Gregory Palamas, and assisted his friend, Patriarch Philotheus of Constantinople, in the revival of this great spiritual treasure, which had nearly been lost. The saint was also friend and mentor to St. Sergius, the future wonderworker of Radonezh. St. Alexis worked hard to transform women's convents, which until then had been dependent on men's, into self-reliant units with independent abbesses, and these convents began to flourish. St. Alexis reposed in 1378; his incorruptible relics lie at the Theophany Cathedral in Moscow.

On the same day we celebrate the Iveron Icon of the Mother of God. This holy icon belonged to a pious widow who lived near the city of Nicea in the era of iconoclasm. When Emperor Theophilus the Iconoclast sent his soldiers throughout the realm to destroy all icons, a group of soldiers came to the house of this widow. One of them, seeing the holy icon, became enraged and smote with his sword the Holy Virgin's cheek that was depicted on the icon. But to his horror, blood gushed forth from the wound. Awed by this miracle, the repentant soldier fell on his knees before the icon and abandoned his heresy, (and later became a monk). At his suggestion the widow decided to conceal the icon, in order to save it from desecration. After an earnest prayer to the Mother of God, the pious woman set the icon on the sea and with great joy saw the icon sailing on the waves directly towards the west.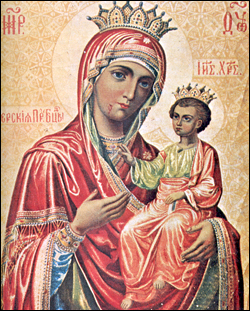 Many years later this icon appeared in a tower of flame on the sea near the Iveron monastery on Mount Athos. At that time a certain elder from Georgia by the name of Gabriel lived in the Iveron monastery. The Holy Virgin appeared to him in a dream and ordered him to tell the abbot and the brothers that She wished to give them Her icon, in order to help them and protect them, while the elder Gabriel himself She commanded to fearlessly approach the icon and take it into his hands. In response to the Holy Virgin's command, the elder Gabriel then walked on water as on land and brought the icon ashore. The monks greeted the icon with reverence and carried it to their monastery, placing it in the altar. On the following day they did not find the icon in the spot where it had been placed. After a long search they found it on the wall above the monastery gates and once more took it back to the altar, but the following morning they once again found it above the gates. This happened several times before the monks finally understood that it was not they who guarded the icon, but rather the holy icon guarded them. Consequently, a church was built above the monastery gates, in which the icon remains to this day. From the name of the monastery this holy icon began to be called the Iveron icon, while in accordance with its location it became known as "the Gatekeeper."
In Russia there were several wonderworking copies of the holy Iveron icon. Especially revered was the Iveron icon in Moscow, which stood in the chapel at the Voskresensky gates. This miraculous icon, which worked a multitude of miracles, was revered not only by the inhabitants of Moscow, but by all of Russia. Everyone arriving in the capital, and especially members of the Imperial Family, hurried to visit the Iveron chapel and venerate the holy icon, in front of which molebens were served continuously.
SEVEN REASONS WHY I BELIEVE IN GOD
(The following article by a major American scientist, A. Kressm Morrison, former chairman of the New York Academy of Sciences, was written to encourage faith in those who venerate science and require scientific proofs of God's existence, but at the same time it is worthwhile for all Orthodox Christians to become acquainted with it.)
We are all still at the dawn of scientific knowledge. The closer to daybreak and the brighter our morning, – the greater the clarity with which the Intelligent Creator's creation appears before us. Now, in a spirit of scientific humility, in a spirit of faith based upon knowledge, we approach even nearer to an unshakeable belief in the existence of God.
Personally I count seven circumstances that determine my belief in God. They are as follows:
First: A perfectly precise mathematical law proves that the universe was created by a Supreme Intelligence.
Imagine that you are throwing ten coins into a bag. The coins range from one cent to ten cents in order of value. Then we shake up the bag. Now try to draw out the coins one after another in order of their value, but putting each coin back after every draw and shaking up the bag again. Mathematics tells us that we have one chance out of ten to draw out the one-cent coin on the first attempt. To draw out the one-cent coin and immediately afterwards the two-cent coin – our chances turn out to be one in a hundred. In order to draw out three correct coins in a row – we have one chance in a thousand, etc. Our chances of drawing out all ten coins in the desired order are one in ten billion.
The same mathematical reasoning tells us that such an incredible number of interactions and interconnections was necessary for the emergence and development of life on Earth that these could never have been achieved without rational direction, simply by chance. The surface speed of the Earth's revolution has been determined at one thousand miles per hour. If the Earth were to revolve with a speed of one hundred miles per hour, our days and nights would be ten times longer. During a long day the sun would burn out all living things, while during a long night all living things would freeze.
And another point. The temperature of the sun is equal to 12,000 degrees Fahrenheit. The Earth is set at just such a distance from the sun as is necessary for this "eternal fire" to warm us appropriately, neither more, nor less! If the sun were to give off half its present heat, we would freeze. If it were to give off twice as much, we would perish from extreme heat.
The Earth's tilt is equal to 23°. This gives rise to the seasons of the year. If the Earth were tilted at a different angle, the evaporation from the oceans would move forward and backward, southward and northward, piling up whole continents of ice. If the moon, instead of its present distance, were to be 50,000 miles away from us, the ebb and flow of our tides would be on such a grand scale that all the continents would find themselves under water twice a day. As a result, very soon even the highest mountains would be washed away. If the crust of the Earth were thicker than it is now, there would not be enough oxygen on the surface, and all living things would be doomed to destruction. If the oceans were deeper, the carbon dioxide would engulf all the oxygen and, again, all living things would perish. If the atmosphere surrounding the Earth were thinner, the millions of meteors that daily disintegrate in it and fall down to Earth would be falling whole and would be causing countless fires everywhere.
These and a host of other examples attest to the fact that the odds for random emergence of life on Earth are not even one in a great many million.
Second: The abundance of sources from which life gets its strength to fulfill its mission is in itself proof of the existence of an independent and omnipotent Intelligence.
Not a single person has as yet been able to comprehend what life is precisely. It has neither weight, nor dimensions, but it truly has strength. A growing root can destroy a cliff. Life dominates over water, earth, and air, and has taken possession of these elements, forcing them to dilute and transform the components of which they are composed.
Life is a sculptor, giving form to all living things, an artist who shapes the form of each leaf on a tree, who determines the color of each flower. Life is a musician who has taught birds to sing, who has taught insects to produce a myriad of sounds and use them to call to each other. Life is a most sensitive chemist, giving taste to fruit, fragrance to flowers, changing water and carbon dioxide into sugar and xylem, and in return obtaining the oxygen that is necessary to all living things.
Here before us is a drop of protoplasm, an almost invisible drop, transparent, looking like jelly, which is capable of moving and extracting energy from the sun. This cell, this transparent mote of dust is the germ of life and has the power within itself to give life to all things great and small. The power of this drop, this mote is greater than the power of our existence, stronger than animals and people, for it is the f o u n d a t i o n of all living things. It is not nature that created life. The cliffs that were fissured by fire and the fresh-water seas were incapable of fulfilling the requirements demanded by life for its emergence.
So who instilled life into this mote of protoplasm?
Third: The intelligence of animals irrefutably attests to a wise Creator, Who imbued creatures with an instinct without which they would be absolutely helpless.
The young salmon spends his early years in the sea, then returns to his native river and swims in it on the very side along which traveled the roe from which he was produced. What leads him with such accuracy? If he is placed in a different environment, he will immediately feel himself off course, and he will search for the main stream and will then follow the current to fulfill his destiny with absolute precision.
An even greater mystery can be seen in the behavior of the eel. Reaching the age of maturity, these amazing creatures travel from all ponds, rivers, and lakes, even though they be in Europe, and pass through thousands of miles of ocean, in order to reach the sea depths at the Bermuda isles. Here they perform the act of procreation and die. The young eels, who, it would seem, have no understanding of anything, who could easily become lost in the depths of the ocean, follow the paths of their parents back towards the very same rivers, ponds, and lakes from which the former began their journey to the Bermuda isles. Not a single eel has been caught in Europe who belonged in American waters, and not a single European eel has been caught in America. The European eel matures a year later, as a result of which he is able to achieve his journey simultaneously with the American eel. From whence comes this directional impulse?
A wasp, overcoming a grasshopper, stings him in a very precise spot. The grasshopper does not die from this sting. He loses consciousness, but continues to live as a sort of preserved meat. After that the wasp places its larvae in such a way that the newborn wasps are able to feed on the grasshopper without killing it, since dead meat would be toxic food for them. Having performed this job, the mother wasp flies away and dies. She never sees her offspring. It is beyond doubt that each wasp goes through this procedure for the first time in its life and does it exactly as it should be done, otherwise where would wasps come from? This mystic technique cannot be explained by wasps supposedly learning from each other, since it is obviously ingrained in them.
Fourth: Man possesses something greater than animal instinct. He has intelligence.
There is not a single other creature able to count up to ten. Neither can any other creature comprehend the essence of number ten. If instinct can be compared to a single note on the flute, with a most beautiful but limited sound, then it should be said that human intelligence is capable of appreciating not only all the notes of the flute, but also of all other orchestral instruments. And there is another point to be mentioned: thanks to our intelligence we are able to engage in a discussion on who and what we are, and this ability can be defined only because we have been endowed with a spark of the Universal Intelligence.
Fifth: The miracle of the genes – a thing with which we are familiar, but which was unknown to Darwin, – bears witness to the fact that great concern has been shown for all living things.
The size of the genes is so incredibly miniscule that if all these genes, which are responsible for the life of all the people on Earth, were to be gathered together, they would fit into a thimble. And even then the thimble would not be full! Nevertheless, these ultramicroscopic genes and their accompanying chromosomes are present in all the cells of all living things and represent the absolute key to explaining all the characteristics of man, animal, and plant. A thimble! It can fit into itself all the individual characteristics of over two billion human beings. And how does it happen then, that the gene even contains within itself the key to the psychological makeup of each individual, comprising all of this in such a miniscule volume?
Here is where evolution begins! It begins with the unit which is the guardian and carrier of the genes. And thus the fact that the several million atoms contained within the ultramicroscopic gene can be the absolute key to directing life on Earth confirms and proves that great care is being taken of all living things, that someone has thought of them in advance, and that this forethought stems from a Creative Intelligence. No other hypothesis can help unlock the mystery of existence.
Sixth: In observing nature's economy, we are forced to acknowledge that only an absolutely perfect Intelligence could have foreseen all the interconnections arising in such a complex structure.
Many years ago, several varieties of imported cactus were planted in Australia to create a hedge. Not having any naturally hostile insects, the cactus grew in such incredible amounts that people began to search for means of controlling it. The cactus continued to spread. It reached such proportions that the space it took over was greater than the size of England. It began to crowd people out of cities and villages and began to destroy farms. Entomologists searched all over the world for some means to fight the cactus. Finally they were able to find an insect that fed exclusively on cactus. This insect multiplied very easily and had no natural enemies in Australia. Very soon this insect conquered the cactus. The cactus retreated and diminished in quantity. The number of insects likewise diminished. There were just enough of them left to keep the cactus under constant control.
Such types of controlled interactions can be observed everywhere. Why, in fact, have not insects, who multiply so incredibly quickly, overwhelmed all other living things? Because they breathe with tracheas instead of lungs. If the insect grows, its tracheas do not grow proportionally. For this reason there never were and never can be very large insects. This disparity restrains their growth. If there were no such controlling factor, man would not be able to live on Earth. Just imagine a bumblebee the size of a lion!
Seven: The fact that man is able to comprehend the idea of the existence of God is in itself proof enough.
The concept of God arises from that mysterious ability in man which we call imagination. Only with the help of this force is man (and no other living creature on earth) able to find proof of abstract things. The scope that opens up through this ability is absolutely boundless. In fact, it is through the perfection of man's imagination that the possibility of spiritual reality becomes apparent, and with all the evidence of his purpose and assignment man can determine the great truth that the Heavens are everywhere and in every thing, the truth that God lives everywhere and in every thing, and that He lives in our hearts as well.
And thus, both from the point of view of science and from the point of view of imagination we find confirmation of the Psalm writer's words:
"The heavens declare the glory of God, and the firmament showeth His handiwork."
SCIENCE AND THE BIBLE
In the past two centuries it was widely believed by scientists and the intelligentsia that the majority of Biblical stories were either a poetic legend at best or simply pure fabrication. Gradually, however, a new attitude toward the Biblical testament began to prevail among scientific circles, both religious and secular.
The prevalence of this new viewpoint was to a considerable degree promoted by archaeological excavations in Mesopotamia, which confirmed without a doubt the historical veracity of many Biblical narratives.
Nevertheless, until quite recently it was believed that such Biblical narratives as, for example, the well-known story of Joshua, who kept the sun standing still, were either pure fabrication or symbolic imagery. But now, the well-known scientist Immanuel Velikovsky published an opus, in which he very convincingly proves that several thousand years ago there occurred a cosmic event during which there actually was a double day.
First of all, the scientist refers to the existence of testimonials similar to the Biblical story in the literature and legends of many ancient peoples, in particular the Chinese, Hindus, Aztecs, Mayans, Arabs, Tibetans, and others. All these testimonials assert that there was a day on Earth when the sun did not set for 24 hours or more. One of the Chinese chronicles of the Yahu era (contemporary with Joshua) says: "The sun did not set for several days, and the forests burned." This is also confirmed by Mexican chronicles, while Finnish, Japanese, Peruvian, and other legends speak of the catastrophes that were caused by the prolonged day. Judging from the period of time described above, there was a double day in the northern hemisphere and a double night in the southern.
Velikovsky provides an explanation for this phenomenon that historically is absolutely accurate. A huge comet passed near the Earth, which at first reduced the speed of the Earth's rotation, then stopped it, then forced the Earth to rotate in a reverse direction, and only after passing by did it give the Earth the opportunity to return to its normal rotation. It was precisely due to such slowing down and reverse rotation that the day in the northern hemisphere and the night in the southern were doubled.
Velikovsky further asserts that the comet which passed by the Earth became the planet Venus. He points out that ancient Hindu documents, as well as Egyptian writings, which knew of the existence of planets and which dated back to the fourth millennium B.C., do not mention Venus. On the other hand, the Babylonian records which date to the first millennium B.C. mention the appearance of a new planet, "a shining celestial body that has joined the other celestial bodies." From that time onward, the planet Venus began to be mentioned in astronomical works.
Thus science unexpectedly confirms the testimony of the Bible, which in contemporary scientific circles is rightly considered to be a first-class historical source.
(Reprinted from the newspaper "Standing up for Truth," Buenos Aires, 1956)
SPIRITUAL POETRY
THE NATIVITY OF CHRIST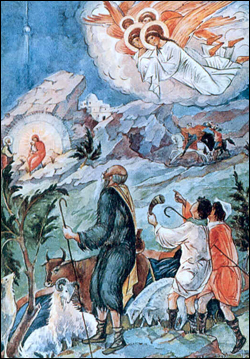 Those were indeed miraculous times,
The words of prophets came to pass,
Angels descended from above,
The star came rolling from the East,
The world awaited its redemption –
And in the humble Bethlehem manger,
With Eden's laudatory singing,
The wondrous Infant did shine forth…
– L. Mey
– Translated by Natalia Sheniloff