SUNDAY OF THE BLIND MAN
Today's Gospel reading and church hymns describe to us how the Lord Jesus Christ healed a man blind from birth. The Lord saw the blind man, spat on the ground, made clay from this spittle, anointed the blind man's eyes with the clay, and then told him to go and wash his face in the pool of Siloam. The blind man obeyed the Lord, went away, and came back seeing (John 9:1-7).
The issue was as clear as day. That same Jesus, Whom the scribes were ready to stone as a blasphemer, had performed yet another great miracle. It only remained to acknowledge Him, repent of their blindness, and give glory to God Who had honored His people with such great signs. But for that they had to humble their pride and have their spiritual eyes opened – which was precisely what they did not wish to happen. Even the blind man, if he had not obeyed the Lord and had not gone to the pool of Siloam to wash his face, – would not have had his sight restored. Most importantly, though, the blind man began seeing not only with his physical eyes, but also spiritually.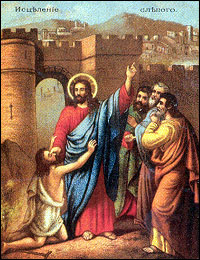 Several times the Pharisees and the scribes interrogated the former blind man about what had taken place, summoned his parents, and demanded that the healed man acknowledge his healer as a sinner, so that finally he lost all patience with them; the former blind man then rebuked and lectured them on the fact that God does not listen to sinners, but listens to those who honor God and act according to His will. Not seeing and not wishing to see the truth of these words, the scribes and the Pharisees did not know what to reply to him, but expelled him instead, using violence in place of words.
Hearing of his expulsion from the synagogue, Christ Himself found him and strengthened his faith. "Dost thou believe in the Son of God?" – He asked the seeing man. – "And who is He, Lord, that I might believe in Him?" Then followed the merciful reply: "Thou hast both seen Him and it is He that talketh with thee." Seeing the divine image standing before his seeing eyes, the former blind man joyously exclaimed: "I believe, Lord!" and worshipped Him.
If this question were addressed to us, how many of us would have said "I do not believe?" We are all Christians and belong to the true Church of Christ, the Orthodox Church. But which one of us can say that his faith in God is firm, unshakeable, living, active, attested to by his entire life and works? "Show me thy faith from thy works" – says the Apostle Paul in one of his epistles. In truth, which one of us truly believes in God, the Almighty Creator, Master over all, i.e. is convinced that his life, as it had come from God in the beginning, so remains at all times in His omnipotent will?
A certain man came to confession to one of our native ascetics, who was engaged in spiritual endeavor near Kiev. After hearing the man's long confession of all his personal sins, the ascetic said: "I can see that you are repenting of your personal sins, but you have not said the most important thing – do you love God and do you believe in His word?" The man was quite surprised by such a question and said: "O venerable father, how can one not love God, pray, and why should one not believe in His word, which consists of total truth and holiness?" The ascetic then replied: "If you loved God, you would be thinking about Him incessantly and with heartfelt pleasure, while for you the contemplation of God represents hardship and boredom. If you were convinced and believed beyond any doubt that there was eternal life beyond the grave, with retribution for all earthly deeds, you would be thinking about it constantly, and you would be spending your life on earth as a stranger preparing to leave for his homeland. Yet your thoughts secretly run along the lines of "who knows what will come after death?" Thus the cause of disbelief in God is lack of faith, and the cause of lack of faith is lack of conviction, and the cause of lack of conviction is a refusal to seek true knowledge and spiritual enlightenment. In other words: it is impossible to love without believing."
Let us think a moment about this. Let us try to ponder this more deeply. It is hard to ascend the ladder of virtues, but such an endeavor comprises the feat of our salvation. Even the blind man did not remain as he had been, but was included among Christ's disciples; he multiplied the faith and the commendation which he had received from the Lord for the glory of God.
This ardent faith of the former blind man caused Christ to speak a homily on spiritual blindness: "I have come into this world to judge, so that the unseeing would see, and the seeing would become blind." It turned out that when the true Light appeared, bringing enlightenment to every man, only those who were regarded as ignorant and blind were able to see Him, – all those poor in spirit, who in the simplicity of their hearts fully accepted the Lord; and on the contrary – those who in their pride imagined themselves to be seeing and all-knowing – turned out to be pitifully blind.
Unfortunately, such spiritual blindness is widespread even now, and is being further spread primarily among those classes of society which believe themselves to be people of reason and learning. In their blindness such people now think to re-educate the whole of society and the entire world. A tree is known by its fruits, and we see their fruits every day in the anti-religious education they are promoting, which is based exclusively upon worldly knowledge.
Let us become church-bound, dear Orthodox brethren, and not only through external churchgoing, but primarily through inner development. Let today's Gospel narrative convince us of the unreliability of earthly knowledge, which seeks enlightenment for itself only within its own limited reason and not in divine reason. Therefore, all of us – both educated and non-educated – should appeal to the Lord together with the Holy Church, that our spiritual eyes be opened and that life-giving faith be preserved within us as an indubitable pledge of eternal life: let us fan the flames of this faith within us by prayer and the reading of the Word of God, fulfilling God's commandments earnestly and faithfully, and the Lord will not abandon us, as He had not abandoned the blind man, for "God will not despise a broken and contrite heart." Amen.
HOMILY FOR THE ASCENSION OF OUR LORD
"He that descended is the same also that ascended up far above all heavens, that He might fill all things – both heaven and earth" (Ephes. 4:10).
The above words, beloved brethren, have been taken by me from the holy Apostle Paul's epistle to those inhabitants of the city of Ephesus who had been converted to the Christian faith. He says that the Lord Christ, Who came down to earth in the flesh for the sake of our salvation, after performing His great deed again ascended into heaven, or far above all heavens, but ascended as God in the flesh, or God and Man together – in two natures, but in one Person indivisibly, inseparably, unmerged. The apostle also shows the reason why the Lord did not remain on earth, but ascended into the heavens. The reason was to fill everything with Himself – both heaven and earth, to be the Head of heaven – all the angels or celestial forces, principalities, dominions, thrones, the cherubim and the seraphim, and every name that is named, not only in this world, but also in that which is to come (Ephes. 1:21), and at the same time to be the Head of the Church on earth, which He had acquired by His Blood and united with Himself.
Christ ascended into heaven, yet did not leave us, His children, but remains and will always remain with us until the end of time; in His own words, He also ascended into heaven in order to send down to earth and upon His Church in His stead the Holy Spirit, the third Person of the Holy Trinity – unoriginated, co-eternal, life-giving, equipotent, equally-glorious, all-holy, all-good, all-righteous, almighty, omniscient, omnipotent, – in order that He take an equally-triumphant part in the salvation of the mankind that had been redeemed by the precious Blood of Christ.
Had Christ remained on earth, the Holy Spirit would not have descended to earth, as Christ Himself announced, and that would have been unacceptable for the reason of the equality between the Persons of the Holy Trinity, and Their equal action and participation. Just as the world was created by the Word of God the Father with the participation of the Holy Spirit, so the redemption of mankind had to take place with the unfailing participation of the All-holy Spirit.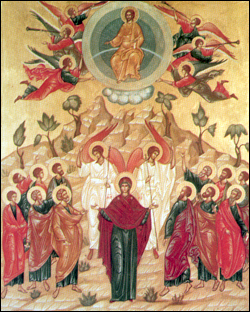 What thoughts and memories does the Lord's ascension into heaven bring to mind? – The most elevated and joyous thoughts and memories. Before Jesus Christ could ascend from earth to heaven, He had to come down to earth, become incarnate, be born of the Holy Virgin, be an Infant called Jesus, gradually grow up, reach the age of manhood, be baptized by John in the river Jordan, be subjected to temptation from the devil for the sake of our salvation, conquer him and shame him who boasted of his strength and dominion over the earth; Christ had to preach the word of God to men, commune with them for their salvation, eat and drink with publicans and sinners, talk with prostitutes in order to make them chaste, deal with the scribes and the Pharisees, instruct and censure them, heal all kinds of illnesses, resurrect the dead, show His divine power over all the elements, winds, and waters, show His power over the evil spirits and Satan's entire kingdom, show His power over death; Christ had to endure all manner of injustice from evil people, had to suffer and die on the cross, descend into hell and destroy it, deprive Satan of all the power of which the latter boasted and thought to have forever, vanquish the sting of death and resurrect the dead, and had to rise from the dead as the Conqueror of hell and death.
Before ascending into heaven He established the salvific sacraments: baptism, repentance, and the sacrament of sacraments – the holy Eucharist, or communion of His most-holy Body and Blood as a sign of His boundless love for mankind and for the purification, sanctification, renewal and deification of our nature, revived from its deep Fall and corruption.
Before ascending into heaven He founded His Church on earth – a divine community of people being saved in Christ, united with each other by a single faith, law of God, divine service, clergy, and sacraments.
Having founded the Church, He gave over its establishment to the apostles with the assistance of the Holy Spirit, Whom they were to receive on the great day of the Holy Pentecost.
And the Church of God which was planted on earth flourished mightily, and by the grace of the Holy Spirit nurtured an immense multitude of saints from all peoples and nations, from all human ranks and positions, of both genders; especially in the early centuries the earth became like heaven due to the countless number of holy apostles, hierarchs, martyrs, venerables, unmercenaries, righteous ones, and all the saints who were glorified in the Church.
Christ's Church on earth was and is the greatest miracle; within it was performed and is being performed a wondrous renewal of mankind, whereby true believers become like the celestial angels, adorned with all manner of heavenly virtues. They have adorned the Church both with their holy lives and with their immortal and divinely-inspired writings, which forever continue to delight our hearing and to instruct the faithful.
Glory to Thee, O Christ, Who had ascended with glory, our God, Who had not left us, but Who continues to act within us and save us! Amen.
SIGNIFICANCE OF THE PENTECOSTAL PRAYERS
On the day of the Holy Pentecost (Trinity Day), when the Church commemorates the descent of the Holy Spirit upon the apostles, there also occurs an abundant outpouring of the Holy Spirit upon all of us who pray in church on that day. During the Vespers (which follow immediately after the Divine liturgy), the Church prays for "all those present, awaiting the grace of the Holy Spirit," while the subsequent kneeling prayers speak of the actions performed by the grace of the Holy Spirit. And we, too, pray to the Holy Spirit to visit His grace upon us, to cleanse us of all impurity, and to grant us holiness and comfort, because He is the Source of both one and the other.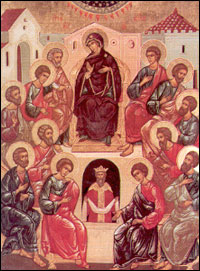 A certain elder said: on the day of the feast of the Holy Pentecost, when you will be kneeling, brother, and piously heeding the prayers offered by the priest on behalf of his congregation, then you should definitely know for what you should pray, for on that day the Holy Spirit is present in the Church so obviously, so fragrantly and divinely, that He will hear your prayers. Therefore, brother, concentrate your thoughts and think ahead of what you will ask of God. Perhaps there are many sorrows, and cares, and burdens weighing upon your heart, and you wish to ask God to resolve your problems and to help you. Pray for it. But your first, and primary, and infinitely more important entreaty should be that God grant you the grace of the Holy Spirit and fill your heart with it to a surfeit, i.e. that He receive you into the Heavenly Kingdom while you are still on earth, that He grant you the pledge of future eternal rapture. I will even tell you that that should actually be your only entreaty on that day. However, the flesh is weak, and in your frailty you may ask God for help with worldly cares, if you so desire. God will hear you, as it is written: "The Lord hear thee in the day of trouble" (Psalm 20:1). Always remember the words of our Lord Jesus Christ: "But seek ye first the kingdom of God, and His righteousness, and all these things (i.e. all your earthly needs) shall be added unto you" (Matt. 6:33). Incorporate these words both into your faith and into your life: believe in God and trust in God. Know also that God knows how much your heart suffers from earthly misfortunes, and that the small coal of love upon which flames and rises the incense of your prayer and faith may be completely extinguished if sorrows sap your spiritual energy. God knows that your heart is diminutive, and He wishes it to belong to Him entirely, as it is written: "My son, give Me thine heart" (Prov. 23:26). Thus, if you give Him your heart, God will make sure that it remains His and will not allow great sorrows and the demons, – who act under the cover of sorrows and who incite tempests in order to prize your heart away from God and with strong currents of misfortune extinguish your love for God and all your thoughts of eternal life. – to weaken your soul and bring it to the point of total exhaustion. Thus, brother, give your heart to God and afterwards remain without a care in the world, and be solely concerned with having your heart remain constantly in God's hands. Thus, on the day of the Holy Pentecost, on the day of the commemoration of the descent of the Holy Spirit upon the apostles, earnestly pray that the Holy Spirit descend upon you, too, and prior to that prepare yourself with prayer and the reading of holy books.
Thus, ask the Heavenly King to grant you this charity: the grace of the Holy Spirit. "Enter thou into the joy of thy Lord" (Matt. 25:21). Amen.
THE HOLY TRINITY — AN IMAGE OF CONCILIARITY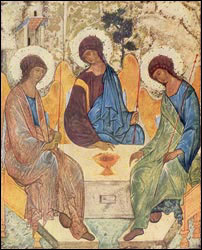 From eternity and before all ages our God exists in the form of Trinity: three Persons in one Being.
Throughout a number of centuries the comprehension of this sacred truth and major Christian dogma was completely forgotten by Christian humanity to such a degree, that the countless multitude of enemies of our faith cite precisely this dogma as incomprehensible, while the defenders of Christianity, being almost in agreement, demand a blind acceptance of this truth on faith, without the least attempt to delve into it more deeply and understand it, since such understanding is supposedly totally impossible.
Of course total understanding is impossible, but total understanding of anything at all, especially dogmas of faith, is equally impossible. An in-depth study of this particular dogma and a fuller understanding of it as much as possible are especially important and necessary for a proper understanding of both the Christian Church and of human nature itself.
The Lord created man in His image and likeness, because only a being like unto God can be truly good.
God is one in essence, but triune in Persons. God's creation was due to become the same. Adam and Eve were individual beings, but together were due to become one. The means to this was to be another God-like quality – love – the divine force which achieves total and absolute unity within the Divinity despite the difference in the Persons, and which is so inherent to God that Apostle John says that God is love.
This same God-like quality of love, given by God to humans, was supposed to unite them into a single being through love for each other, so that this single human being, also through love, but in this case towards God, would gradually, in an infinitely joyous process of realization of love, unite into a single being with God.
This is what St. Basil the Great formulated so clearly: "I am a man, but have been tasked with becoming God." This process is never-ending, because the task assigned to man is boundless and infinite.
However, man stumbled in his first step towards it. In order to accomplish his task, man was supposed to achieve perfection in love, manifesting it and nurturing it by a voluntary (because love is a God-like quality and cannot be forced) fulfillment of the commandment of the One Whom he has been called upon to love. Man broke off his love for God by violating His commandment, and ruptured the tie of love between himself and his helpmate by placing the blame upon each other while being called to account before God.
Nevertheless, since man's sin was not absolute, and the humans expelled from paradise stepped onto a path of repentance, the tie of conciliation, though broken, was not completely destroyed in mankind. All manifestations of love, compassion and mutual understanding are manifestations of this innate conciliarity among humans. The only reason I am able to understand the thoughts of another person is that by God's design I was supposed to be one-in-essence with him. But never will I be able to fully understand another person, never will I be able to fully assimilate the life of another as my own, because our natural conciliarity has been corrupted by sin, and we have become locked into self-assertion.
The greatest manifestations of this, though corrupted, but still existing natural human conciliarity are marriage and motherhood. Here, more than anywhere else, a person lives the life of another as his own. In marriage two individuals, while fully retaining their personal characteristics, their individual uniqueness, strive to become a single being. A good and loving marriage is the closest approach towards the accomplishment of our God-given purpose. A loving husband and wife truly live each other's lives almost as their own. And at the same time their unity does not limit them in any way, does not lessen the personal uniqueness of each of the spouses.
However, even in the most perfect human marriage, not to speak of other manifestations of conciliarity ruptured by sin, the fullness of unity of essence is never reached. Never can man fully live the life of another as his own.
And yet, according to God's design, in the pre-eternal Council of the Trinity man was tasked with attaining complete and perfect unity of essence similar to the unity of essence in the Holy Trinity, in Whose image man was created. And, in turn, the desired union in the Kingdom of God, the union of man with God, is called the wedding feast of the Lamb, i.e. the marriage of Divinity and the human soul, in which, without losing his personality, man unites with God to the same extent as a loving husband and wife strive to merge into a single being.
In the light of such understanding of the immemorial and all-encompassing nature of the law of love as the foundation of God's design for mankind, it becomes understandable why Christ the Saviour, Who came to restore the lost unity between men and God, placed the commandments of loving God and neighbor as the cornerstone of His teaching, and said that upon these two commandments hang the entire law and all the prophets.
To love one's neighbor as oneself, to live his life as one's own means precisely to be one-in-essence with him.
To love God with all one's heart, all one's thoughts, all one's might, all one's being means to fulfill God's design for mankind, because all of man's spiritual forces, his entire being were given to him precisely in order to strive for unity with God and to attain it in the infinitely joyous process of the wedding feast of the Lamb.
This supreme precept of love was brought by Christ to mankind. But it is very nearsighted to think that that was all the Saviour did, as think the rationalistic moralists, who find the only value in Christianity to be its lofty moral law. If this were so, then those who take this point of view a step further and conclude that actually Christianity has not given mankind anything really new would largely be correct, because the founders of other religions also proposed lofty moral precepts that were quite often similar to very basic Christian laws and, moreover, appeared prior to Christianity.
We can easily agree with that. Of course, it does not mean that Christianity has nothing of its own, as rationalists think, that it is borrowed from outside sources. It only means, as one ancient Church father said, that man's soul is Christian in nature, and that the roots of likeness to God are planted deeply within it, making it thirst at all historical stages and under all the various geographical conditions for the true ideal and not an illusory one.
But never could any commandment, even the most perfect Christian moral law, be fulfilled by any man, as a consequence of his essence being damaged by sin, had not Christ imbued mankind with a new force, giving it the possibility of uniting with Him into a single being within the Church, thus restoring the conciliar unity of people, similar to the conciliarity of the Holy Trinity, that had been lost in the Fall.
And Christ – one-in-essence with God the Father and the Holy Spirit in the Holy Trinity – also became one-in-essence with us in the Church, as a consequence of which we now acquire within it an infinite invisible power that gives us the opportunity of eternal life in the Kingdom of God, which is represented by the Church, i.e. the realization of the process with which we were erstwhile tasked – a blessed union with God, a return to Him.
This does not mean that the Church accomplishes our salvation mechanically. One enters the Church, unites with God, and is already saved – no, our sojourn in the Church, precisely because it represents union with God, requires very difficult conditions from man – a total lack of sin, total purity and lack of vice, because it is impossible to unite anything sinful with God. Therefore, in order to truly enter the Church, one must be completely cleansed of sin, one must completely fulfill the Gospel law of perfection.
The foundation of this law is love, whose basic element is comprised of ancient and innate human conciliarity, which has remained in man and has preserved for him the possibility of salvation and renewal. Without it we cannot achieve the new conciliarity – union with God and other people within the Church. It is also a sign of the soul's relative maturity.
It is noteworthy how sins and crimes obscure the natural human conciliarity, and how a man who serves himself, his sins, and his passions loses all interest in others, loses the ability to understand others, destroys within himself his innate conciliarity, and thus dooms himself to dissatisfaction and moral torment. This is because only a God-like conciliar life with love and interest in each other can give joy in life.
For this reason the dark demonic forces, who after their apostasy from God have totally and absolutely lost their former innate angelic conciliarity and have consequently become immersed in utter darkness and torment, battle primarily against the sense of conciliarity among people.
As a result of mankind's widespread apostasy from God in the modern age, we clearly see the fading out of conciliarity in mankind, which tries in vain to camouflage this terrible phenomenon with various international conferences, assemblies, and treaties. However, people have lost the feelings of pity, compassion, and interest in each other, which are all manifestations of conciliarity.
We, Christians, on the contrary, declare conciliarity in all its facets to be the foundation of our life. We joyously greet all manifestations of love, trust, understanding, and solidarity in people, seeing in them the scattered but significantly important elements of the ancient conciliarity implanted in man by God, yet knowing all the while that this natural conciliarity, ruptured by sin, is not sufficient and is corrupted, and through it we strive for a higher, boundless, and invincible conciliarity, a conciliarity in Church through union with Christ, and through Him with the entire Holy Trinity, and at the same time with all the angels and humans incorporated into this unity.
ORTHODOX VENERATION OF THE MOTHER OF GOD
I. Veneration of the Mother of God during Her life on earth
From apostolic times to our days all those who truly love Christ also venerate the One Who gave birth to Him, nurtured Him, and safeguarded Him in His childhood. Since She was chosen by God the Father, while God the Holy Spirit descended upon Her, and God the Son became incarnate within Her, obeyed Her in childhood, and showed concern for Her while hanging on the Cross, should not all who confess the Holy Trinity worship Her?
While She was still living on earth, Christ's friends – the apostles – showed great care and devotion to the Mother of God, especially the Evangelist John the Theologian, who, in fulfillment of the will of Her Divine Son, took Her to his house and cared for Her from the moment the Lord said to him from the Cross: "Here is thy Mother."
The Evangelist Luke painted several images of Her, some with the Pre-eternal Infant and others without Him. When he brought them over and showed them to the Holy Virgin, She approved them and said: "The grace of My Son shall be with them," and repeated the words She once said in Elizabeth's house: "My soul doth magnify the Lord, and My spirit rejoices in God, My Saviour."
At the same time, during Her earthly life the Virgin Mary shunned the glory that was due Her as the Mother of God. She preferred to spend life in quietude and to prepare for passage into eternal life. Until the last day of Her earthly life She took care to be found worthy of Her Son's Kingdom, and She prayed to Him before Her death to deliver Her soul from the evil spirits who meet human souls on their way to heaven and try to seize them, in order to drag them down to hell. The Lord answered His Mother's prayer, and when the hour of Her repose arrived, He Himself came down from heaven with a multitude of angels to take up Her soul.
Since the Mother of God also prayed for the chance to take farewell of the apostles, the Lord gathered together for Her repose all the apostles except Thomas, who were brought to Jerusalem on that day from the four corners of the earth by an unseen force, in order to be present at Her blessed passage into eternal life.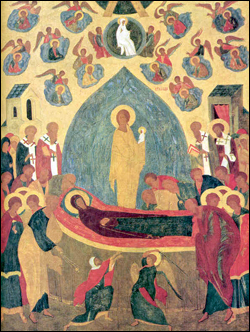 Singing divine hymns, the apostles buried Her Most-pure body, and on the third day they opened up the sepulcher, in order to worship the Mother of God once more, together with the apostle Thomas, who had by that time arrived in Jerusalem. But they did not find Her body in the sepulcher and returned to their homes in bewilderment, but during their common meal the Mother of God Herself appeared to them, shining with divine radiance, and told them that Her Son had also glorified Her body, and that now She, being resurrected, stands before His throne. At the same time She promised to be with them forever.
The apostles greeted the Mother of God with great joy and began to venerate Her not only as the Mother of their beloved Teacher and Master, but also as their heavenly help, the protector of Christians, and intercessor for all of mankind before the Righteous Judge. And everywhere that Christ's Gospel was preached, His Most-Holy Mother also began to be venerated.
II. First enemies of the Mother of God's veneration
The more the faith of Christ spread and the name of the Saviour of the world was glorified on earth, together with the One Who had been worthy of being the Mother of the God-man, the more the hate of Christ's enemies increased towards Her. Mary was the Mother of Jesus. She manifested an extraordinary example of purity and righteousness; moreover, even after departing from this life, She remained a powerful, though physically unseen, support for Christians. Thus all who hated Jesus Christ and did not believe in Him, who did not understand His teaching or, rather, did not wish to understand it as the Church understood it, who wished to replace Christ's preaching with their own human philosophies, – all transferred their hate of Christ, the Gospel, and the Church to the Holy Virgin Mary. They wished to humiliate the Mother, in order to then destroy faith in Her Son, to create a false impression of Her among people, in order to then have the opportunity to reconstruct the entire Christian teaching on other principles. In Mary's womb God became joined with man; She was the One Who had served as a ladder for the Son of God as He came down from heaven. To strike a blow at the veneration of Her meant to strike at the root of Christianity, to destroy its very foundation.
Even from the very beginning Her heavenly glory was marked on earth by an outburst of anger and hate towards Her on the part of the unbelievers. When after Her saintly repose the apostles carried Her body for burial to Her chosen place in Gethsemane, John the Theologian walked in front, carrying an elysian branch which the Archangel Gabriel had brought to the Holy Virgin three days before, when he came down from heaven to announce Her forthcoming departure for the celestial dwellings.
"When Israel went out of Egypt, the house of Jacob from a people of strange language," – Apostle Peter began singing Psalm 114, while the entire assembly of apostles and disciples joined in with the "hallelujah." And while this holy hymn, called by Jews "the great hallelujah," i.e. the great glorification of God, was being sung, a certain Jewish priest named Athonius rushed towards the bier with the intent to overturn it and throw the Mother of God's body to the ground.
Athonius' insolence was punished immediately: Archangel Michael cut off his hands with an invisible sword, and they remained hanging on the bier. The amazed Athonius, in great pain and torment, recognized his sin and appealed with prayer to the Jesus he had hated until this moment, and was healed right away. He then converted to Christianity without delay and confessed it before his former co-religionists, for which he was martyred by them. Thus the attempt to denigrate the honor of the Mother of God served for Her greater glorification.
Christ's enemies did not dare show their disrespect to the body of the Most-pure with further force, but their hate did not abate. Seeing that Christianity was spreading everywhere, they began spreading malicious slander against the Christians. They had no compunction in involving also the name of Christ's Mother, and made up stories that Jesus of Nazareth had supposedly come from a lowly and immoral environment, and that His mother was a Roman soldier's paramour.
Would Christ have been shown respect and allowed to preach in the synagogue if He had been born from illicit cohabitation? Mary would have been subjected to the law of Moses, which commanded such individuals to be stoned to death, while the Pharisees would have been more than glad to rebuke Christ for His Mother's behavior. But the opposite was true: Mary enjoyed the greatest respect, She was an honored guest at the wedding in Cana, and even when Her Son was condemned, no one dared to mock or berate His Mother.
III. Attempts on the part of the Jews and heretics to discredit Mary's Eternal Virginity
Jewish detractors were soon convinced that it was almost impossible to discredit Jesus' Mother, and that on the basis of the information they themselves had on hand they could more easily prove Her blameless life. They therefore left off their slander, which was about to be picked up by the pagans, and tried to prove at least that Mary was not a virgin when She gave birth to Christ. They even said that no prophecy had ever existed about the Messiah being born of a Virgin, and that in vain were the Christians trying to glorify Christ by the supposed fulfillment of such prophecies about Him.
Jewish interpreters appeared who made up new translations of the Old Testament into Greek, and in them they translated the well-known prophecy of Isaiah as "Behold, a young woman shall conceive" (Isaiah 7:14); they asserted that the Jewish word "aalma" meant a young woman and not a virgin, as was written in the holy translation of the 70 interpreters, where that verse was translated as "Behold, a Virgin shall conceive."
The new translation purported to show that on the basis of an incorrect interpretation of the word "aalma" the Christians were trying to ascribe to Mary something that was totally impossible – giving birth without a husband, while in reality Christ's nativity was in no way different from other human births.
However, the new translators' malicious intent soon came to light, since comparisons of different parts of the Bible clearly showed that the word "aalma" precisely meant "virgin." Moreover, not only the Jews, but also the pagans, on the basis of their traditions and various prophecies, expected the Saviour of the world to be born of a Virgin. The Gospel clearly states that the Lord Jesus was born of a Virgin.
"How shall this be, seeing I know not a man?" – Mary, who had sworn to remain a virgin, asked the Archangel Gabriel as he brought Her the glad tidings of Christ's birth.
And the Angel replied: "The Holy Spirit shall come upon Thee, and the power of the Highest shall overshadow Thee; therefore also that Holy One who shall be born of Thee shall be called the Son of God" (Luke 1:34-35).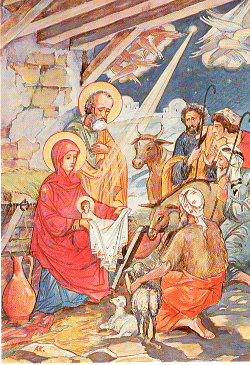 Later the Angel appeared to the righteous Joseph, who had wanted to let Mary go from his house, knowing that She had conceived without having had conjugal relations with him. To Joseph the Archangel Gabriel said: "Fear not to take unto thee Mary thy wife, for that which is conceived in Her is of the Holy Spirit" (Matt. 1:20).
The flourishing staff of Aaron, the boulder that broke off a mountain without being pushed, seen by Nebuchadnezzar in a dream interpreted by the prophet Daniel, the vision of the closed doors seen by the prophet Ezekiel, and many other visions in the Old Testament forecast the birth by a Virgin. Just as Adam was created by God's Word out of untilled and virgin soil, so for Himself the Word of God fashioned a body from a virginal womb, when the Son of God became the new Adam in order to rectify the fall of the first Adam.
Christ's virgin birth can be rejected only by those who reject the Gospel, while from ancient times Christ's Church has confessed Christ as "being incarnate of the Holy Spirit and the Virgin Mary." However, God's birth from an eternal Virgin became a stumbling block for those who wished to call themselves Christian, yet did not wish to humble their prideful minds or to be concerned about purity of life. Mary's pure life was a reproach to those who were also unclean in their thoughts. In order to appear Christian, they boldly rejected Christ's birth from a Virgin, but asserted that Mary remained a Virgin only "till She had brought forth Her firstborn son Jesus."
"After the birth of Jesus, – said the false teacher Helvidius in the 4th century, as well as many others after him, – Mary entered into a conjugal life with Joseph and had children from him, who were called Christ's brothers and sisters in the Gospel." However, the word "till" does not mean that Mary remained a virgin only up to a certain time. The word "till" and similar words often signify eternity. The Holy Scriptures speak of Christ that "in His days shall the truth flourish, and abundance of peace so long as the moon endureth" (Psalm 72:7), but this does not mean that when the moon ceases to exist at the end of the world, God's truth will also disappear; on the contrary, it is then that it will triumph. Or what does it mean that "He is to reign till all His enemies become His footstool"? Will the Lord rule only until His enemies become His footstool and not any longer? In the Gospel the Saviour says to the apostles: "Lo, I shall be with you all the days till the end of time." Does this mean that after the end of time the Lord will abandon His disciples? Or that at the time when they will sit on twelve thrones to judge the twelve tribes of Israel they will no longer be in communion with the Lord?
It is also wrong to think that Christ's so-called brothers and sisters were the children of His Most-holy Mother. The names "brother" and "sister" have various meanings. Referring to primary kinship between people or to their spiritual closeness, these words are used either widely or in a stricter sense. In any case, brothers and sisters are those who have both parents in common, or only a father or mother in common, or even those who come from different fathers and mothers, if subsequently (after being widowed) their parents became married (stepbrothers), or if their parents are related by close degrees of kinship (first cousins), etc.
Nowhere does the Gospel show us that Jesus' so-called brothers were or were considered to be His Mother's children. On the contrary, it was known that James and the others were the sons of Joseph, Mary's betrothed, who was widowed and had children from his first wife. Similarly His Mother's cousin, Mary Cleopas, who stood with Her at the Lord's cross, also had children who, in view of such close ties of kinship, could rightly be called the Lord's brothers. The fact that the so-called brothers and sisters of the Lord were not His Mother's children can also be clearly seen in that before His death the Lord entrusted His Mother to His beloved disciple John. Why would He do so, if She had other children besides Him? They would have taken care of Her themselves. However, the sons of Joseph, Jesus' seeming father, did not consider themselves obligated to take care of their, as they thought, stepmother, and in any case they did not have the same love for Her that children have for parents, or that John, who became Her adoptive son, had for Her.
Thus, a careful study of the Holy Scriptures reveals with perfect clarity the unsoundness of the arguments against Mary's eternal virginity and puts to shame those who teach otherwise.
(To be continued)
THE CHRISTIAN TEACHING OF SAINT SERAPHIM OF SAROV
On God
As much as man perfects himself here for God, so does he walk after Him; and in eternity God will reveal His face to him. Thus the righteous, while contemplating Him here on earth, see His image as in a mirror, while over there they will be worthy of seeing His true manifestation. If you do not know God, then it is impossible for you to love Him. You cannot love God if you do not see Him. However, the sight of God comes from knowing Him, for contemplation does not precede knowledge of God.
Do not discuss divine affairs after sating your belly; what knowledge of God's mysteries can there be on a full stomach?
The one who attains perfect love for God lives in this world as though he were not living here, for he feels himself alien to all visible things. He has transformed himself into love for God and has abandoned all other attachments. The soul that is filled with love for God will not fear the aerial prince even during its departure from its body, but will fly up with the Angels as though from a foreign land back to its homeland.
On the fear of God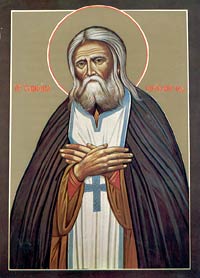 "Fear God, – says the wise Solomon, – and keep His commandments" (Eccles. 12:13), and in keeping the commandments you shall be strong in all affairs, and your affairs will go well, for in fearing God, out of love for Him you will do everything well. Do not fear the devil; whoever fears God will overcome the devil, since the devil is powerless before him.
There are two types of fear: if you do not wish to do evil, fear God and do not do it, while if you wish to do good, fear God and do it.
No one can acquire the fear of God until he becomes freed of all earthly concerns. When the mind is unconcerned, then the fear of God stimulates it and urges it towards God's love and kindness.
Fear of God is acquired when a person rejects all worldly things, concentrates his thoughts and feelings, and totally immerses himself into a contemplation of God and the feeling of bliss that has been promised to the saints.
On spiritual labors
One should not undertake labors beyond one's capability, but should ensure that one's friend – the body – be loyal and able to engage in virtue. One should travel the middle road, neither veering right, nor left; provide the spirit with spiritual things and the body with the bodily things necessary for supporting temporary life. One should likewise not refuse to give to our social life that which it lawfully demands from us, as it is written in the Scriptures: render what is Caesar's unto Caesar, and what is God's unto God. One must be patient with the frailties and imperfections of one's soul, and endure one's shortcomings just as we endure the shortcomings of others, but we must not become indolent and must continually spur ourselves towards doing better. If you overindulged in food or did something else on the basis of human weakness, – do not become upset, do not add insult to injury, but bravely encourage yourself towards rectification and try to preserve inner peace. A body overtaxed by work or illness should be strengthened with moderate sleep, food, and drink without regard for time. Jesus Christ, immediately upon raising the daughter of Jairus from the dead, ordered that she be given food. All our successes we must ascribe to the Lord and say together with the prophet: not to us, Lord, not to us, but to Thy name give glory (Psalm 114:9). Until the age of 35, i.e. until the middle of one's earthly life, a person performs a great spiritual labor in keeping himself chaste, and many at this age are unable to stand firm in virtue, but are tempted from the right path and fall prey to their own desires, as St. Basil the Great testifies: many gathered much in their youth, but upon reaching middle age, were unable to withstand the temptations sent upon them by the evil spirits, and were deprived of everything. In order for us not to experience such transformation, we must attentively monitor ourselves throughout our entire lives.
On illnesses
The body is a slave to the soul, the soul is the queen, and for this reason it is a mercy from God when our body is taxed by illness, for this leads to a weakening of passions, and man comes to himself; moreover, the illness of the body is sometimes engendered by the passions themselves.
Take away sin, and there will be no more illnesses, for they arise within us from our sins, according to St. Basil the Great. Where do illnesses come from? Where do bodily injuries come from? The Lord created the body and not the illness; the soul and not sin. What is most useful and needful? Unity with God and communion with Him through love. By losing this love we fall away from God, and in falling away we are subjected to various and many illnesses. Whoever endures his illness with patience and gratitude, such a one is rewarded for the illness even more than for spiritual labors.

Saint Maxim the Confessor on love for God and neighbor
Let us love each other, and we shall be loved by God. Let us suffer each other, and He shall suffer our sins. Let us not respond to evil with evil, and He will not give retribution for our sins. We shall acquire forgiveness of our sins in forgiving our brothers and sisters, for God's mercy to us is hidden in our mercy to our neighbors. For this reason the Lord said: Forgive and ye shall be forgiven (Luke 6:37). For if ye forgive men their trespasses, your Heavenly Father will also forgive you (Matt. 6:14).
If a temptation occurs, or a disappointment leads you to hate, – do not be overcome by hate, but conquer hate with love. You can conquer it thus: pray sincerely to God for your neighbor, accepting his apology, or heal yourself by apologizing to your neighbor, regarding your own self as the guilty party…
The sign of the Cross
The teaching on the sign of the Cross is a tradition "received mysteriously."
By an unwritten apostolic decree the Cross has become the cornerstone of liturgical life and all the sacraments that are performed. Blessed Augustine wrote that if the sign of the Cross is not made, then all the sacraments are in vain. The sign of the Cross opens the doors through which comes an outpouring of the grace of the Holy Spirit upon the faithful, the grace that transforms the earthly into the heavenly and destroys all the barriers that divide us from God and life in heaven. And the sign of the Cross would never have had such importance, if it were not truly effective. In many prayers we see a linking up of the sign of the Cross with the Saviour Himself and the Mother of God: the world and all creation in it is protected and sanctified through the sign of the Cross, which is a seal of the gift of the Holy Spirit.
A NON-SENSATION
The discovery of previously unavailable texts dating back to great antiquity is always a subject of a certain degree of scholarly interest. However, interest in the "Gospel of Judas" – a 2nd or 3rd century literary historical document preserved in the Coptic language – was artificially heated up in some mass media outlets. The public was fed the idea that at long last hidden information had been obtained, information that Church officials had hidden from the faithful for centuries, and that the newly discovered historical document would rock the traditional teachings of Christianity. It was expected that publication of the document, which contained a "rehabilitation of Judas," would have the same effect as that of the Da Vinci Code.
However, at the first mention of the discovery, theologians and clergy familiar with the history of Christianity and literature related to Christianity warned that one should not expect a sensation, as the "Gospel of Judas" was far from the first historical document of its type. A large number of manuscripts of Gnostic origin were extant, and they were of interest only in the study of the development of heretical movements in the early history of Christianity. Not a single one of those compositions had succeeded in rocking the foundations of the teachings of the Church, although in their day – in the early stages of the spread of Christianity – some of them had served to draw Christians away into Gnostic sects.
Early Church writers had been aware of the "Gospel of Judas." In enumerating the Gnostic sects of his time, the 2nd century hieromartyr, St. Irenaeus of Lyons, mentioned the Cainite sect, which taught that "as only Judas knew the truth, it was he that performed the mystery of betrayal, and through it, they say, everything on earth and in heaven had been resolved. They likewise disseminate an imaginary history of that type, calling it the Gospel of Judas."
Tertulian, another great teacher and apologist of the early Church (circa A.D. 160-225), comments on this false and highly pernicious teaching in the following manner: "Another heresy has flared up, called the Cainite heresy. The reason for it is that they (the Cainites) glorify Cain for supposedly having been engendered by some exceedingly powerful energy that acted in him, while Abel, who was born after him and had been conceived from a weaker force, was the poorer (smaller). Those who assert this also defend the traitor Judas, telling us that the latter is worthy of respect and is even to be considered great because of the blessings which he supposedly passed on to mankind; some of them think that he (Judas) is due gratitude for the reason that he, realizing clearly that Christ wished to betray the truth, betrayed Him in turn, so that there would be no opportunity to pervert the truth. And there are yet others who, on the contrary, assert that because the rulers of the world did not agree to have Christ suffer and thus obtain salvation for mankind through His death, he (Judas), wishing to assist the salvation of mankind, betrayed Christ in order to prevent opposition to salvation, which salvation was truly being impeded by the forces which opposed Christ's suffering; thus, through Christ's suffering, nothing would impede the salvation of mankind."
As we see from the above-mentioned quote, the heresy now being spread by various false Western theologians is not new at all. On the contrary, it has its roots and precedents in great antiquity and was combated by some of the most famous apologists of Orthodoxy in those times.
 What gave rise to the renewal of this ancient Cainite heresy in our times? In 1945, 13 papyrus scrolls were found near the Nag Hammadi village in Egypt, containing a total of 49 Gnostic treatises. However, the so-called "Gospel of Judas," mentioned by St. Irenaeus in his essay on the Cainite heresy, was not found among them. For this reason many theologians thought that the hierarch of Lyons was mistaken. But was he mistaken? Not at all! Recently a 14th scroll was discovered, which was found to contain this "Gospel of Judas."
The recent discovery of the document fully supports information about its Gnostic origin. The text has undergone significant damage, thus complicating the problem of fully establishing the author's impressions as to Judas' role in the matter of betraying Jesus. From the surviving fragments, however, it becomes evident that the author of the document saw in Judas a disciple who was especially close to Jesus, one to whom Jesus revealed the "mysteries of the Kingdom." It seems that his act of betrayal was upon direct orders from Jesus.
Gnostic sects of the 2nd and 3rd centuries displayed a wide and diverse range of theological teachings. However, they held in common the tendency to combine elements of Christianity with elements of Eastern religions, occultism, magic, and astrology. Characteristic of most Gnostic systems was the concept of two equally powerful forces – the force of good and the force of evil – in control of the history of the universe. Within that framework, the material world was presumed to be a creation not of the good God, but the evil Demiurge. The concept of man as a creature endowed with free will was absent from Gnostic systems; man was something more like a toy in the hands of good or evil powers.
The figure of Christ did not occupy a central role in any of the Gnostic systems. Only individual elements of His teachings were woven into the Gnostics' phantasmagoric constructs. Thus, the Gnostics were not satisfied with the Gospels used in the Church; they created their own personal alternative Gospels. One of them was the "Gospel of Judas."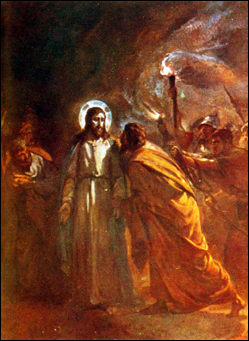 The concept that in betraying Jesus Judas was merely obeying Jesus' will is absolutely consonant with Gnostic teaching about good and evil as two equal forces controlling the universe. However, in no way is it consistent with Church teaching, which insists that each man has personal responsibility for his actions, and that no one is predetermined to do some evil or other.
According to Christian teaching, there is a mystical paradox between God's omniscience and individual free will. On the one hand, God knows in advance about evil deeds that will be done by any individual. On the other hand, God's omniscience does not justify evil deeds: St. John Damascene wrote in the 8th century, "One must know that God knows everything in advance, but that He does not predetermine everything. For He knows in advance what is in our power, but does not predetermine it. For He does not wish transgressions to occur, but does not forcibly compel us to move in the direction of virtues."
Judas' betrayal was not foreordained for him, and when the Lord chose him to be one of His twelve disciples, He chose him not to be a traitor, but to be an Apostle. Judas was not deprived of any of the gifts with which the other apostles were endowed. He was with them at the Mystical Supper, and together with them received into himself the Body and Blood of Incarnate God. However, as it says in the services for Great Thursday, "the glorious disciples were illumined at the Supper during the washing of the feet, but ungodly Judas was darkened by the disease of avarice." While the other disciples heeded the Savior's words, in Judas' heart a plan of betrayal took shape.
No one forced Judas to commit an act of betrayal: it was solely his own free choice. Jesus' words to Judas, "that thou doest, do quickly" (John 13:27), were neither an order nor a signal to take action. Judas could have seen them as evidence that Jesus knew of his plans, and they could have stopped him at the last minute. However, the plan of betrayal had already taken shape in Judas' heart, and even the words of the Savior did not stop him.
The perniciousness of Judas' betrayal is augmented by the fact that it was committed after Judas had communed of the Holy Body and Blood of Christ at the Mystical Supper. This is clearly stated by the great theologian and universal teacher of Orthodoxy St. John Chrysostome: "Judas was not turned toward Christ when he partook of the Holy Mysteries. Thus his crime becomes even more abominable for two reasons: being hardened with such resolve (to betray Christ), he yet dared to partake of the Holy Mysteries; and, having partaken of them, he did not become any better, neither from fear, nor from the benefit received, nor from the honor which he was granted."
As St. Augustine says: "And it is not surprising that condemnation followed his (Judas') ingratitude for the blessing received. And because of this ingratitude all that was good in him turned into evil, as happens with those who partake of the Holy Mysteries unworthily."
And there is another important point: did Judas act of his own free will for the good of mankind, as is asserted by both ancient and modern Cainites, or was he prompted by the ancient lying serpent, i.e. the devil? The answer to this question is given to us in the Gospel of St. John the Theologian: "And He (Jesus) dipped the sop and gave it to Judas Iscariot, the son of Simon. And after the sop Satan entered into him" (John 13:26). Thus, if Judas acted at the prompting of the devil, as Church tradition and the Holy Scriptures themselves teach us, then what kind of rehabilitation are we talking about? For what communion can there be between light and darkness?
Christ said to His disciples: "Woe unto the world because of offences! For it must needs be that offences come; but woe to that man by whom the offence cometh!" (Matthew 18:7). Those words referred first of all to Judas the betrayer. Jesus Christ accepted his Passion voluntarily, and His Passion had a redemptive meaning for all mankind. However, Judas did nothing deserving in the work of salvation and redemption of mankind. Salvation and redemption would have taken place even without Judas' participation. Betrayal was not the essential link in the chain of events that brought mankind to salvation.
On Great Thursday, the Orthodox Church reminds the faithful not only of the Mystical Supper, the first Eucharist, offered by our Lord Jesus Christ Himself. It also reminds us of that moral responsibility borne by each of us, by everyone Jesus calls to salvation and eternal life.
And it is no accident that before the Eucharistic Chalice, Orthodox Christians say the words, "nor will I give Thee a kiss as did Judas." The image of Judas is kept by the Church as an example of a man who had crossed the last boundary line, the line man must not cross for any reason, or at any price. Beyond that line lies perdition and eternal death.
(Excerpts in italics are from an article on the same subject, written by priest Mikhail Amelchenya and printed in "Orthodox Russia," No. 3, 2006)
LIVES OF THE SAINTS
On May 21st (the 8th by the old calendar) the Church commemorates the memory of the venerable Arsenius the Great.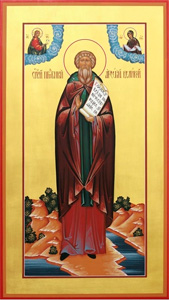 St. Arsenius was born in Rome, received a good upbringing and an excellent education, but left off his studies and dedicated himself to God, becoming a deacon. Against his will he was taken by Emperor Theodosius to Constantinople as a worthy instructor of the emperor's sons. However, the saint's soul yearned for solitude, and he was greatly burdened by his position. The Lord acceded to his appeals, and one day he heard a voice saying: "Arsenius, run away from people and you shall be saved." Leaving the palace in secret, he went off and entered one of the Egyptian monasteries. Once, while praying, the saint again heard a voice saying: "Arsenius, run away from people and remain silent – that is the root of sinlessness." After that the saint went into seclusion, coming to church only on Sundays and major holidays. He spent 55 years in great spiritual feats and reposed at the age of 95. St. Arsenius taught: "Many times I have repented of my words, but never of my silence." In response to the question of why he hid from people, the ascetic replied: "God sees that I love everyone, but I cannot simultaneously be with God and with people. The heavenly powers have a single will and glorify God in unison, while on earth each person has his own will, and people's thoughts are different. I cannot leave God and live with people."

On inner purity
(An instruction by St. Arsenius the Great)
Many people, in order to cleanse themselves of the iniquities of the flesh and sin, spend a very strict life. Yet they do not think at all or very little of mental purity and of absolute cleansing of oneself. Many try to avoid fornication and other vices of the flesh, but few take care to suppress within themselves their innermost passions, such as envy, vanity, egoism, avarice, and – worst of all – pride. For this reason they are not only half-pure, but the greater and more important part of themselves remains impure. They are like statues which glitter with gold externally, but internally are full of all kinds of foul things.
Above all we must try to cleanse ourselves of our secret passions. We must know that our enemy the devil tries to tempt us with various cunning approaches, and tries to throw us into the abyss of vice even by means of good deeds. For example, by enticing us to offer hospitality, he lures us into partaking of forbidden food and drink together with our guests. Hospitality in itself is a wonderful virtue – that of love. However, by means of it he secretly and gradually makes us slaves to our bellies and nourishes incontinence and lust within us. Others he disposes towards the giving of charity, towards generosity, but through this he incites within them love of money and avarice. And so on.
NEW DEVELOPMENTS IN THE FORMATION OF THE RELIGION OF THE FUTURE
(Continuation)
4. The Leaven of New Age Spirituality
New Age / neopagan gatherings take place on a regular basis throughout the world. In America the most prominent of these are the Rainbow Gatherings held in various parts of the country, and the Burning Man Festivals held in the Black Rock Desert of Nevada. Drawing New Agers, Wiccans, goddess-worshippers, earth-worshippers, and outright Satanists together with curiosity-seekers and party-goers, the Burning Man Festivals increase in size every year: in 2004 there were 35,000 participants. The Festivals conclude each year with the torching of a forty-foot-high sacrificial wooden man, reminiscent of the ancient "wicker man" sacrifice practiced by the Druids on the feast of Samhain (now known as Halloween).
While such gatherings are a significant indicator of the growing normalization of paganism in our society, more significant is the fact that New Age ideas and practices are entering more and more into all spheres of human thought and activity, shaping the lives of millions who may not consciously identify themselves as neopagans or New Agers.
Thus, the "New Age" has become less a movement than a cultural trend, a leaven insinuating itself everywhere: into psychology, sociology, history, the arts, religion, health care, education, and government. Mental hospitals throughout the country have instituted New Age programs: Eastern meditation, transpersonal psychology, biofeedback, and music mediation. Many senior citizen centers have adopted Yoga as a way to promote "mind-body" health. A large number of major corporations have sponsored New Age seminars for their employees, where visualization, hypnosis, "psychic healing," "dream work," contacting spirit guides, and other "consciousness-raising" practices have been taught. Even in public, government-funded schools, mediumism under the name of "channeling" has been taught as a means of "inner healing." A consortium of concerned parents in Connecticut has described what has been happening in the classroom: "In the name of discovering their 'life purpose,' children are encouraged into trance-like states of mind where they communicate with 'guardian spirits.' The use of Yoga exercises and mind control techniques are other example of the format of this program."
Christian churches, sadly, follow the same dangerous trends, trailing in the dust of the world's march of apostasy. In the mid-1970s Father Seraphim had written: "The profound ignorance of true Christian spiritual experience in our times is producing a false Christian 'spirituality' whose nature is closely kin to the 'new religious consciousness'." Years before "channeling" of disembodied entities had become a New Age fad, Father Seraphim had quoted charismatics speaking about how they "channeled" the "Holy Spirit." But even if we omit the issue of the charismatic revival, the prognosis he made has been borne out in other areas. As New Ager Marilyn Ferguson writes in her book The Aquarian Conspiracy: "An increasing number of churches and synagogues have begun to enlarge their context to include support committees for personal growth, holistic health centers, healing services, meditation workshops, consciousness-altering through music, even biofeedback training."
In the city of Detroit, for example, mind control courses have been taught by a Roman Catholic priest and nun. In New York, the Episcopal Cathedral of St. John the Divine has features sermons by David Spangler – a leading member of the Findhorn Foundation who has said that a "Luciferian initiation" would be required to enter the New Age. In Oakland, California, the "University of Creation Spirituality," under the leadership of Episcopal priest Matthew Fox, advocated a "redefined" Christianity that rejects the traditional Christian theology and the ascetical Christian worldview while embracing Wiccan spirituality. Here, "rave masses" (also known as "techno-cosmic masses") are held every month, having been originally launched at Grace Episcopal Cathedral in California. Described by one observer as "a syncretistic brew of paganism, witchcraft, nature-worship, drama, art, and dance, these multimedia "masses" are attended by well over a thousand people.
Concurrently, there is now a movement in contemporary Roman Catholicism to assimilate the teachings of Carl Jung, one of the founding fathers of the New Age movement. Jung, who participated in séances and admitted to having "spirit guides," taught that the exclusion of the "dark side" is a fatal flaw in Christianity, and that therefore there needs to be a fourth Personadded to the Holy Trinity – Lucifer! His theories are being extolled in Roman Catholic seminars and workshops, and his psychotherapy is being practiced in some Roman Catholic churches, and by monks and nuns in some monasteries. Episcopal and Protestant (especially Methodist) churches have also entered this movement; a number of Protestant ministers also work as Jungian analysts.
Within many mainline Christian churches there is a strong and determined movement to "re-imagine" the Christian faith along the lines of radical feminist theology, neopagan goddess worship, and a New Age worldview. In 1993 the first "Re-imagining" conference was held in Minneapolis, Minnesota, in conjunction with the World Council of Churches' Ecumenical Decade of Churches in Solidarity with Women. The conference was attended by over two thousand participants from twenty-seven countries and fifteen mainline denominations, most prominently the Presbyterian, Methodist, Lutheran, Roman Catholic, United Church of Christ, and American Baptist. One third of the participants were clergy. Speaking of the need to "destroy the patriarchal idolatry of Christianity," the conference speakers rejected and at times ridiculed the Christian dogmas of the Holy Trinity, the Fall of man, the unique incarnation of God in Jesus Christ, and the redemption of man by Christ's death on the Cross. In place of these articles of faith, the conference promoted pantheism, shamanism, and homosexual rights. The participants took part in a "liturgy" wherein milk and honey were used rather than bread and wine, and the goddess "Sophia" was worshipped rather than Jesus Christ. The chant was repeated: "Our Maker Sophia, we are women in your image… with our warm body fluids we remind the world of its pleasure and sensations." At a later Re-imagining conference held in 1998, Sophia-worshipping participants also shared biting into large red apples to express their solidarity with Eve, whom they regard as a heroine for having partaken of the forbidden fruit.
Although conservative Christians have spoken out against the conferences, the Re-imagining community remains influential within mainline churches, holding inter-denominational caucuses to discuss strategies for expansion. Worship of the goddess Sophia continues within these churches. As recently as June 2004, during the Presbyterian General Assembly in Richmond, Virginia, a "Voices of Sophia" meeting was held in which Sophia was invoked as a goddess.
More significantly, feminist theology has become the most prominent trend on mainline seminary campuses today, and is a driving force within the ecumenical movement. The main coordinator of the 1993 Re-imagining conference, Mary Ann Lundy, is now the Deputy Director of the World Council of Churches. At the 1998 Re-imagining conference, she made clear the agenda of both feminist theology and modern-day ecumenism: "We are learning that to be ecumenical is to move beyond the boundaries of Christianity. You see, yesterday's heresies are becoming tomorrow's Book of Order." As we have seen, this is also the agenda of the New Age movement.
5. The "Toronto Blessing"
Since Fr. Seraphim first wrote about the "charismatic movement" that was sweeping Christian churches, the movement has grown at a phenomenal rate. Worldwide, Pentecostalism is the fastest growing segment of Christianity: it is increasing at a rate of thirteen million people per year – primarily in Asia, Africa, and South America – and now claims nearly half-a-billion adherents.
Fr. Seraphim's observations about charismatic experiences have been borne out most strikingly in the "holy laughter movement" that mushroomed in the 1990s. About "laughter in the Holy Spirit" Fr. Seraphim had written: "Here perhaps more clearly than anywhere else the charismatic revival reveals itself as not at all Christian in religious orientation." This is precisely the charismatic phenomenon that has seen the greatest increase in the last decade.
The rise of the current laughter movement can be traced to another movement that arose within Pentecostalism: the so-called Faith Movement in the 1980s. Also known as the "health, wealth, and prosperity gospel" because of its teaching that Christ has delivered believers from the curse of poverty and sickness, the Faith Movement contains strange tenets which resemble those of the New Age movement, such as belief in the power of creative visualization (visualizing what you want, and then "claiming" it), the belief that a person can become as much an incarnation of God as Jesus Christ was, and the denial that Christ redeemed man through His death on the Cross.
Through the ministries of leaders such as Kenneth Copeland, Rodney Howard-Browne, and Marilyn Hickey, the Faith Movement has spread its heresies and attendant charismatic phenomena throughout the world. Since the spring of 1993, the movement has had a profound impact, not only on Pentecostal churches, but on mainline Christian churches as well. It was then that Faith Movement leader Rodney Howard-Browne drew widespread attention to his televised "laughing revival" at an Assemblies of God church in Lakeland, Florida. Thousands came from around the world to take part. Howard-Browne would walk through the crowds, placing his hands on people, and saying such things as "Fill! Fill! Fill!", whereupon many would collapse on the floor, laughing uncontrollably, cackling and hooting. Others would writhe on the floor screaming hysterically, act as if drunk, be stuck to the floor with what Howard-Browne called "Holy Ghost glue," or be "slain in the Spirit," that is, fall to the ground on their backs, often into unconsciousness. Each of these manifestations would often last for up to several hours, and sometimes (as in the case of uncontrollable laughter) for several days.
Calling himself a "Holy Ghost bartender" who is "drunk all the time," Howard-Browne showed disdain for any attempts to test the spirits to see whether they are of God (1 John 4:1). "I'd rather be in a church where the devil and the flesh are manifesting, – he stated, – than in a church where nothing is happening because people are too afraid to manifest anything… And if a devil manifests, don't worry about that, either. Rejoice, because at least something is happening!"
In August 1993, Randy Clarke, pastor of a charismatic church in St. Louis, Missouri, attended a Faith Movement meeting led by Howard-Browne in Tulsa, Oklahoma. Four months later, Clarke brought the "laughing revival" to the Airport Vineyard Church of Toronto, Ontario. What began as a four-day series of meetings expanded into months of nightly services that sometimes lasted until 3:00 A.M. At this point the laughter movement skyrocketed, eliciting massive coverage by the worldwide media. Dubbed the "Toronto Blessing," the "holy laughter" meetings were billed as the top tourist attraction of 1994. Hundreds of thousands of Christians came to the Toronto church from all over the world – not only Pentecostals, but also Mennonites, Nazarenes, Methodists, Anglicans, Baptists, Roman Catholics, etc.
In Toronto, the manifestations of the Faith Movement-inspired "laughing revival" grew even more bizarre than those reported earlier. In addition to the phenomena already described, people were seen to crawl on the ground and roar like lions, bark like dogs, paw the ground and snort like bulls, oink, howl, moo, crow, growl, and emit other animal noises. Other manifestations of the "revival" included jerking and shaking of the head and body, karate chopping motions, imitating warriors, dancing uncontrollably, abdominal spasms, intense chest pain, "vomiting in the spirit," and "birthing" (going through a mock labor and delivery).
Of the hundreds of thousands of people who have taken part in the "Toronto Blessing," 15,000 have been Christian ministers and pastors. They have subsequently brought the movement to their congregations throughout the world, causing such phenomena as "holy laughter" and being "slain in the spirit" to multiply at a rapid rate on five continents. In England alone, 7,000 churches, including those of the Church of England, have embraced the Toronto Blessing. The manifestations of the laughter movement have now swept what has long been regarded as mainstream Christianity. In July of 1995, a Pentecostal and several Protestant and Roman Catholic charismatic scholars defended the animal noises as either manifestations of the Holy Spirit or human responses to the Holy Spirit's working.
The widespread acceptance of these manifestations reveals an utter ignorance of the traditional Christian standards of spiritual life. In the Orthodox Church, most of these manifestations have been historically regarded as clear signs of demonic possession. In Orthodox Christian countries even today, such behaviors are exhibited by possessed individuals during services of exorcism performed by Orthodox priests. An American Orthodox nun, who attended such exorcisms in Russia in 1995, records that "once the services are underway, the demons begin to show themselves. One woman rages in a male voice, another person shakes violently, another shrieks, another is thrown to the floor, losing consciousness… yet another looks as though he is in distress and pain, just before vomiting on the floor…They scream their hatred for the priest, vowing to have their revenge, as he douses them with holy water. Some demons make jokes, others are just raw anger and hatred. But the loudest noise always seems to be that of animals: mooing, crowing, and especially barking and growling."
Although, as Fr. Seraphim has noted, charismatics would disclaim any association with occultism and paganism, it is noteworthy that the same manifestations of the "holy laughter" movement are found in the New Age movement. The Indian guru Bhagwan Shree Rajneesh, called by his disciples the "divine drunkard," encouraged his devotees to come and "drink" from him. His spiritual "wine" was often passed on with a single touch to the head (known as the shakti-pat), at which his followers would collapse in ecstatic laughter. Another famous guru, Swami Muktananda, would hold meetings at which thousands of his followers from around the world came to receive his touch. They experienced uncontrollable laughing, roaring, barking, hissing, crying, shaking, as well as falling unconscious. Muktananda was only imparting to his disciples experiences that he himself had undergone: roaring like a lion and other involuntary animal behaviors, which he attributed to spirit-possession by the goddess Chiti.
It is also noteworthy that prominent New Agers have spoken out in favor of the "holy laughter" movement that has entered Christian churches. One such spokesman, Benjamin Crème, well known for his predictions of the imminent coming of a New Age Messiah, has said the following about the "Toronto Blessing": "People are reacting to new energies invading our planet. Energies emanating from the 'christ' give them a sense of peace."
Popular evangelist Oral Roberts, who hosted a revival led by Rodney Howard-Browne, has called the "holy laughter" movement the beginning of "another level of the Holy Spirit." Howard-Browne himself has said the movement marks a "powerful new wind of the Spirit," bringing with it "the exciting sound of joy, joy, joy, joy!" that is "energetically stirring us to higher levels with God." This is remarkably similar to claims made by today's New Age "prophets." At the same time "holy laughter" began to ripple through the churches, New Age leader Barbara Marx Hubbard wrote that the human race was soon to experience a leap in evolution which she called "The Planetary Pentecost" or "The Planetary Smile." "From within, – she wrote, – all sensitive persons will feel the joy of the force flooding their systems with love and attraction. As this joy floods through the nervous systems of the most sensitive persons on earth, it will create a psycho-magnetic field of empathy… This massive sudden emphatic alignment will cause a shift of consciousness of Earth." As a result of this, she says, "the 'christ' will appear to you all at once."
With mainline Christians having the same experiences and harboring the same expectations as neopagans, we see the fulfillment of Fr. Seraphim's words about how many Christians will be deceived into accepting a pagan initiation experience.
(To be continued)
SPIRITUAL POETRY
SPRING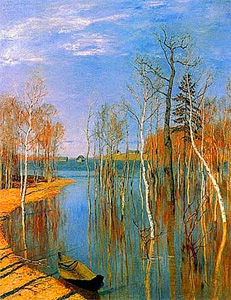 Spring, o spring! How pure the air!
How clear the azure sky!
With its cerulean shining blue
It does so blind the eye.
Spring, o spring! On zephyr's wings
How inexpressibly high,
Caressing sunshine's fiery rays,
The clouds so loftily fly!
The running streams! The sparkling streams!
The river thunders by
And carries on its mighty crest
The cracking, thawing ice!
The trees are somewhat bare as yet,
But in the grove the leaves,
As always crackle underfoot
And fragrantly appease.
Towards the sun the unseen lark
Flies off and sweetly sings
A beauteous chant, a wondrous hymn
In honor of the spring…
– Ye. Baratynskiy
Translated by Natalia Sheniloff