THE GREAT LENT – FIRST WEEK

PENITENCE AND PREPARATION FOR COMMUNION
The first week of Great Lent consists of strict fasting and long daily services. During the first four days, the Great Compline is served in the evenings, enhanced by the reading of the moving penitential canon of St. Andrew of Crete, with the refrain: "Have mercy on me, O God, have mercy on me." The priest and the church are dressed in black vestments, the service is held in the flickering light of the candles, the singing is slow and muted… everything conduces the soul towards repentance, the realization of its sins, and cleansing itself of them. The faithful devote the entire first week to preparation for communion, i.e. they labor spiritually by attending services daily and making themselves ready to partake of the Holy Mysteries at the end of the week. In his three marvelous sermons for the first week of Great Lent, St. John of Kronstadt instructs us on proper preparation for communion.
Sermon on preparation for communion (given in mid-week)
And so, my beloved, today is the fourth day that we are coming to the divine services and preparing for communion. Is our soul benefitting from such preparation? Each one of us should look into his heart and decide: is there a holy change within it, is it beginning to desist from sin? We must also determine whether the divine service is having any effect on us, whether we are leaving the church in a pious mood, or whether we continue to stand in church with cold indifference, praying only from habit and making prostrations without deeply ruing our sins. We must examine the course of preparation for communion, whether it is proceeding successfully, or whether our labors are in vain. You should be fully aware, my beloved, of what you are preparing for. You are preparing to partake of the divine, pure, life-giving, and awesome Mysteries of the body and blood of Christ our God, you are preparing to commune with the Lord God Himself! For this reason our preparation deserves the greatest attention. Let us examine our labors very strictly and make sure they are benefitting our souls.
How do we benefit from our preparation? First of all, we must pay attention to our hearts: within them lies all of man's evil. Our hearts have completely turned away from God and have turned towards the world and its attractions; our hearts contain all our lusts and passions. There should be an important turning point within us: from love of this world with all its pleasures and sins to love for God, Whom we must love above all; and that is a hard thing to do, especially for those who love the world so strongly.
But let us not fear any difficulty: what is difficult and impossible for us is easy and possible for God. And in this difficult task of turning away from the world and towards God you will be helped primarily by the divine services: simply stand and listen to them with attention and humility, and the spirit of remorse and tenderness of soul will come upon you. And even if you do not understand the entire service, try to draw into your heart and ponder that which you do not under-stand; from the holy words of the Church try to propagate holy thoughts and feelings – and with God's help your endeavors will proceed successfully. Furthermore, try to imagine more often how you will approach the holy Mysteries after your preparation and confession. However, if you approach them unworthily, with an unrepentant heart, you will have taken communion in judgment against yourself, and after communion you will not become better, but much worse. With these and similar thoughts fortify yourself in your labor of preparation and pray in church as sincerely as possible, from the bottom of your heart; say to God sincerely and often: O God, be merciful unto me, a sinner! O God, cleanse me, a sinner! I have sinned immeasurably, O Lord, forgive me! Remember, that just the words: O God, be merciful unto me, a sinner, – were enough to justify the publican. Why? Because they were said without any affectation, from the bottom of his heart, with full admission of his guilt before God, and a resolve to reform himself. And we, beloved, are so sinful that we have nothing to say to God in our defense. So the only thing we can say is: O God, be merciful unto us, sinners! O God, cleanse us, sinners! We have sinned immeasurably, O Lord, forgive us! Amen.
Sermon on repentance
Today, my beloved, you will come to confession. As your priest I must explain to you what is expected from those who come to confession, in order that this confession be sincere, pleasing to God, and salvific for the soul. Specifically, the penitent must rue his sins, be resolved to reform his life, have faith in Christ and belief in His charity.
First of all, the penitent must feel remorse over his sins. But it is this which father-confessors often do not see in their spiritual children. Many come to confession with total indifference, and if they are not asked anything, they will either not say anything at all or will simply say that they have generally sinned. And if only they would at least say it with a sincere admission of guilt; but no, to our great sorrow these words are said without any feeling of remorse, but simply to get the confession over with as quickly as possible. Beloved! Let us not turn a matter of God's extreme mercy to us, sinners, into an occasion for God's wrath. How can we be so insensitive! Have we not so many things to rue during a confession? We are so sinful that were we to spend our entire life lamenting our sins, even then we would not do anything more than is just. Whoever says that he has no sins is simply deluding himself.
You do not see your sins? Then pray to God that He grant you the ability to see them; it is precisely for this reason that this entire past week you have been saying in church together with the priest: O Lord, grant me to see my transgressions! Let us try to see our sins, so that we may confess them with heartfelt remorse. And it is our first very important sin that we, being such great sinners, do not feel that we deserve not mercy, but chastisement from God! O, this Pharisaic righteousness of ours, – how many people it has destroyed!
But let us look further: with what sins have we sinned greatly before God? First of all, that we live on earth not for God and the salvation of our souls, not for eternal life, but for the flesh and its pleasures. Have we forgotten the passion of our Lord Jesus Christ, His precious blood spilled for us on the cross, His glorious Resurrection? Is it not for us, whom sin had separated from heaven, that He came down to earth, in order to raise us to heaven? Thus, if we must live here in expectation of eternal life, then we sin if we live with all our thoughts and hearts centered upon earthly life. And how many sins are committed because we want to live well on earth and we do not believe in eternal life! How much anger, hate, greed, envy, avarice, and deceit arise from that! This is the source of all our vices, all our fleshly lusts, all the passions of our soul. Let us confess this sin: that we do not live on earth for God and for the salvation of our soul.
And we also suffer from the great sin of ingratitude towards God for His innumerable bounties. All of you walk on your own two feet, all of you have been endowed by the Creator with intelligence and free will, – and what were you just a while ago? Nothing! Yet out of nothing God has brought you into being, – and from that time on has given you everything: He has showered you with earthly goods, sustains you with His precious body and blood, forgives your countless sins, guards your life as a mother guards her child, has prepared His kingdom for you, and how much more He does out of His love for us, sinners! And what about us? How do we respond to His love for us – a love which has no bounds or measure? We respond with iniquity and ingratitude. Thus let us repent before God our lack of love for Him, and let us ask Him for the gift of love.
The penitent is also required to have a firm resolve to reform his life: you must make note of that especially. As you go to confession, say to yourself: after confession I will make a great effort to rid myself of the sins which I will now be confessing. I will no longer lie to myself, I will not lie to God, I will no longer abuse the sacrament of penitence. Of what good is repentance if afterwards I shamelessly continue to commit the same sins that I have just confessed?
And, finally, a penitent is required to have faith in Christ and belief in His mercy. Everyone who comes to confession must believe that during the sacrament Christ Himself invisibly stands and accepts the confession; that Christ alone can grant remission of sins; that He, through His charity, is always ready to forgive all our transgressions, as long as we confess them with heartfelt remorse. Let us repent with a pure heart; let us make an effort to rectify our lives; let us bring to God the fruits of repentance. Amen.
Sermon on communion
Before you, my beloved, is the divine Body and the divine Blood of our Lord Jesus Christ, – and you have prepared yourself, through daily attendance of services and through confession, to partake of these life-giving Mysteries. To come to communion properly, the following is required from each one of us: first of all, a simple and child-like belief that under the form of bread and wine you are taking the Lord Himself into your heart, that you are becoming one with Him, both in flesh, and blood, and in spirit.
Secondly, you must have absolute belief in the Saviour's charity, that like a divine fire He will burn and cleanse all your sins; therefore, each one of you, being aware of your unworthiness to partake of the divine Mysteries, should throw yourself completely upon the Lord's mercy; let no one waver, be faint of heart, or fall into despondency thinking of one's sinfulness and unworthiness; from the chalice to all of us is granted the Lord's mercy, complete forgiveness, and remission of sins.
Thirdly, the communicants must have great and ardent love for the Saviour, for just think of God's great love for us, sinners, that is being revealed in this moment of our being joined to God Himself! What mother or what father has ever loved his children as the Lord loves us? And why is the Lord becoming joined with us in the holy Eucharist? To cleanse us of the filth of sin; to give us peace, comfort, joy, lightness, freedom – those things which are most desirable on earth; to take us – purified and renewed – with Him into heaven, into eternal life, into eternal bliss.
Fourthly, you are required to have a change of heart. Until now many of you have loved sin; now you must make a great effort to hate it, for sin is the offspring of the devil; all of you should try to effect a change in the very depth of your heart. You are about to become joined with the meek and forgiving Lord Jesus Christ: you, too, should become meek, forgiving, patient, obedient to God and the Church. You will be partaking of the body and blood of the Saviour, – but He is all love; enmity and anger are offensive to Him; so let us try to live in mutual love, forgive offenses, not repay evil with evil. You are approaching the Lord, the Heavenly King: try to think of the heavenly, abandon your passion for earthly things that are temporary and enslave the soul, abandon all filthy and sinful passions.
Finally, in order for us to retain this divine gift – the holy body and blood of Christ, – we are required to pay close attention to ourselves, to our thoughts, to our heart and all its feelings and inclinations. You must guard yourself from all that is offensive to Christ; you must remember that through communion the Lord deifies us, and thus all of you should try to live divinely in holiness and truth. May the Lord grant you to partake of the Holy Mysteries worthily and fruitfully. And so, let us approach with faith and love, that we may be communicants of eternal life. Amen.
OUR CROSS AND THE CROSS OF CHRIST
Homily for the Sunday of the Veneration of the Cross
Throughout the Sundays of the Great Lent and its preparatory period, the Church teaches us the different aspects of Orthodoxy which we must incorporate into our lives, in order for the Triumph of Orthodoxy to take place not only in a historical sense, but also in the life of each one of us personally.
Thus, for example, the Church teaches us humility (Sunday of the Publican and the Pharisee), repentance (Sunday of the Prodigal Son), the fear of God (Sunday of the Last Judgment), inner prayer, which is the highest form of communion with God (the 2nd Sunday of Lent).
The 3rd Sunday of the Great Lent is dedicated to yet another very important aspect of Orthodoxy in our lives – the bearing of one's cross. And, as the supreme example of the bearing of one's cross, – the Cross of our Saviour lies before us that entire week.
Why is it so important and so necessary for every Orthodox Christian to carry in his life a cross – that is, the totality of sorrows and suffering which Divine Providence sends to each one of us? The answer is quite simple: because without a personal cross there is no personal salvation, just as without the Lord's Cross, without His crucifixion and suffering, there would be no salvation for mankind. By carrying His Cross, our Lord Jesus Christ opened the gates of paradise to us, while each one of us must carry his or her cross in order to enter these gates.
After our forebears Adam and Eve fell into sin and were expelled from paradise, the earth became a vale of tears and suffering. Thus, living on earth in exile, we must well remember that there is no happiness on earth, and that all futile attempts by philosophers, thinkers, sociologists, and other human minds to find happiness on earth have been simply the pursuit of a mirage. Happiness can be found only in the Heavenly Kingdom, where there is eternal rapture.
On earth we see only glimmers of happiness, which show us what we have lost and what we must seek. For example, we find happiness in charity, when the divine trait of mercy fills our soul with joy. We find happiness in friendship, when the divine trait of love joins our soul with the souls of others. We find happiness in marriage, when our church union follows the example of the union of Christ and His Church. Finally, we find happiness in communion with God through prayer, church services, and the sacraments.
But all these feelings of happiness and joy are only shadows of true happiness in heaven. Eons ago this true happiness was given to Adam and Eve directly, but they lost it, and now we, their descendants, must earn this happiness by bearing our personal cross.
However, we must remember that it is not enough just to carry our cross, that is, endure the sorrows and suffering that are sent to us. Saint Ignaty Bryanchaninov tells us that simply bearing a cross does not yet make it a means of salvation for us. Our personal cross helps us attain salvation only when we turn our cross into the cross of Christ. And how do we do that? The answer is again simple: we must bear our cross in the same manner in which Christ bore His.
Let us consider the distinguishing characteristics of the Cross of Christ, and let us try to incorporate them into our own life, into our own cross. First of all, there is complete obedience to the will of God. Our Lord Jesus Christ, being God, could have saved us in any other way, but the will of God chose that which was the most horrifying in human sin, the most tormentful and cruel, in order to expiate sin completely, and the Son of God showed absolute obedience to His Father, again in order to fully expiate the disobedience of our forefathers and their violation of God's will. Thus we, too, must obediently accept all the sorrows which God sends us, and must firmly believe that it is these very sorrows, and none other, which will lead us into the Heavenly Realm.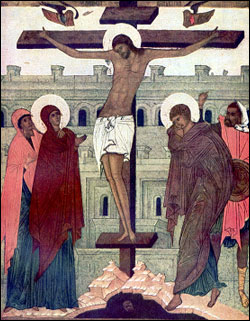 Secondly, the Lord Jesus Christ exhibited absolute patience. He suffered terribly and at great length, yet He expressly drank to the last bitter drop the full cup of torment, and endured it patiently and meekly. So should we bear our sorrows patiently and meekly, in the belief that the Lord will never give us more than we can bear. And if we thus endure, we will even witness a miracle within ourselves: just as the Lord invisibly gave strength to the martyrs, who could never have been able to endure on their own the great torments to which they were subjected, so will the Lord, seeing our effort, give strength to us and will even lighten our cross considerably, in accordance with His own words: for My yoke is easy and My burden is light.
And thirdly, the Lord bore His cross with joy: joy at seeing the ancient enemy – Satan – being vanquished; joy at seeing mankind liberated from captivity; joy at seeing man – the crown of God's creation – once again entering the place of bliss that had been prepared for him. Let us, too, each one of us, carry his cross with joy: joy, because in this cross is revealed God's love for us; joy, because this cross affiliates us with God; joy, because this cross opens for us the way into paradise.
We venerate Thy Cross, O Master,
and we glorify Thy Resurrection!
EXALTATION OF THE HOLY THEOTOKOS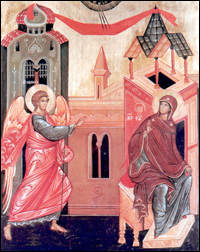 "In Thee rejoices, O Thou Who art full of grace, all creation: the angelic assembly and the race of man." With such words we glorify the Holy Theotokos at each Sunday service during the Great Lent. In truth, all creation rejoices in the Theotokos – both angels and men, for She is like a bridge between heaven and earth, between God and man. Of all mankind She alone was so pure and so blessed, that She was able to contain God Himself within Her and give Him a human body.
As we near the end of the Great Lent, its most intensive moment – the Passion of our Lord, which accomplished the salvation of mankind through Christ's glorious Resurrection, – the Church reminds us that it is most fitting at this point to glorify the Holy Virgin. This is precisely what we do in the wondrous church service called the Exaltation of the Holy Theotokos, which includes the singing of an akathist to Her.
The Church glorifies the Theotokos at this stage of the Great Lent, because the Mother of God is simultaneously an end and a beginning for us. The end of the lent is near, there remains one last chance for repentance, in order to participate in the joy of Christ's Resurrection. And so, for those who have not yet repented, who find it difficult to repent, – the Mother of God is the last citadel, the last help. We see how great is Her power and Her aid to sinners in the names that are given to Her various icons: "The Joy of All Who Sorrow," "The Surety of Sinners," "The Seeker-out of the Lost," "The Unexpected Joy," "Assuage my Sorrows," and many others.
At the same time the Holy Theotokos is also "the beginning of our salvation," as is sung in the feast of the Annunciation, having served as the purest vessel fit for the incarnation of our Lord Jesus Christ. And, as we draw near the remembrance of the entire great task of our salvation accomplished by our Lord Jesus Christ, it is fitting for us to remember and exalt the One Who not only served as the beginning of this salvation, but Who throughout all these 2,000 years continues to save the floundering, comfort the grieving, give joy to the sorrowing, and intercede before the throne of God for the sinful.
"Rejoice, goodwill of God to mortals,
Rejoice, boldness of mortals before God.
Rejoice, O Bride unwedded."
HOMILY GIVEN BEFORE THE HOLY SHROUD ON THE HOLY AND GREAT SATURDAY
"Remember me, O Lord, when Thou comest into Thy kingdom!" (Luke 23:42)
Just when everyone renounced the humiliated and crucified Christ, then the wise thief turned to Him with this penitent appeal. Just when the sentence of death put an end to the last hope in Him as a Saviour among Christ's closest disciples, then he, the wise thief, confessed Him to be the Messiah. Just when Christ's adherents abandoned their last dream of a messianic kingdom, then the wise thief asked Christ to remember him in this Kingdom… "Today thou shalt be with Me in paradise," replied the Divine Sufferer…
Who is this wondrous thief, who preceded everyone and was the first to enter the Kingdom of Christ? Who inspired him with such a living faith in the Crucified Christ? Where did he, a denizen of slums and thieves' dens, hear words of salvation concerning the grace-filled Kingdom of Christ? What force made him an unparalleled follower of Christ, made him the wise thief? Verily the wise thief's virtues were great, but great things are never achieved through insignificant means: both his virtues and his paradisiacal reward were acquired at a great cost.
Like Christ, the wise thief hung on a cross, suffering deathly torment, and in this terrible state he forgets his own self and expresses the greatest reverence toward Christ. This patient endurance of suffering revealed to the fullest extent the godlike nature of the wise thief's soul and immediately redeemed all the sins of his iniquitous life. This truly Christ-like endurance was his first great virtue…
"And we are condemned justly, for we have received the due reward of our deeds, but He hath done nothing amiss" (Luke 23:41). The wise thief does not ask for deliverance or miraculous help, as did the iniquitous thief, who demanded: "If Thou be Christ, save Thyself and us." In his prayer of repentance he dares to ask for only one favor, only a single grain of mercy. "Remember"… only remember in Thy Kingdom that I, who had been justly condemned to eternal damnation, have also hung on this Golgotha; for me this will be a great mercy and comfort. What depth of feeling and tenderness in this prayer of repentance! How brief and simple is this prayer! "Remember me, O Lord"… Only "remember"… How many millions of human hearts have been moved by this prayer for nearly twenty centuries; the prayer issued from such depths of humility and suffering, that every Christian soul cannot but respond to it, cannot refrain from making the sign of the cross, sighing softly, and repenting inwardly. Humble obedience to divine Truth – such was the second great virtue of the wise thief.
The wise thief presented to the entire world amazing proof of how a man can fall into the depths of sin and iniquity and still retain the spark of a godlike nature; he showed that it was worth dying for such a humanity, and that the distance between the abyss of human depravity and the height of divine grace is not too great or impassable: one decisive moment, one sigh of repentance, – and salvation occurred, the wise thief became the first inheritor of the Kingdom of God. Thus the third virtue of the wise thief – a humble entreaty to be remembered – leads him into the Kingdom of God.
Wondrous is the conversion of the wise thief, but even more wondrous is divine forgiveness – Christ's reply to the wise thief: "Today thou shalt be with Me in paradise." The doors into the new and most holy Kingdom of God are opening, and the justly condemned thief is being led into this Kingdom; to him Christ grants His last favor on earth and the first reward in heaven.
Let us, too, take these three decisive steps towards salvation: patient endurance of suffering, the realization of our guilt, and a humble prayer for mercy and forgiveness. Let us turn our eyes and hearts to Him, the great Giver of absolution, and as we venerate the image of Christ our Saviour lying in the tomb, let us humbly purify our conscience, saying this prayer of repentance: "Remember me, O Lord, when Thou comest into Thy Kingdom."
PASCHA – THE RESURRECTION OF OUR LORD
The word "Pascha" in Hebrew means "passing over, deliverance." The Hebrews, celebrating the Old Testament Passover, commemorated the miraculous exodus of the Jews out of Egypt, when they crossed the parted Red Sea, being led by their leader, the great Prophet Moses. They left the land of slavery, Egypt, to enter into the Promised Land. Christians, celebrating the New Testament Pascha, exult in the deliverance through Christ of all the people from slavery to the devil and in the granting of life and everlasting bliss. As sung in the paschal canon: "From death to life and from the earth to the Heavens hath Christ God brought us."
Pascha is the essence of our faith: for Christ rose from the dead, and we will rise from the dead. Therefore, Pascha is the Feast of feasts and the Triumph of triumphs, and the services of this feast are exceptionally magnificent and exceptionally triumphant.
The Resurrection of Christ was attested to by the apostles and the blood of myriads of martyrs. The spiritual joy of Pascha is expressed in the victorious hymn: "Christ is risen from the dead, trampling down Death by death, and upon those in the tombs bestowing life."
On Friday at the ninth hour (by contemporary calculation at about three in the afternoon) Christ, Who was crucified on the cross, gave up His spirit to God the Father. Only His young disciple John, the Mother of God, and several other women stood by the Cross, weeping over Christ's suffering, – all the others had much earlier run away in fear.
After Christ's death, "when it was evening, a rich man from Arimathea arrived; his name was Joseph, and he was also a disciple of Jesus. He went into the presence of Pilate and asked for the body of Jesus. Pilate gave orders for the body to be given to Joseph. So Joseph took it, wrapped it in a new linen sheet, and placed it in his own grave, which he had just recently dug out of the rock. Then he rolled a large stone across the entrance to the grave and went away.
On the next day – that is, the day following Friday, – the chief priests and the Pharisees met with Pilate and said: 'Sir, we remember that while that liar was still alive, He said "I will be raised to life after three days." Give orders, then, for the grave to be safely guarded until the third day, so that His disciples will not be able to go and steal Him, and then tell the people "He was raised from death." This last lie would be even worse than the first one.' 'Take a guard,' Pilate told them; 'go and guard the grave as best you can.' So they left, and made the grave secure by putting a seal on the stone and leaving the guard to watch" (Matt. 27:57-66).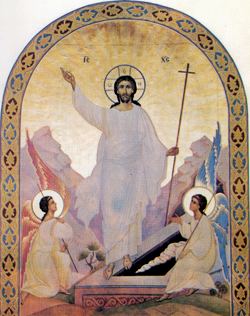 After midnight from Saturday to the next day after it (now known as Sunday), the greatest and most joyous event in the whole world occurred: the guard was standing at the grave, the large stone with the seal was intact; suddenly the earth shook and our Lord Jesus Christ by the power of His Divinity arose from the dead and left the tomb.
Soon after this an angel came down from Heaven and rolled away the stone from the entrance to the tomb and sat upon it. His appearance was like lightning and his clothes were white as snow. The soldiers guarding the grave fell to the ground in terror, but then got up and ran to tell the chief priests of what had occurred. The chief priests gave the guards a large sum of money and said: "You are to say that His disciples came during the night and stole His body while you were asleep. And if the Governor should hear of this, we will convince him, and you will have nothing to worry about." The guards took the money and did what they were told to do. And to this very day that is the report spread around by the Jews. (Matt. 28:13-15).
Meanwhile, in the early morning, while it was still dark, several pious women were hurrying to the Lord's tomb to anoint the body of Christ with aromatic myrrh. They were not aware of the great event that had taken place, nor even of the seal of the Sanhedrin or of the guards. Their worry was only about who would roll away the heavy stone from the grave. Mary Magdalene, being ahead of the rest, reached the grave first, and seeing that the stone was rolled away, ran to Peter and John saying: "They have taken the Lord from the tomb and we do not know where they have put Him." Hearing this, Peter and John immediately ran to the grave with Mary Magdalene.
The rest of the myrrh-bearing women came to the grave and saw that the stone had been rolled away. So they went in, but they did not find the body of the Lord Jesus. They stood there uncertain about this, when suddenly two men in bright shining clothes appeared before them. Full of fear, the women bowed down to the ground, as the men said to them: "Why are you looking among the dead for One Who is alive? He is not here; He has risen. Remember what He said to you while He was in Galilee: The Son of man must be handed over to sinful men, be nailed to the cross, and be raised to life on the third day." Then the women remembered his words, returned from the grave, and told all these things to the eleven disciples and the rest. (Luke 24:3-9).
CHRISTIAN TEACHING
Sin
The contemporary Christian world has almost lost its conscience and feeling of sin. Few people in our days judge their personal behavior, actions, and intentions from the perspective of righteousness or sinfulness. All of us have somehow become used to regarding ourselves as "sinners" not in terms of a humble realization of our unworthiness before God, but in terms of our not being "saints" and, consequently, neither being able to, nor obliged to be righteous. The horror of sin is rarely exposed in all its vile hideousness before our spiritual sight. Our sight is too clouded, too "entranced" by life's temptations, too used to wandering among vanity.
At the same time, the enlightened Christian consciousness finds horrifying and vile those of our "petty" (as we often call them) sins that have become the constant companions of our daily life. Those insignificant, in our opinion, transgressions of the Gospel commandments, which actually make us feel that even Gospel law itself is not mandatory for us.
Yet our Christian morality is revealed to us in love.
God is Love… The one who stays with God for the sake of love must bear the yoke of moral law, the law which is born of love, lives by love, and leads into the kingdom of love. For this reason a sin against the Christian moral law is not simply a formal violation of higher authority, but is a sin against love. Therefore, in the words of one of the prayers before communion, to sin means to "sadden" the Holy Spirit.
A loving son who has not fulfilled his father's commandment does not so much fear the non-fulfillment itself, as the fact that he has sinned against the union of love, that he has introduced insincerity and deceit into this union, that he has defiled a pure and sincere relationship.
When Adam sinned, he first of all hid from God's sight, for he had defiled the bonds of love and was ashamed to present himself before the eyes of Divine Truth.
This is also the source of the blind naivete of modern Christians, who wish to unite service to God with accommodation of their own whims: "The Lord is kind… He will forgive all… He will cover all… I have not killed, neither have I robbed, and the rest are trite sins."
Remember, O Christian… The Lord is a fiery God… He will often crush you, throw you between hammer and anvil, in order to test the strength of your love. But He will never reveal Himself to you, if you proceed to serve Him with complete indifference, with a cold heart and a cold soul; if you proceed to look for a way of serving Him that will be more comfortable and advantageous for you.
Guard yourself against sin… Know that sin is, first of all, a defilement of sacredness, an expulsion of God from the human soul, and the sorrow of "saddening" the Holy Spirit.

The Cross
The Lord's Cross brings human conscience to judgment.
It gathers around itself pure hearts who are searching for God, in order to tell them of the mystery of Divine Love, but it also rises to condemn those who are unable and do not wish to open up their hearts to this mystery. The Cross is truly "set up for the fall and the rising again of many in Israel, and as a subject of controversy."
To understand the Cross means to feel and realize God's love. To accept it means to aspire towards this love by means of "active elevation," by means of lifelong spiritual labor. Anyone who has truly experienced in his heart the tragedy of Golgotha cannot remain indifferent. He must either love the One who loves and sacrifice himself to the One who has become a sacrifice, or take truth in abhorrence and depart from it forever.
This reaction to the Cross is revealed to us in the image of the two thieves. One of them understood and felt the mystery of Love, rejected sin, and came to full repentance. The other did not understand and did not feel, and thus died with the burden of blasphemy upon him.
The Lord's Cross will judge the world. According to the Evangelist's testimony, before the Second Coming there will appear in the heavens "the sign of the Son of Man."
And now, in the middle of the Great Lent, the holy Church brings out this sign of the Son of Man.
The Great Lent is a time of repentance. And repentance is primarily a striving towards God's Truth and God's Love. A striving towards the foot of the Golgotha.
Here everything appears to be revealed to the faithful and loving heart. Here is the Lamb of God, Who takes upon Himself the sins of mankind. Here is the force of self-sacrificing Love and the enormousness of Divine forgiveness. Here is deliverance from sin and the source of new and grace-filled life. And all of it is here between the two thieves, all of it is in the hands of the One who was crucified and killed on the Cross.
"Today the Master of the creation and the Lord of Glory," sings the Church, "is nailed to the Cross and His side is pierced; and He who is the sweetness of the Church tastes gall and vinegar. A crown of thorns is put upon Him who covers the heaven with clouds. He is clothed in a cloak of mockery, and He who formed man with His hands is struck by a hand of clay. He who wraps the heaven in clouds is smitten upon His back. He accepts spitting and scourging, reproach and buffeting; and all these things my Deliverer and God endures for me that am condemned, that in his compassion He may save the world from error."
In this hymn the Church paints for us a very moving and vivid picture of the Saviour's labor on the Cross. The Lord accepted suffering and death, "that He may save the world from error," from the demonic enticement that had subjugated it.
This enticement lies in the substitution of deceit for truth, evil for good, ugliness and vileness for beauty. This is the temptation of sin. And the strength of the Cross is that it saves from temptation those who offer their open hearts to its sacred and divinely-crimsoned foundation.

The Lord's Supper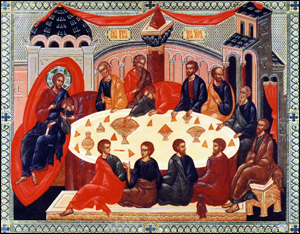 Thus, by the grace of God, brethren, we have arrived at the moments of remembrance of Christ's salvific passion. "With desire I have desired to eat this Passover with you before I suffer," the Lord says to His disciples at the Mystic Supper.
The end of the earthly endeavor of the Son of man is approaching, and this Supper will remain for all ages in Christ's Church in remembrance of Him. The world offers many repasts, but only one repast gives us true food and true nourishment – and that is the Lord's Supper. Under the guise of bread and wine the Saviour Himself mysteriously and indescribably unites with His faithful followers in the sacrament of Communion. And this grace-filled source is open to all. With fear of God and with faith draw nigh… Receive ye the Body of Christ; taste ye of the fountain of immortality.
Yet one must remember that every person who approaches the Lord's Chalice takes a great responsibility upon himself. "For he that eateth and drinketh unworthily, eateth and drinketh damnation to himself." But what self-worth can any man offer before God? Only profound humility can endow us with the daring to come up to the great sacrament of Christ's Body and Blood.
Humble thyself, O human soul, and recognize the fact that there is no greater happiness for thee than to be a guest at the Divine Supper of thy Lord and Saviour.
Repent, open up thy depths to God, Who knows all thy deeds, and may thy penitence be wholehearted… And only then approach the sacrament with hope in God's mercy.
"Of Thy Mystical Supper, O Son of God, receive me today as a communicant; for I will not speak of the Mystery to Thine enemies, nor will I give Thee a kiss as did Judas, but like the thief do I confess Thee: remember me, O Lord, in Thy kingdom."

The Lord's Passion
The twelve Gospel readings tell us of the Saviour's suffering. And each time we hear these readings, they are ever new and vibrant in their divine simplicity. How great and wonderful seems to us the act of an individual who sacrifices himself for others…
Here we see revealed a love that does not seek its own glory, as the Apostle says. What can we say of the deed of the Son of God, Who voluntarily gave Himself up for the life and salvation of the world. It may be said that it is easier to suffer voluntarily. But is that so, brethren? When circumstances place a man in a situation wherein he must sacrifice himself, he does it for the sake of moral duty, which forces him to such self-sacrifice.
But when a man is faced with complete freedom of choice – to suffer or not to suffer, – is it not the greatest deed to choose voluntary suffering? Moreover, when we suffer, our suffering always has a redemptive value. This suffering cleanses us of our sins. But Christ was without sin. He took upon Himself the burden of all our sins, being like unto us in all but sin.
In this sacrifice of Divine love took place the mystery of salvation. The Lord saved the world by means of His suffering. And in the holy days of remembrance of His Passion, He summons us to participate in the deed of salvation, to love Him, to aspire toward Him with all our heart. The wise thief repented and received absolution. O, if only we too, brethren, knew how to repent and be spiritually renewed! Then the Lord's Passion would truly sanctify us, would open the gates of paradise for us while here on earth, would give our lives the genuine joy of being the sons of God.
We venerate Thy Passion, O Christ, show us also Thy glorious resurrection!

At the Tomb of the Son of God and the Son of Man
Probably many of you, brethren, had to stand at the casket of a beloved relative or dear person. What does one feel in such a case? First of all, one feels exactly what the dear departed one meant to him. And as one realizes this "what," the heaviness of the loss is revealed to him.
Now we stand before the tomb of Christ. Fellow-Christian, think on it – what does the Lord mean to you in your life? What does your conscience now tell you as you stand at this tomb?
In order to endow you with genuine and absolute happiness, your Saviour came down to earth mysteriously and indescribably. He taught, suffered, and died for you. He left you His Gospel. His commandments "are not burdensome." Within them is revealed true life. One does not have to be wise or learned in order to understand the Gospel. One must simply have a pure heart, a heart turned towards God and keeping its hope for salvation placed in Him.
And what about us? Have we ever thought of establishing the Gospel as the cornerstone of our lives, our conduct, our relationships? Always and in everything we keep to our own, human considerations. The Lord is distanced from us, because we ourselves are keeping far away from Him and often do not even wish to approach Him.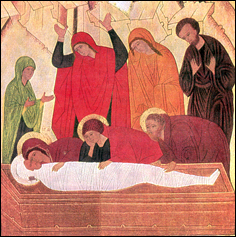 But even in such circumstances of spiritual frigidity, how terrible and nightmarish it is to think of life without God, a life deprived of His truth, His holiness, His perfection…
This is what we must feel as we stand at the Life-giving Tomb… And no matter to what extent our ways deviate from God's ways – we always have the possibility of returning to the Father, if the image of God lives within us and has not disappeared completely from our hearts.
Come up to this Tomb, then, with all that you have in your heart. Pour out your prayer before God, tell Him your sorrows, and – above all – try to be conscious of what exactly the Lord means to you in your life. If He lives in your heart, you will love Him even more, and you will give Him your heart even more. If you are filled with despondency and spiritual frigidity, perhaps your standing at the Lord's Tomb will revive you.
But, in any case, remember one thing: God's love shines for you from the Divine Tomb, and it is your free choice whether to accept it or reject it.
Hieromonk Methody, "Before the eyes of God's truth")
(Reprinted from "Orthodox Russia, No. 1, 2007)
DIVINE PROVIDENCE
(Continuation)
God's solicitude for our needs
God is the most solicitous caretaker. In His hands He holds all of life's great and wealthy resources, and only from Him should we ask for them in fervent prayer. The desert-dweller Mark used to say: Whoever has no hope of receiving temporary necessities from God, would have even less hope of receiving from Him that which leads into eternal life. But if God has given us a body, will He not clothe it? Is not life (the soul) superior to victuals and the body to clothes? Just as He granted us life (without any merit on our part, when we did not even yet exist), so undoubtedly will He give us all that is needful for preserving life and nourishing the body. Even more so will He not deny us this, since He Himself, in His supreme goodness, has wished to grant us existence and life. And if He freely and willingly gave us what is most important for us, then He can give, and wishes to give, and always sends us the less important things too. But He will send them on condition that we do not remain idle: for He has created us and placed us on earth for us to cultivate it and maintain it in order, and not for idleness, and for us to place our hope in Him alone, the All-powerful and All-generous One, and not in ourselves.
Christ Himself teaches us, saying: "Behold the fowls of the air: for they sow not, neither do they reap, nor gather into barns; yet your Heavenly Father feedeth them" (Matt. 6:26). The same Heavenly Teacher goes on to say: "Are not two sparrows sold for a farthing? And not one of them shall fall on the ground without your Father's will. For the very hairs of your head are all numbered. Fear ye not therefore, ye are of more value than many sparrows" (Matt. 10:29). This first argument against our lack of faith is presented to us in the form of living creatures who feed themselves without any care, – so that at least from their example we would learn to recognize the omnipotence of God's Providence – our sole source of tranquility and inner peace.
The second argument comes in the form of wild flowers. Having pointed out God's Providence in regard to sparrows, the Lord Christ then says: "Consider the lilies of the field, how they grow; they toil not, neither do they spin, and yet I say unto you, that even Solomon in all his glory was not arrayed like one of these" (Matt. 6:28-29). And from this Christ draws the following conclusion: "Wherefore, if God so clothe the grass of the field, which today is, and tomorrow is cast into the oven, shall He not much more clothe you, O ye of little faith?" (6:30). To this our Saviour adds a third point on the futility of our self-concern, saying: "Which of you by taking thought can add one cubit unto his stature?" (6:27). Every self-concern of ours that is not joined with hope in God is futile and vain, of which the Lord goes on to say: "If ye then be not able to do that thing which is least, why take ye thought for the rest?" (Luke 12:26). If God does not bless it, our entire effort is in vain, idle, useless. In your every affair and activity place all your hopes in God, and He (without any effort on your part) will arrange everything for the best by His ineffable mercy.
Thus, if the Lord God concerns Himself with satisfying the basic needs of all creatures in general, for He created both the great and the small and takes care of all equally, why are there so many beggars and deprived people everywhere? Brethren, God's Providence in regard to poor people is truly wondrous. St. John Chrysostome has rightly said of this, that not only the poor have need of the rich, but the rich have even greater need of the poor. Everything that was and is good and God-pleasing in the world has been created through the effort and activity of poor but hard-working and God-fearing people. Being deprived of comfort and money, they worked diligently and did not forget God, but prayed to their Creator and Caretaker, Who was a benefactor to them even in the midst of their need. Many of God's saints, living in extreme poverty, loved it much more than wealth and were always the recipients of God's greatest Providence.
In truth, God is so solicitous of people who have entrusted themselves to Him wholeheartedly, that when they are deprived of human help, He sends them His divine help. Although we often receive the same grace from God in our needs and deprivations, there is still much lack of faith among many of us, who fear to lose sufficient and requisite necessities for maintaining our life here. O, how faint-hearted we are! Our Heavenly Father knows of all our needs: do we think that God's mercy has now dwindled in comparison with former times?
For 60 years St. Paul, the first desert-dweller, was brought half-a-loaf of bread each day by a raven; however, when the saint was visited by St. Anthony the Great, the raven brought a whole loaf. St. John the desert-dweller did not see any people for 14 years, and all this while he subsisted on a doe's milk. Many hermits had food and clothes from fig trees. In 603 A.D. Judoc, son of the Breton king, renounced his throne, became a monastic, and later became a hermit. On an island surrounded by water he built a church and founded a monastery. He was so generous to the poor that the monastery once remained with only a single loaf of bread for the working brothers, and even that loaf he ordered to be cut into four parts and the first part given to a beggar. This beggar, changing his clothes, came up four times on the same day to ask for charity and thus received all four pieces of the bread, so that there was nothing left for feeding the brothers. Consequently one of them began to grumble and berate his abbot for latter's extreme generosity. Judoc then comforted him and told him to wait for help from above. A few hours later, four ships sailed up to the monastery, laden with foodstuffs which abundantly fed the starving brothers. The blessed Augustine rightly said: "Do you think that the one who feeds Christ (i.e. the poor) will not himself be fed by Christ?"
The abbot of a certain monastery sent two brothers out on business affairs. When evening came, the two travelers, exhausted by their labors, being hungry and depressed, began to bemoan the fact that they would soon arrive at a poor town, and now knowing anyone there, they would find no respite or sustenance. A certain stranger met them on the way and asked them about their depressed state, and when the monks revealed their sorrow to him, he said: "You have left everything for the sake of God, placing your entire hope in Him, and now you sorrow as though left without any hope! God feeds the cattle – do you think He will let His sons perish from hunger?" Saying thus, the stranger became invisible. When the monks entered the town and prayed in the church, the mayor himself invited them over for supper, they went to his house, and he fed them abundantly. However, such examples do not eradicate our lack of faith; despite everything that God sends us, we fear privation, and if we do not have everything in overabundance, we are greatly saddened.
Here is an example of our lack of belief: it is said about a certain beggar, that having looked into his basket and seeing it full of loaves of bread gathered from many benefactors, he then declared: now I feel myself well provided for. We ourselves are very like this beggar: only then do we feel assured in our hope in God, when our storerooms are full of all kinds of goods that will last us for many years.
St. John, Patriarch of Alexandria, was not like that at all. Having suffered enormous losses after a tempest destroyed thirteen church ships loaded with grain, each ship carrying ten thousand measures of grain, he placed all his hope in God and in Him alone found his greatest comfort. At that time practically half of Alexandria's citizens suffered similar losses and, moreover, all the seamen and the passengers who were saved from the storm gathered in Alexandria as in a safe haven. To all of them St. John immediately sent a letter of consolation, in which he wrote words of comfort to all: "The Lord gave, and the Lord took away; as the Lord wished, so it came about; blessed be the name of the Lord! Be patient, children, and do not fear anything!" The next day many of the most prominent citizens gathered at St. John's residence to comfort him in his losses. But he, however, took all the blame upon himself, saying: "God preserved me from a great sin: if this had not happened, I would have prided myself on handing out so much charity to the poor, and I would have had a high opinion of my own generosity; and for this reason the loving Father justly punished the vain son to prevent his growing pride. God mercifully instructs us by allowing us to suffer some traumas, in order for us to come to our senses and quickly turn to Him. But He is the very same God Who existed in Job's time, just as omnipotent and just as merciful, and He will not abandon us." With these words the patriarch comforted those who had come to comfort him. And, in truth, very soon the Lord God replenished St. John's losses a hundredfold, while the latter continued to give out the most abundant charity to the poor. To entertain doubt or disbelief in such cases is the same as to assert that God is either miserly or forgetful; but such opinions belong to the iniquitous and the godless; they should be totally rejected by us.
St. Amateus the desert-dweller was in his own time like a mirror for all those who understand God's providence incorrectly, reject it, or blaspheme against it. After having labored in a monastery for thirty years, Amateus went off into the desert, where he lived on a chosen rock in great abstinence. Every three days one of the monastic brothers brought him a loaf of bread and a cup of water – this was his only sustenance. Such abstinence was not pleasing to the devil: and so a raven flew up, overturned the cup of water with his feet, snatched up the loaf of bread in his beak and flew away. Thus the monastic was deprived of 3 days' worth of sustenance. How did the righteous man take this occurrence? Perhaps he swore at the raven, or uttered blasphemous words at God's Providence, or began to curse the demon's wiles? Not at all! It is we who act thusly in such cases, while he, lifting his hands and his mind to heaven, declared: "I thank Thee, my Lord God, that by Thy holy will Thou wast pleased to retain me in a more prolonged period of fasting. I know that this will be of greater advantage to me in the future, for nothing in the world happens without Thy Providence, and not even a single leaf will fall from the tree without it." Yet we, sinners, think that the destruction of homes by fire, the drowning of ships, the loss of property, and all personal affronts take place while God's Providence sleeps or does not keep watch, – in other words, we do not believe in God's Providence. Even the pagans knew better than we do, for the intelligent ones among them reasoned that everything in the world occurs not by the will of man, nor by blind chance. In fact, everything comes from God, according to His just Providence: so why are we full of indignation and often even protest against it?
Countless examples and images bring us to a realization of the omnipotence of God's Providence. Nevertheless, we have so little hope in this Providence! If our vessels, caskets, chests, and granaries are not overflowing with all kinds of goods, then our spirit fails; but when our bags are full, when our pockets are bulging with money, then we have hope. O, how blind we are! True hope in God is when we, finding ourselves in great penury, deprivation, and poverty, do not fall into despair, but patiently overcome all our tribulations, for the more suffering we endure, the greater glory and crowns are prepared for us. The ancients had a memorable saying: "If only we did what we should, then God would do for us what we want." Blessed Jerome, explaining this principle, said: "May man be what he is destined to be, and immediately the One Who created everything will send him everything." Blessed Augustine rightly exclaims: "O, my God! You have so much concern for a single person, as though You had to take care of only him alone: as much for all, as for each one." And St. Gregory says: "God takes care of each per-son individually as much as of everyone together, and concerns Himself over everyone as though over a single person." Thus God's Providence takes care of thee, brother, just as though He had no other concerns. The great number of people in God's care neither awes, nor burdens God's Providence; for Him the care of a single person is the same as the care of countless millions of people. Just as before God took care of Noah and his family, or of the single Adam in paradise, so now God's Providence takes equal care of all.
All misfortunes and disasters take place by the will of God
Everything in the world, even seemingly evil things (except for sin), occurs by the will of God. Theologians explain it in the following manner. The origin of evil is sin. Each sin contains (1) the cause that led to it and (2) its inevitable consequence – correction through punishment. The cause of sin is the deceit and willfulness of the vain sinner, while the punishments (both correction and execution), being the bitter consequences of their cause, occur by the will of God, and are not the cause of sin, but represent its correction or destruction. Thus, if from the concept of sin we eliminate its cause – deceit and willfulness, then there will not be a single one of its bitter or evil consequences that does not occur by the will of God or is displeasing to Him. Just like the sinful misfortunes of an individual, so the earthly, so-called natural, disasters, such as: famine, drought, plagues, etc., which often bear no direct relation to individual sin, occur by the will of God. Therefore, all human disasters and misfortunes positively occur by the will of God for the sake of achieving the righteous goals of God's Providence; sin alone is contrary to God (just as evil is contrary to good, or deceit is contrary to truth), but is allowed by God in order not to violate the freedom of man's will.
Many are deceived, believing in their ignorance that only the evil occurring from natural causes, to wit: floods, earthquakes, crop failures, disastrous atmospheric manifestations, epidemics, unexpected death, etc., – occur by the will of God, for often such misfortunes have no direct relation to sins. But evil deeds, occurring from unlawful human designs, from falsehood, such as: offensive words, mockery, insult, deceit, counterfeiting, abductions, theft, murder, etc. – occur, in the view of these people, independently of the will of God and His Providence, but exclusively due to human malice and the depraved human will, which of its own accord causes all manner of evil for its neighbors. However, such views are unworthy of a Christian.
The subject of which we now speak can be best explained by means of an example. A certain person, intending to deprive his neighbor of all of latter's property, and wishing to fulfill his evil intention secretly, creeps unnoticed into the neighbor's house, places lighted fuel under the building, and leaves the house just as surreptitiously. Soon afterwards a fire starts; the flames grow, the wind spreads the fire to other buildings; people run from all sides to extinguish the flames and protect adjacent buildings from the fire. The arsonist also runs up together with the other people, as though to put out the fire, but he has a different intent: under cover of the fire alarm, he takes valuables out of the burning building as though to save them, but in reality he steals them for himself and hides them. Although all these actions of the arsonist represent the direct cause of the owner's bankruptcy and loss of property, but examined by themselves, without any relation to the arsonist's evil intent, they appear no different from so-called natural disasters. They stem from God: just as God allows thunder to kill a man, or lighting to ignite a house or a growing tree, a hurricane to sweep away a field of haystacks, so does He control the arsonist: the latter can neither enter the house, nor go out of it, nor ignite the fire without God's allowance. Moreover, the actions themselves are indifferent – neither evil, nor good, because they can lead to evil just as equally as to good, for God could have prevented their being committed if He so wished. However, the Lord did not impede the committal of the evil intent, but allowed it according to His just judgment. The reasons for such allowance will be explained below.
(To be continued)
LIVES OF THE SAINTS
On March 22nd (the 9th by the old calendar) the Church commemorates the Holy Forty Martyrs of Sebaste. For the greater glorification of these wondrous saints, a liturgy of pre-sanctified gifts is exceptionally served on this day.
During the reign of the Roman emperor Licinius (307-323 A.D.), a terrible persecution of Christians was initiated. At that time, the military ruler of the Armenian city of Sebaste was a ferocious pagan by the name of Agricolaeus. Among Agricolaeus's troops there was an honored unit of 40 soldiers, all believers in Christ, who were noted for their extraordinary bravery. When Agricolaeus heard that these noble warriors were Christians, he summoned them and ordered them to make a sacrifice to the gods; if not, he threatened to strip them of all their honors and give them over to be tortured. The soldiers firmly refused to make a sacrifice to the idols and were thrown into prison. There they spent the entire night in prayer. At midnight the Lord Himself appeared to them and said: "The beginning of your martyrdom is noble, but only those will be saved who persevere to the very end."
In the morning Agricolaeus once again summoned the soldiers and tried to flatter them into making a sacrifice, but being defeated, he became enraged and ordered them to be put in fetters and thrown back into prison. Then one of the soldiers, Cyrion, said to him: "You have not been empowered by the emperor to torture us, but only to interrogate us." At these words Agricolaeus became afraid and quickly ordered his servants to lead the soldiers back to prison without any violence. While in prison, the holy warriors spent their time praying and singing psalms, and listened to the advice of their comrade, the blessed Cyrion, who said to them: "By God's will, brothers, we have become united in military service, which is temporal and vain; let us try to remain united for eternity. Up to now we have lived as one; let us accomplish the feat of martyrdom similarly. Just as we have been honored by a mortal king, so let us be honored by the immortal King, the Lord God."
Thus the soldiers spent the whole week in prison. After seven days had passed, Prince Lycius arrived in Sebaste, and mounting upon the tribunal together with Agricolaeus, he ordered the 40 soldiers to be brought before him. Along the way Cyrion again counseled his comrades, saying: "Let us not be afraid, brothers! Has not God helped us in battle when we called upon Him and defeated our enemies? Remember when we once took part in a great battle, and all the other soldiers fled, and only we, forty, were left standing among the enemy? We then prayed tearfully to God, and with His help we defeated some of the enemy soldiers, and wounded and routed the others, and despite such a great number of enemies and such cruel fighting, not one of us was harmed! Now three enemies have risen against us – Satan, Lycius, and Agricolaeus, and will they defeat our unit? Never! We should now do what we have always done: we should turn to God with a fervent prayer, and He will come to our aid, and we will not be harmed by either fetters or torture. We always had the custom of singing psalms as we entered into battle; let us do the same now, brothers-in-arms, and God will hear us and will help us."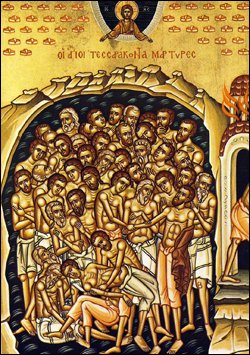 And the holy warriors sang psalms all the way from prison to the tribunal. When they appeared before Lycius and Agricolaeus and fearlessly confessed Christ, Lycius ordered stones to be thrown at their mouths, but when the servants began throwing the stones, they hit not the saints but themselves. Then the enraged Lycius took a stone himself and threw it at the saints, but the stone hit the face of Agricolaeus and shattered his mouth. One of the holy soldiers, Candidus, said: "The enemy that is fighting us is weak and has been put to shame." The wounded Agricolaeus then cried out: "I swear by the gods that they are being helped by some magic force." Another soldier, holy Domnus, replied: "It is not magic but God who is helping us. But if you, servant of Satan, have not yet become convinced of the power of God, continue torturing us."
Then the persecutors ordered the 40 soldiers to be tied up and taken to a large lake near Sebaste. It was wintertime, the weather was icy cold, and a strong wind was blowing; it was also evening and getting dark. The holy warriors were stripped of their clothes and ordered to stay in the middle of the lake for the entire night, and they were to be watched by a detachment of guards under the command of the prison warden. To lure the saints away from their martyrdom, a warm bathhouse was set up near the lake, enticing with its warmth anyone who would be unable to persevere and would run out of the water. In the first hour of the night, when the cold reached the greatest degree of severity, so that the saints' bodies froze up, one of the 40 soldiers was unable to withstand the torture and ran towards the bath-house; but as soon as he crossed the threshold into the warmth, he thawed out and fell dead. The remaining soldiers patiently continued their martyrdom.
In the third hour of the night the martyrs were bathed in a light as though of a summer sun, which dispersed the cold, melted the ice, and warmed the water. Meanwhile, the guards who were left to watch over the saints were all fast asleep except for the prison warden. He, seeing all that was happening, began pondering: how is it that the one who came running into the bathhouse melted away like wax, while the others remain alive and well in the icy cold? Amazed by the light which illuminated the martyrs and wishing to see from where this wondrous light came, the prison warden looked up and saw 39 crowns descending upon the heads of the saints; and as he wondered why there was not a 40th crown according to the number of the soldiers, he understood that the one who ran to the bathhouse had lost the honor of martyrdom, and for this reason the 40th crown was lacking. Then he immediately woke up the sleeping guards, threw off his clothes, and ran into the lake, crying out: "I am a Christian too!" Thus the number of martyrs once more became 40, and the prison warden, whose name was Aglaius, took the place of the soldier who had defaulted.
Morning arrived. The wicked persecutors came to the lake, and seeing the holy martyrs standing in the water alive and unharmed by the winter cold, were greatly amazed, but attributed this miracle to Christian magic. Their amazement grew even more when they saw the prison warden among the martyrs. When they heard from the guards the story of how the prison warden joined the martyrs, they became greatly enraged and ordered the martyrs to be dragged ashore, taken into the city, and have their knees crushed, and afterwards have their bodies burned and the bones thrown into the river, so that no remains would be left. From these frenzied commands of the persecutors we can deduce how great was the rage of Satan against the holy warriors for their feat.
But the Lord did not allow even a single piece of their remains to perish. Three days after their martyric death, the saints appeared in a vision to righteous Peter, the bishop of Sebaste, and said to him: "Come at night and take us out of the river." The saintly bishop invited several members of his staff and went with them in the dark of the night to the river's edge. And a wondrous sight appeared before them: the remains of the saints shone in the water like stars, and the river glittered in those places where even the smallest bits floated. After gathering all the bones of the saints, the bishop put them in a place of honor to be venerated by the faithful.
The names of the forty martyrs of Sebaste are: Cyrion, Candidus, Domnus, Hesychius, Heraclius, Smaragdus, Eunoicus, Valens, Vivianus, Claudius, Priscus, Theodulus, Eutychius, John, Xanthias, Helianus, Sisinius, Angus, Aetius, Flavius, Acacius, Ecdicius, Lysimachus, Alexander, Elias, Gorgonius, Theophilus, Dometian, Gaius, Leontius, Athanasius, Cyril, Sacerdon, Nicholas, Valerius, Philoctimon, Severian, Chudion, Aglaius, and Meliton.
THE END TIMES
In recent times much is being said about the "end times." Earlier we have already published pertinent articles by Father Seraphim Rose and other authors, clarifying many specific manifestations of modern life. Now we offer you two articles by spiritual authors on this subject, illuminating different aspects of it. The first article, containing the incredible prophecy of St. Nilus the Myrrh-streaming, summons us to vigilance and spiritual awareness in evaluating the apocalyptic world surrounding us. The second article stresses the bright prophecies concerning the renaissance of Russia that is due to take place right before the end of the world, and urges us to have hope in their fulfillment.
On Apostasy
The Russian translation of the book published on Mt. Athos back in 1912, "The Posthumous Predictions of St. Nilus the Myrrh-streaming," which has long been famous, contains prophecies by this great ascetic concerning the last days, the world-wide enthronement of the Antichrist, and the tribulations which the world will experience upon the enthronement of the Antichrist. Now we have received the Russian translation of the predictions of this wonderful Athonite recluse which especially pertain to the 20th century. These predictions are truly extraordinary! Here is the text verbatim:
"In the middle of the 20th century, the people of that time will become unrecognizable. When the time for the advent of the Antichrist approaches, people's minds will grow dim from carnal passions, and iniquity and lawlessness will grow stronger. The world will then become unrecognizable. People's appearance will change, and it will be impossible to distinguish men from women due to their shamelessness in dress and style of hair. These people will be cruel and will be like wild animals because of the temptations of the Antichrist. There will be no respect for parents and elders, and love will disappear. Christian pastors, bishops and priests, will become vain men, completely failing to distinguish the right-hand way from the left. At that time morals and traditions of Christians and the Church will change. People will abandon modesty and chastity, while fornication and dissipation will reign. Falsehood and love of money will reach extreme proportions, and woe to those who will pile up treasures. Fornication, adultery, homosexuality, secret deeds, theft, and murder will rule in society.
At that future time, due to the power of such great criminality and licentiousness, people will be deprived of the grace of the Holy Spirit, which they received in Holy Baptism, and equally of remorse. The Churches of God will be deprived of God-fearing and pious pastors, and woe unto the Christians remaining in the world at that time, who will completely lose faith, because they will lack the opportunity of seeing the light of knowledge from anyone at all. Then they will separate themselves out of the world into holy refuges, seeking to assuage their spiritual sufferings, but everywhere they will encounter obstacles and constraints. And all this will result from the fact that the Antichrist will want to be master over everything and to become the ruler of the whole universe; he will produce miracles and fantastic signs. He will also give depraved wisdom to people, so that they will discover a way by which one man can carry on a conversation with another from one end of the earth to the other. At that time men will also fly through the air like birds and descend to the bottom of the sea like fish. And when they have achieved all this, these unhappy people will spend their lives in comfort without knowing, poor souls, that it is the deception of the Antichrist. And the impious one! – he will so perfect science with vanity, that it will lead people off the right path and cause them to lose faith in the existence of the One God in Three Hypostases.
Then the All-good God, seeing the downfall of the human race, will curtail the days for the sake of those few who are being saved, because the enemy wants to lead even the chosen into temptation, if possible… Then the sword of chastisement will suddenly appear and kill the perverter and his servants." (Note: St. Nilus wrote these prophecies around 451 A.D.!)
Can it possibly still be unclear to anyone, that before us we see in this astounding prophecy the clear and living picture of everything happening in the world now?
Completely vain and totally unsubstantiated are the efforts of some, when they attempt to persuade us that "it was always like that" and that "there is nothing new in this." Of course there has always been sin and lawlessness, but never before in the history of Christian mankind did all of this ever assume such monstrous proportions as in our current times; people have always sinned, but never before did they sin so brazenly, so visibly, openly, and insolently, without even a hint of repentance, as in our times.
It is also significant that everything that is mentioned in this prophecy has acquired such an unusually immense scale only during the last century, precisely from the time when Orthodox Russia collapsed with the "one who restrains" at the helm, who, according to the words of our spiritual luminary, the holy righteous St. John of Kronstadt, "restrained the agitation of anarchy and the ridiculous teaching of atheists, and would not permit the Antichrist to appear."
Now there is no longer anyone to counteract the coming of the Antichrist, and therefore it is quite natural to expect his coming and enthronement in the world which has completely become immersed in sin and iniquity. Not only is there no one to counteract the coming of the Antichrist, but even to the contrary, very many have now joined the most intense work in preparation for his imminent enthronement, not excluding (as horrifying as it is to say) certain Christian clergymen, even including top hierarchs of the Church, who are collaborating with the godless ones and the open and covert enemies of our Lord and Saviour, being involved in all sorts of negotiations with them, entering into various compromises and concluding all types of agreements which often border on betrayal of our holy faith and Church.
The "apostasy" or "falling away" which the Word of God foretold through the Holy Apostle Paul (II Thess. 2) is currently in full swing, and woe unto the person who does not see this, or more precisely, does not wish to see, and because of unforgivable thoughtlessness people close their eyes to everything that is happening in the world, and pacifying themselves and others they say "there is nothing unusual," that "all of this is normal and natural." But we must not forget that the Antichrist and his servants are not at all interested in there being too much talk and open pronouncements about his coming and becoming ruler: for he will come in the capacity of a supreme benefactor of mankind, a benefactor and even protector of the faith and the Church, and he will expect overall recognition and the subordination of all nations. From the predictions of the holy fathers we know that not only will those who are total non-believers accept and submit to the Antichrist, but also seemingly the faithful and even Christian clergy, including those who hold the highest of office, will be beguiled by him.
So can it be that the time for the appearance of the Antichrist has really come?
We are not making this assertion.
We speak only about the fact that the breathing of the spirit of the Antichrist is so clearly sensed in the world now, just as if his appearance is already "close and at the door," as is the expression of Christ the Saviour Who gave us numerous signs of when the end is near.
Also most importantly we wish to warn everyone against being beguiled by that spirit of Antichrist. To dismiss thoughts on the coming of the Antichrist is precisely in his interests, and this is very dangerous. Such a person is already halfway in his hands and of course will pay homage to him when he comes.
But what should we make of the predictions on the resurrection of Russia still to come and the victory of Orthodoxy there and seemingly almost in the entire world?
Of course all of us would very much wish to see our native land Russia resurrected to a new life and to participate in the universal victory of our holy faith. That goes without saying! But such an indescribable mercy from God must be earned. This will not happen just by chance. Furthermore, it is imperative to know that all prophecies are always conditional and not at all unconditional. For even Prophet Jonah was ordered by God Himself and predicted the fall and ruin of the great city of Nineveh, but this prediction did not come to pass: Nineveh was not destroyed; the Lord spared it because of the en masse repentance of its inhabitants, beginning with the king himself.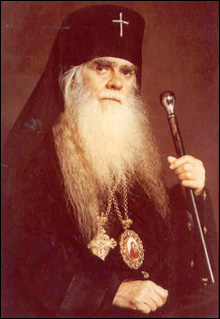 We must view the contemporary state of the world as follows: God's sword of chastisement has already been raised over the world, but it may still be set aside, if in the world there will be that "overall moral purification, a deep repentance of all nations, and the replacement of pagan morals by Christian ones," toward which our marvelous pastor and wonderworker, the holy righteous St. John of Kronstadt exhorted the Russian people in his days, but alas in vain.
"Without repentance there is no salvation." This sacred truth is well-known by each genuine Christian; therefore, to hope for some kind of "extension" for the salvation and renaissance of Russia and the entire world without repentance is unjustified. The holy righteous John of Kronstadt said: "If the Russian people do not repent, the end of the world is near." This is why we must all now be thinking primarily about repentance, putting everything else far off to the side – all of our vain cares, plans, and ideas.
But is there such repentance in our contemporary world, such an overall turning to God by everyone, which alone is able to deflect the chastising hand of God away from mankind immersed in its plunging moral fall?
For now this is not to be seen. Given the contemporary circumstances in which we are now living, the above prophecy of St. Nilus the Myrrh-streaming remains in full force, with all ensuing repercussions. "Watch therefore!", Christ the Saviour commanded us, "for in such an hour as ye think not the Son of man cometh" (Matt. 24:44).
(To be continued)
SPIRITUAL POETRY
SPRING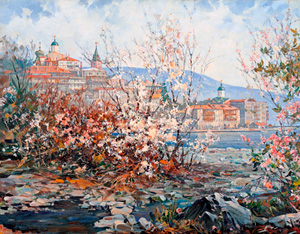 It's barely March, and yet the snow
Is melting now, baring the ground.
I listen to the merry flow
Of springtime waters with great joy.
The streams have broken up the ice,
The rooks have come back to their nests…
Another two-three weeks will pass –
The world will bloom, enlivened again.
Caress the ground, o wondrous sun,
With thy life-giving and warm rays,
And with spring's fairy tale refresh
The dour deadness of the fields!
It's time for my benumbed soul
To wake up from its winter sleep:
O, give me light and goodness, spring,
To combat darkness and live on!
– K. R.
– Translated by Natalia Sheniloff