SYNAXIS OF THE HOLY ARCHANGEL MICHAEL
AND THE OTHER BODILESS POWERS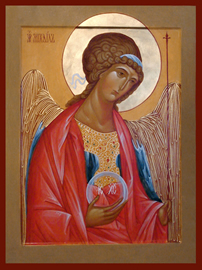 The synaxis of the holy Archangel Michael and the other bodiless powers, commemorated on November 21st (the 8th by the old calendar), is the major feast in honor of the holy angels, and was already celebrated in the 4th century as an established holiday.
According to tradition, Satan, formerly the brightest of all the heavenly spirits created by God, and usually called Lucifer or lightbearer, but who became filled with self-love, pride and evil, – fell from his archangelic power and lured away a multitude of other spirits. Then the Archangel Michael, as God's faithful servant, assembled the entire angelic host that had not been enticed by the ruinous example of satanic pride, and said: "Let us attend and stand aright before our Creator, and let us bear no ill towards Him." Appealing thus to the entire angelic host, he began to glorify the Most-holy, One-in-Essence, Indivisible Trinity – the One God, triumphantly singing: holy, holy, holy, Lord God of Sabaoth. Such an assembly of holy angels is called a "synaxis of the angels," and expresses attentiveness, like-mindedness, concord, unity. The words of the angels' declaration – "Who is like God?" – mean MI-CHA-EL in ancient Hebrew, and have become the name of the greatest of the angels who had remained on the side of good, – the celestial warrior and the leader of the angelic host – the Archangel Michael.
The Archangel Michael is mentioned several times in the Holy Scriptures. Besides the Archangel Michael, the names of several other archangels are known to us from the Scriptures.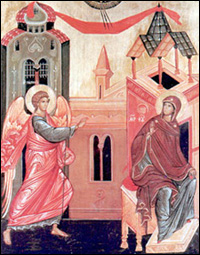 We know the Archangel Gabriel, God's messenger, who announced to the Holy Virgin Mary that She would give birth to the Saviour, and who also announced to Zacharias the birth of St. John the Baptist.
We know the Archangel Raphael, whose name means "God's healer," who is the healer of illnesses in mankind, and who is mentioned in the Book of Tobias.
We also know the Archangel Uriel, whose name means "the fire or light of God," and who has been referred to in the Book of Ezra.
We know the Archangel Salaphiel, "the one who prays to God" and who urges mankind to prayer, also mentioned in the Book of Ezra.
We know the Archangel Jegudiel, "the one who glorifies God" and who strengthens those that work for the glory of God.
We also know the Archangel Barachiel, "the blessing of God," who intercedes before God to shower His blessings upon men.
Besides these seven archangels, mentioned in the Book of Tobias, we also know the name of the Archangel Jeremiel, whose name means "the exaltation of God," who is mentioned by the Prophet Ezra, even though his position in the Heavenly Hierarchy has not been revealed to us. The above-mentioned seven Archangels are those of whom speaks the holy Archangel Raphael: "I am one of the seven holy angels who lift up the prayers of the saints and who ascend before the glory of the Holy God" (Tobias 12:15).
According to the teaching of the Holy Church, all the heavenly powers are divided into nine ranks. These nine ranks are divided into three hierarchies: higher, middle and lower.
The higher hierarchy comprises the Seraphim, Cherubim, and Thrones.
The middle hierarchy comprises the Dominions, Powers, and Authorities.
The lower hierarchy comprises the Principalities, Archangels, and Angels.
We must distinguish between the supreme archangels or celestial warriors, such as the Archangels Michael, Gabriel, Raphael and the other of the seven archangels, whom the Holy Scriptures often simply call angels, and the archangels and angels who form part of the lower heavenly hierarchy. The first ones, being among the highest seraphim, are called angels or archangels in the same sense as in military terms even the highest generals are often simply called soldiers.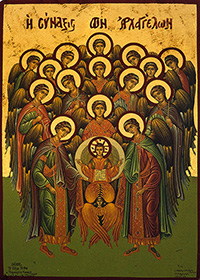 All these holy angelic ranks live one common life, helping one another in the sacred and joyous process of attaining greater and greater knowledge of God, of becoming more and more like Him. The disciple of the great Apostle Paul, Saint Dionysius the Areopagite, to whom the Lord revealed the entire angelic world, writes about it thus: "The heavenly hierarchy is established in such a way that the lesser spiritual beings receive enlightenment from the higher ones, and represent for each other a ladder of ascension to supreme perfection."
Although the establishment of this holiday dates to the 4th century, the worship of the holy angels goes back to the very beginning of Christianity, i.e. to the 1st century A.D. The Church has established the celebration of the feast of the holy Archangel Michael and all the other nine angelic ranks on November 8th for the specific reason that the month of November is the ninth month according to the Paschalion, since the Biblical year began with March 1st, and the Biblical year appeared to be the most precise, since the world began its existence in March. (In the Russian Church, up until 1343 A.D., the New Year came on March 1st). The date of the 8th has been chosen because all the time that has passed from the creation of the physical world is called the 7th day in church parlance, while the time of the angelic life that the righteous will lead after the Last Judgment will be called the 8th day. For this reason the number 8 has been regarded by the divinely-guided establishers of the holiday as being the most appropriate date for the feast of the angelic host.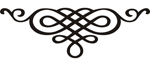 ENTRY OF THE HOLY THEOTOKOS INTO THE TEMPLE
The Entry of the Holy Theotokos into the Temple is one of the twelve major church feasts and is numbered among those that affect our salvation. What takes place on this day? The three-year-old Child, the Most-holy Virgin Mary, is brought by Her parents to the temple of Jerusalem. She is placed on the temple steps and, moved by Divine revelation, the high priest Zacharias comes out to Her and leads Her into the Holy of Holies – the place where God Himself was mysteriously present, the place which no man could ever enter except the high priest, who, moreover, went in only once a year and not without sacrificial blood. And it is precisely this place, the Holy of Holies, which the Virgin Mary enters, invisibly carrying within Herself a new, living sacrifice – the forthcoming Christ, Saviour of the world, Who will sacrifice Himself in order to deliver all men from sin and death.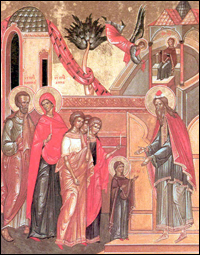 This holiday is "wondrous," as sings the Church, not finding words to express the inexpressible joy, hope, and expectation which commence with today's event. From a mysterious and grace-filled seed there will grow up a new covenant between God and man. The Saviour's most-pure, animate temple – the Most-holy Maiden, precious bridal chamber, sacred treasure of God's glory – is led into the Lord's temple. And She brings with Her the foreshadowing of God's goodwill to all of mankind, the beginning of a new covenant between God and man, the end of the many centuries of man's alienation from God, and the end of our bondage to sin. Only a brief time remains, only several more years, for the fulfillment of that which the entire humanity awaits – the appearance of God Himself in the flesh, by way of the Most-holy Virgin.
She will be brought up in God's temple – a place of holiness, purity, and the power of God. She will be nourished by Divine grace, in order to become capable of containing Divinity Itself, so that the mystery of God's incarnation could take place through Her. She must become used to conversing with the angels, in order to harken to the Archangel Gabriel's glad tidings. She must encompass God within Her heart, in order to truly become a new temple of God.
We are all familiar with the words of the Apostle Paul: "Know ye not that ye are the temple of God, and that the Spirit of God dwelleth in you? If any man defile the temple of God, him shall God destroy; for the temple of God is holy, which temple ye are." This mystery is revealed to us because we are called upon to become the temples of God, and this is the reason for today's celebration.
Today's feast reminds us of the unique significance of man-made temples (i.e. churches). Let us ponder today: what is a church of God? When we come here today to celebrate the feast, we not only participate in wondrous hymn-singing, but we touch upon eternity, which is always present in a church of God. And nothing else in life makes sense except in the light of eternity. We should ponder this and repent of how often we remain deaf and blind to these great mysteries, and reject God's gifts.
The Church cannot save us by itself. For our salvation we must actively participate in church life. The Lord calls upon us today to think of this, and to see the sinful condition in which each one of us lives. The Lord continues to await our repentance. He continues to patiently tolerate our detrimental lack of faith, and continuously wishes to enfold us within His grace, in order that we may be saved from the terrible misfortunes that are coming upon the world.
And we know that the Most-holy Virgin Mary, Mother of the suffering mankind that is being destroyed by its sins, will surely intercede for all those who appeal to Her with faith and love, and who offer their lives unto Her.
Let us thank God that our churches are still standing, and that the Lord and the Mother of God are present in them along with us. We magnify Thee, O Most-holy Virgin, God-chosen Maiden, and we honor Thine Entry into the Temple of the Lord.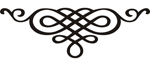 NATIVITY FAST
Now we have entered the Nativity fast, and we thank God that once again we are preparing to participate in the mystery of the coming to earth of our Saviour. In the words of St. Theophanus the Recluse, during this lent we must partake of the Blood and Body of Christ, in order to comprehend with our entire being that the Word has become flesh, and that the Lord has taken on our flesh and blood, becoming one of us.
Now, while the Church is reminding us of the necessity for fasting and prayer, it would be well to note that although the Nativity fast is not so strict in terms of external demands, it still requires a reasonable attitude towards it. First of all, we must keep this fast of course, but as Saint Isaac the Syrian says, there is a proper measure of fasting. We must understand that all church regulations should accord with the measure of each specific individual, depending on his bodily strength, age, health, and other characteristics.
St. Isaac says that inordinate fasting is more harmful than too little fasting. This refers primarily to those devotees of fasting who wish to quickly ascend to a very high degree, exhibiting outward abstinence that is, however, not counter-balanced by their inner spiritual state. Why is inordinate fasting more harmful than too little fasting? Because, says the holy one, from a state of inadequate fasting a man can still proceed to a correctly-established spiritual life, while the corruption of spirit that arises from immoderate fasting can lead to spiritual disorder which is much harder to rectify.
 Lent, being a spiritual manifestation, always bares our perception of both good and evil, and so each one of us must remember that during lent there naturally arise special temptations, and we can either draw nearer to God or become alienated from Him as a result of the increase in the temptations we suffer. Saint Sincleticia says that external fasting which does not correspond to the measure of our spiritual state is more harmful than beneficial, because it primarily incites us to vanity and a feeling of superiority over others. That is to say, external fasting alone does not bring us closer to God and other people, but, on the contrary, alienates us from them. And all the other passions – irritation, anger, and everything else that is characteristic of us, can flare up very intensely during lent.
Thus, the main thing of which the Church reminds us during lent is that when we partake of bodily abstinence, our body, which separates us from the invisible world, becomes thinner and we become more sensitive to the spiritual world. And if our heart is not purified, then, naturally, our contacts with this spiritual world are primarily connected with the evil forces. This gives rise to all the temptations and passions which only proceed to increase during lent.
Let us ponder this. From year to year we are used to fasting too externally, too formally, often focusing only on keeping to a certain dietary regimen, without adding prayer and without delving deeper into a realization of our path to Christ, a realization of the mystery which is being revealed to us during this time. Christ truly approaches each one of us; therefore, let us realize that the worst thing that can happen to us is for us to be spiritually lukewarm, to be observing only a formal and external fast. Let us try to deepen our fast from the very beginning (and not only at the end), drawing nearer to Christ not only through the reading of the Holy Scriptures, not only through the reading of prayers and a more frequent attendance of church services (although all of it is essential and necessary), but specifically through a communion with the most important thing that there is in Christ – His love, His unity with the suffering and fate of each individual, so that the mystery of Christ's incarnation would become a living experience for us during this lent. Amen.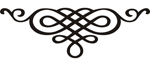 CHRISTIAN TEACHING
On seeking the Heavenly Realm
Seek ye first the kingdom of God and His righteousness, and all these things shall be added unto you. How should we, first of all, seek the kingdom of God? In the following manner: let us suppose that you wish to travel somewhere on some earthly, temporal need, – before starting out, pray to God to set straight the paths of your heart, and after that your forthcoming physical journey, or to direct the path of your life in accordance with His commandments, and wish it with all your heart, and renew such a prayer as often as possible. Seeing your sincere desire and attempt to walk in His commandments, the Lord will gradually set straight all your paths.
Furthermore, if you wish to have fresh air in your rooms, or if you go out for a breath of fresh air, think of pure and impure hearts. Many of us are keen on freshening the air in our abodes (and that is very proper) or taking walks out in the air, but do not think of the need for having a pure soul or heart (spiritual air, the breath of life) and, living in fresh air, allow ourselves impure thoughts, impure movements of the heart, or even foul language and foul deeds.
If you are seeking physical light, – think of the spiritual light which is necessary to the soul and without which it remains in the darkness of passions, in the darkness of spiritual death. I am come as a light into the world, – says the Lord, – that whosoever believeth on Me should not abide in darkness.
If you see or hear the severity or wailing of a storm, or read about shipwrecks, think of the tempest of human passions, which raise up a daily wailing and perturbation in human hearts, which shipwreck individual souls or human society in general, and earnestly pray to the Lord to calm the tempest of sins, as with His word He once calmed the storm on the sea of Galilee, and to eradicate our passions from our hearts and renew in them requisite silence.
If you experience hunger or thirst, and you wish to eat or drink, think of the hunger and thirst of your soul (it is thirsting for the truth, for justification in Jesus Christ, for sanctification), which, if you do not satisfy them, will cause your soul to die from hunger, oppressed by passions, weakened, tormented, and as you satisfy your physical hunger, be primarily concerned with satisfying your spiritual hunger by means of conversation with God (prayer), sincere repentance of sins, reading of the Gospel, and especially partaking of the divine Mysteries of the body and blood of Christ.
If you love to dress up, or while dressing yourself, think of the incorruptible garment of truth in which our soul should be attired, or of Jesus Christ, Who is our spiritual garment, as it is said: As many of you as have been baptized into Christ, have put on Christ. Passion for dandyism often completely pushes out of our hearts even the very thought of the incorruptible garment of the soul, and turns our entire life into a vain pursuit of elegance in dress.
If you are a student of some institute of learning, or an official of some ministry, or an officer in some military unit, or a technician, artist, sculptor, merchant, or a manager of a shop, – remember that we must first of all learn how to be true Christians, sincerely believe in the triune God, converse with God daily through prayer, participate in the divine services, follow the rules and regulations of the Church, and before doing anything, while we are doing anything, and after doing anything, – we must bear Christ's name in our hearts, for He is our light, our strength, our sanctity, our support.
(From the spiritual diary of St. John of Kronstadt, "My Life in Christ.")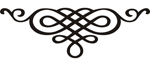 ST. JOHN OF KRONSTADT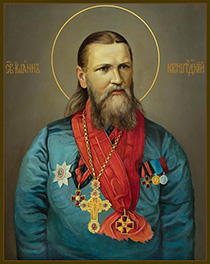 In her canonization and glorification of St. John of Kronstadt, the Russian Orthodox Church Abroad not only confirms for her own faithful the sanctity of their beloved and venerated pastor and father, but now holds up his holy example of a life in Christ for the whole world to see. Up to this time, one might say, he had belonged to the Orthodox Russian people. Few outside of faithful Russians were aware of the last flowering of Holy Russia, of the profoundest Orthodox spirituality that occurred just before the Revolution; St John was the most fragrant blossom of this flowering. In his life of asceticism and constant prayer, in the spiritual care he devoted to the thousands and millions of Orthodox believers who comprised his flock, and above all in the untold miracles he worked during his own lifetime and after his death, miracles which continue to the present day, – St. John is revealed to be beyond doubt one of the greatest of Russian and, indeed, of all Orthodox Saints.
This great Saint has had a special role to play in the life of the Orthodox Russian people. He was a prophet who foresaw the fall of the Russian Empire and the exile of the Russian faithful. Seeing the spiritual cause of this fall in the worldliness and lack of living faith that were so widespread in the last days of the Empire, he called Orthodox faithful to repentance and renewed awareness of their Christian vocation and responsibility. His appeal is still heard today, and if the Orthodox Russian people dispersed in exile throughout the world are still faithful to Holy Orthodoxy – even if only a small remnant – it is in part due to his still-living example and his holy prayers.
But now St. John, while remaining the spiritual patron of the suffering Russian people, has become a Saint of the universal Orthodox Church of Christ. It is no accident that his canonization has taken place outside of Russia, in the still free world into which he foresaw that the Russian people would be sent, and in which Orthodox churches would be erected, as a testimony of Christian Truth before a world that is, despite its pretensions, unbelieving. To this unbelieving world, in all the languages in which his words have been and will yet be translated, he now speaks the same message that he spoke to the Russian people in his own lifetime. This world, with its imposing outward structure that makes it seem to some so secure, is actually tottering, its foundation rotting away from the self-love and unbelief with which it is filled. Its fall is at hand, and the same godless beast that once swallowed the holy Russian land now stands ready to devour the rest of the world and complete his aim to exterminate the last Christians and lead apostate humanity in its worship of Antichrist.
This, perhaps, is what lies before us if we do not return to the path of a righteous Christian life. There are some who would consider such thoughts of the imminent Second Coming of Christ and the terrible Last Judgment, of which St. John constantly reminded us, to be too "negative." But if his warnings were correct, then we have to fill our hearts not with fear and terror, but with tearful repentance, with zeal to lead a truly Christian life, and with fervent hope of attaining the Kingdom of Heaven, which is our true home.
It is to nothing but a genuine and profound Christian faith that St. John calls us. In an age when too many pastors preach a "new Christianity" that is only worldliness in disguise, his is a rare and much-needed voice – not for Russians alone, not for Orthodox Christians alone, but for the whole world, if it will but listen.
O holy Saint of Christ, John of Kronstadt, pray to God for us!
LACK OF FAITH VS. GOD'S PROVIDENCE
None of our own attempts and efforts can save us without the help of God, but neither can God's help be beneficial to us without our own wish for it. No other subject was brought up by the Lord to His disciples so frequently as lack of faith. He warned everyone against lack of faith not only by His words, but also by the multitude of events which amazingly proved the power of faith and the powerlessness of mistrust or doubt in God's protection and salvation from danger. Lack of faith comes in different forms: some people have little faith in God because He does not punish His enemies; others doubt they would be able to entreat God to grant them their desires, especially when their conscience bothers them with the thought that God will not forgive them their sins; still others fear that God will deprive them of all earthly goods and subsistence. This triple manifestation of lack of faith estranges many people from God and immerses them in various forms of perdition.
The source of our lack of faith is our excessive conceit, i.e. when we think more of ourselves than of God, rely more on our own powers than on God's help. What is the reason for God allowing the destruction of such a great number of people, who are injured or killed through sorcery? It is not surprising: lack of faith has become so widespread among the people that it merits punishment. Many do not look for other doctors except sorcerers (extrasensorics), nor other pharmaceuticals except deviltry. God justly punishes us by the same means that we use to sin against Him. As our faith and hope in God increase, so increase His mercy and benevolence to us. But woe unto us, that there are so few of us who believe in God with all their heart! If we analyze human customs and habits, we will see that in all places and at all times lack of faith becomes prominent and widespread, which gives rise to empty and false fears. People often fear a shortage of food supplies; sometimes they fear that they will lack necessary items during an illness; at times they fall into despair over ever-growing rumors of war. All of this occurs because they have an erroneous and doubtful understanding of God's benevolence and His omnipotent strength: this is also the cause of our mind's poor and sad concern over temporal things, as opposed to a concern for achieving a blessed eternal life.
God's Providence manifests itself with the greatest wisdom: not every transgression is normally punished straightaway however, neither is it left totally unpunished. If God never punished vileness, many people would think that there is no Providence. On the other hand, if every transgression were immediately followed by punishment, it would then be thought that there is no reward or punishment after death. Therefore God, by punishing only some people, reveals His Providence; by not punishing others directly after their transgressions, He threatens them with punishment directly after death, in the next life, if they do not repent in this life. Everything is done by God with great wisdom and forethought.
In a like manner, all the contradictory manifestations that we come across in our lives, are all wisely directed by God's Providence; all earthly misfortunes are transformed by God into a benefit and advantage for us; even sinful transgressions are tolerated in order to bring us to our senses, and to achieve our salvation through repentance. For to do good deeds and to tolerate heinous ones is characteristic exclusively of divine Providence, since God would never allow the existence of evil were He not as mighty and good as to produce good consequences from all evil deeds.
God's Providence is concealed from us, unfathomable to us, but it comprises an all-encompassing order for ruling the world rationally and justly. We are usually quite observant of the external order of universal and particular events; however, the wondrous and wise Providence of God, which activates the cosmic mechanism and preserves and directs its activity, is hidden from us, and we cannot see it. It is for this reason that many people, seeing a contradiction – from a human point of view – in the well-being of bad persons and the tribulations of good ones, assert that God's Providence does not exist, but that everything occurs through man's will and reason, or through blind luck or misfortune. However, all these things are seen and understood quite differently by those who believe in the great wisdom of God and in His Providence, which directs everything to the good. If, seeing how God-fearing people are often humiliated and insulted, while heinous scoundrels prosper, we think that Providence is sleeping, this is because we are looking upon only one side of God's Providence, while the other side is hidden from us because of our narrow viewpoint, which is unable to extend itself to fully encompass God's destinies. Only in the second coming of Christ will we learn of God's just judgment of everyone and everything.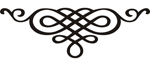 LIVES OF THE SAINTS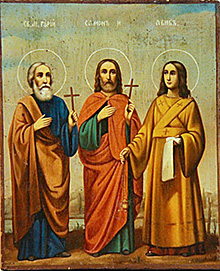 On November 28th (the 15th by the old calendar) the Church commemorates the holy martyrs and confessors Gurias, Samonas, and Abibus.
At the end of the 3rd century A.D., there lived near the city of Edessa two righteous men, Gurias and Samonas, who not only led virtuous lives themselves, but helped convert many pagans to Christianity. At that time the Roman Emperors Diocletian and Maximian began to cruelly persecute all Christians. Saints Gurias and Samonas were also seized in Edessa and tortured. But the martyrs firmly confessed their faith in Christ and were thrown into a dank prison, where they spent three months in cruel suffering. Afterwards they were tortured once again and then beheaded. Their holy relics were buried with honor by the faithful.
A considerable number of years later, the iniquitous King Lycinius, having separated from Emperor Constantine the Great, initiated a new persecution of Christians in Nicomedia, to which the Christians of Edessa were also subjected. At that time there lived in Edessa, where formerly were martyred Saints Gurias and Samonas, a certain pious deacon by the name of Abibus, who by means of his courageous confession strengthened his fellow Christians in faith and converted pagans to Christianity. Saint Abibus was also subjected to cruel tortures, and afterwards burned at the stake. His honorable body was buried together with Saints Gurias and Samonas, since Saint Abibus was martyred on the very same day (although many years later). Many miracles were wrought by the relics of the holy martyrs, while one of these miracles has led them to be regarded as the patrons of virtuous and chaste marriages.
At one time Edessa was besieged by a barbaric people who had come from Persia. The Greek kings sent their troops to help Edessa, and these troops were stationed in Edessa for a long time, defending the city from the barbarians. Among the Greek troops there was a certain soldier, a Goth by origin. It so happened that he was quartered in the home of a certain pious widow, who had an only daughter, the beautiful Euphemia. The widow concealed her daughter from male eyes, but the Goth once saw Euphemia, was seized with passion for her, and began to demand that the widow give her daughter to him in marriage, although in his homeland he already had a wife and children, but he concealed this fact.
For a long time the widow resisted the demands of the Goth, but he threatened her with all manner of repressions if she did not give him her daughter. Finally the poor widow was forced to agree, and gave her daughter to the Goth in marriage. For a little while they all lived peacefully. Soon Euphemia conceived a child, but before the time came for her to give birth, the barbarians retreated from the city, and the Greek troops prepared to return to their homeland. The Goth also began making preparations for his return, intending to take Euphemia along with him as his lawful wife. The widow cried over her impending separation from her beloved daughter, and on the eve of departure she brought Euphemia and the Goth to the church that had been built in honor of Saints Gurias, Samonas, and Abibus, and forced the Goth to swear on their relics that he would not harm Euphemia in any way, but would cherish and protect her. The shameless Goth swore such an oath fearlessly. Then the widow prayed to the holy martyrs and gave her daughter into their keeping.
When Euphemia and the Goth reached his homeland, he took off her rich clothes and attired her in the rags of a slave, and threatened to take her life if she revealed to his wife her true situation. Euphemia tearfully prayed in secret to the holy martyrs, and asked them to take care of her and deliver her from her misfortune. The Goth brought Euphemia into his house as a prisoner, and gave her to his wife as a slave. The Goth's wife was very jealous of Euphemia because of her beauty, and humiliated and tormented her in all possible ways. When the time came for Euphemia to give birth, she bore a boy whose face was an identical copy of his father – the Goth. The Goth's wife was livid with fury and decided to poison the infant by pouring lethal poison into his mouth at a time when Euphemia was away at work. Upon her return, Euphemia was overcome with sorrow over her dead infant, but seeing the poison dribbling from his mouth, she guessed who was responsible for his death. However, she did not say anything to anyone, but several days later, when she was ordered to serve at the table during a guest reception, she secretly dipped into her mistress's cup a strand of wool with which she had previously wiped away the poison dribbling from her dead infant's mouth. The Goth's wife drank the poisoned beverage and died that same night. Her relatives, suspecting Euphemia of being guilty of the death, decided to bury Euphemia alive together with her mistress. After opening up the deceased's coffin, they forcibly put Euphemia in with the corpse, which was emitting a most putrid odor and teeming with worms.
Finding herself in such horrendous circumstances, Euphemia turned to the Lord with fervent prayer, asking Him to deliver her by the intercession of the holy martyrs Gurias, Samonas, and Abibus. Suddenly three shining men appeared before her, radiant as the sun, at whose appearance the putrid odor was replaced by wonderful fragrance. These were the holy martyrs themselves, who promised her quick deliverance. While listening to them, Euphemia fell into a sweet sleep, and was miraculously and instantaneously transported to Edessa and placed upon the casket with the relics of the holy martyrs. At that moment the usual morning service was going on in the church. Arising from her sleep, Euphemia once again saw the holy martyrs, who said to her: "Rejoice, daughter, and recognize your surroundings; we have fulfilled our promise; now go in peace to your mother." The saints then became invisible, while Euphemia joyously began to tell everyone who was in church, and later all her relatives and compatriots, about the miracle that had happened to her. And all the people glorified God and His saints.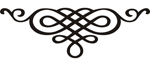 UNBELIEVABLE FOR MANY, BUT ACTUALLY A TRUE OCCURRENCE
(Continuation)
XVIII.
It had grown dark already, and the snow was silently falling in large flakes. I saw this, but I did not feel the cold and the general difference in temperature between the room and the outside. Evidently these phenomena had lost their significance for my changed body. Quickly we began to ascend, and the higher we ascended, the increasingly greater became the expanse of space that was revealed before our eyes, until finally it took on such terrifyingly vast proportions, that I was seized with fear at the realization of my insignificance in comparison to this desert of infinity. Here also certain peculiarities of my vision became apparent to me. First of all, it was dark, yet I saw everything clearly in the dark; consequently, my vision received the capability of seeing in the dark. Secondly, I was able to include within the field of my vision such a vast expanse of space, which undoubtedly I would not have been able to do with my ordinary vision. And at that time I was not conscious of these peculiarities, but only of the fact that I did not see everything there was to see, that no matter how broad the field of my vision was, nevertheless it still had a limit, – this I understood very clearly and was terrified by it. I recognized myself to be so very unimportant, a meaningless atom, the appearance and disappearance of which would of course remain unnoticed in this limitless space, but instead of finding some kind of consolation in this, a kind of security, I became frightened… that I could get lost, that this unbounded vastness would swallow me up like a sorry particle of dust.
XIX.
The conception of time was absent in my mental state at that time, and I do not know how long we were moving upwards, when suddenly there was heard at first an indistinct noise, and following this, having emerged from somewhere, with shrieks and rowdy laughter a throng of some hideous beings rapidly began to approach us.
"Evil spirits!" – I suddenly realized, and made this determination with an unusual rapidity which resulted from the horror I experienced at that time, a special kind of horror which I had never experienced until then. Evil spirits! O, how much irony, how much of the most sincere laughter this would have aroused in me but a few days ago. Even a few hours ago, somebody's report of not only having seen evil spirits with his own eyes, but simply believing in their existence as a reality, would have aroused a similar reaction in me! As was proper for an "educated" man at the close of the 19th century, I understood this to mean foolish inclinations and passions in a human being, and that is why the word itself did not have the significance of a name for me, but of a term which defined a certain abstract concept. And suddenly this "certain abstract concept" appeared before me as a living personification! Even now I am unable to say how or why, without the slightest doubt, I had at that time recognized evil spirits to be present in that ugly sight. Undoubtedly because such a designation of it was completely outside the normal order of things and logic, for if a similar hideous sight appeared before me at any other time, I would necessarily have said that it was some kind of fiction personified, an abnormal caprice of one's imagination, – in short, I would have called it everything else except a name which referred to something that could not be seen. But at that time, such a designation of the nature of the sight took place so rapidly, that it seemed there was no need to think about it at all, as though I had seen something which was already well-known to me for a long time, and since, as I have already explained, my mental capacities were then functioning with such incomprehensible rapidity, I realized just as rapidly that the ugly outward appearance of these beings was not their real exterior, but that this was some kind of abominable show that was probably conceived for the purpose of frightening me to an even greater degree, and for a moment something akin to human pride stirred in me. I then felt ashamed for myself and for mankind in general, that in order to arouse fear in man, a being who thinks so much of himself, other forms of being have recourse to methods which we ourselves use with respect to small children.
Having surrounded us on all sides, with shrieks and rowdy sounds the evil spirits demanded that I be handed over to them; they somehow tried to seize and tear me away from the angels, but evidently did not dare to do so. In the midst of their rowdy howling, unimaginable and just as repugnant to one's hearing as their sight was for my eyes, I sometimes caught words and whole phrases.
- He is ours, he has renounced God, – they suddenly cried out in unison, and here they lunged at us with such boldness, that for a moment fear froze the flow of thoughts in my mind.
"That is a lie! That is untrue!" – I wanted to shout, coming to myself, but an obliging memory bound my tongue. In some way unknown to me, I suddenly recalled such a slight, insignificant occurrence, which additionally was related to such a remote period of my youth that, it seems, in no way could I have been able to recall it to my mind.
XX.
I remembered how during my student years, having once gathered at my friend's place, and after having spoken about school studies, we passed over to a discussion of various abstract and elevated topics, – conversations which were often carried on by us.
- Generally speaking, I don't like abstractions, – said one of my comrades, – but here you already have an absolute impossibility. I am able to believe in some kind of power of nature, which, let us say, has not yet been investigated. That is to say, I can allow for its existence, even when not seeing its clear-cut, definite manifestations, because it may be very insignificant, or combined in its effects with other powers, and for this reason difficult to grasp; but to believe in God as a Being, individual and omnipotent, to believe – when nowhere do I see clear manifestations of this Individuality, – this already becomes absurd. I am told: believe. But why must I believe, when I am equally able to believe that there is no God. Why, is it not true? Is it also possible that He does not exist? – and now my comrade turned to me for support.
- Maybe not, – I let escape from my lips.
These words were in the full sense of the word an "idle statement"; the unreasonable talk of my friend could not have aroused in me any doubt in the existence of God. I did not particularly listen to his talk, – and now it turned out that this idle statement of mine did not disappear without leaving a trace; I had to justify myself, defend myself from the accusation that was directed against me, and thus the words of the New Testament were verified in practice: we really shall have to give an account of all our idle words, if not by the will of God, Who sees the secrets of men's hearts, then by the anger of the enemy of our salvation.
This accusation was evidently the strongest argument that the evil spirits had for my damnation, they seemed to derive new strength from it for their daring attacks on me, and now, with furious bellowing they spun about us, impeding our further progression.
I recalled a prayer and began praying, appealing for help to those holy ones whose names I knew and whose names came to mind. But this did not frighten my enemies. A sad ignorant, Christian only in name, I now for the first time in my life remembered Her Who is called the Intercessor for Christians.
Evidently my appeal to Her was so intense, evidently my soul was filled with such terror, that hardly had I remembered and pronounced Her name, when some kind of white mist suddenly appeared around us, and soon began to enfold within itself the ugly throng of evil spirits. It concealed them from my eyes before they could withdraw from us. Their bellowing and cackling was still heard for a long time, but as it gradually weakened in intensity and became more dull, I was able to judge that the terrible pursuit was slowly being left behind.
XXI.
The feeling of fear that I was experiencing took hold of me so completely, that I was not even conscious of whether we had been continuing our flight during this terrible meeting, or whether it had stopped us for a while. I realized that we were moving, that we were continuing to move upward only when the infinite expanse of space once again spread before me.
After passing through some of its distance, I saw a bright light above me, which resembled, as it seemed to me, our sunlight, but was much more intense. Evidently there was some kind of kingdom of light here.
"Yes, namely a kingdom, full of the power of light" – thought I, guessing by means of a special kind of intuition not yet understood by me, – because there was no shade with this light. "But how can there be light without shade?" – thus immediately my perplexed conceptions made their appearance.
And suddenly we were quickly carried into this field of light, and it literally blinded me. I shut my eyes, brought my hands up to my face, but this did not help, since my hands did not provide any shade. And what did such protection mean here anyway?
"My God, what is this, what kind of light is this? Why, it is like regular darkness for me! I cannot look, and just as in the dark, I cannot see anything" – I implored, comparing my earthly vision to that of my present state, and forgetting, or perhaps not even realizing, that now such a comparison was of no use here, that now I could see even in the dark.
This inability to see, to look, increased my fear of the unknown, which was natural for me in view of finding myself in a world totally unknown to me, and I thought with alarm: "What will come next? Shall we soon pass this sphere of light, and is there a limit to it, an end to it?"
But something quite different happened then. Majestically, without wrath, but authoritatively and firmly, the words resounded from above: – Not ready!
And after that… our rapid flight upward came to an immediate stop, and we quickly began to descend.
But before we left this realm, I was granted the ability to learn of a certain most wonderful phenomenon.
Hardly had the words resounded from above, when everything in that world, it seems, each particle of dust, each minutest atom responded to these words with their accord, as though a multimillion echo repeated them in a tongue unable to be understood through the sense of hearing, but perceived and understood by the heart and mind, expressing its unison with the decision so decreed. And in this unity of will there was such wonderful harmony, and in this harmony so much inexpressible and exalted joy, before which all our earthly charms and raptures appeared like a gloomy day without sunlight. This multimillion echo resounded in the form of an inimitable musical chord, and one's entire soul extended out towards it, wholly responding to it in a state devoid of any cares, and in an ardent transport of zeal to be at one with this omnipresent and most wonderful harmony.
XXII.
I did not understand the real sense of the words that were directed towards me; that is to say, I did not understand that I had to return to earth and once again live just as before. I thought that I was being carried to some other different parts, and a feeling of timid protest stirred within me when, at first hazily as in a morning mist, the outlines of a city appeared before me, and afterwards streets that were well-known to me also became clearly visible.
At this point I saw the building of the hospital which was familiar to me. In the same exact manner as before, through the walls of the building and through closed doors, I was carried into a room that was completely unknown to me: in this room stood a row of tables coated with dark paint, and on one of them, covered over with something white, I saw myself lying, or more correctly, my stiff, dead body.
Not far from my table a gray-haired small old man in a brown jacket, moving a bent wax candle along lines of large type, stood reading the Psalter, and on the other side, on a black bench that stood against the wall, sat my sister, who had evidently been notified of my death and had already arrived, and beside her, bent over her and quietly saying something – stood her husband.
- Have you heard God's decision? – leading me up to the table, my guardian angel, who hitherto had not spoken, addressed me, and pointing with his hand to my dead body, said: "Enter and prepare yourself."
And following this, both angels became invisible.
(To be concluded)
(Reprinted from"Orthodox Russia," Nо.4, 1976)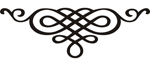 SPIRITUAL POETRY
BEFORE AN ICON OF THE MOTHER OF GOD
O, Queen of heaven and the earth,

O, Comforter of the grieving!

Hear Thou the anguished prayers of sinners,

In Thee are hope and our salvation!

We are bogged down in evil passions,

We wander in the dark of vice,

But – our Homeland!... O, upon it

Do Thou incline Thy all-seeing gaze!

O, Holy Russia! Thy bright Home

Is on the edge of annihilation!

To Thee, Protectress, we call out,

We know none other for salvation!

Do not abandon Thy poor children,

O, Comforter of the grieving!

Do not Thou turn away Thine eyes

From our sufferings and anguish!

  – N.K.

  – Translated by Natalia Sheniloff