(From Metropolitan Vitaly Oustinow's letters)
During His life on earth, our Lord Jesus Christ created His Church and to it alone, not to any people or nation, He promised invincibility and indestructibility to the very end of this earth's existence. Everything of which you write, all that is happening in Russia and in the entire world, – all is complete vanity.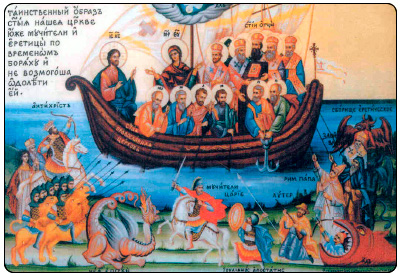 The Saviour's words are precise and clear: "The gates of hell will never prevail" over the Church He had created. With these words the Lord also indicates to us that the purpose of our entire life on earth is to remain within this Church. For this reason the Church is often likened to a ship sailing upon the turbulent sea of life. Raging waves beat against the ship, striking against its sides, because of which the ship sometimes shudders from such an onslaught, while underwater reefs are ready to destroy the ship and sink it. However, the ship's Helmsman is the Lord God Himself, which guarantees the Church's invincibility. But if we pay constant attention to what is happening in the sea of life, we can become terrified, lose our faith, and fall into total despair, not understanding what is what, who goes where, and why. There are tempests there, endless wars, unrest, disturbances, sleepless nights, groundless anxiety, unfounded suspicion of everyone and everything. And from such a spiritual state our body, too, begins to act accordingly: some have high blood pressure, others have increased stomach acidity with all its consequences, including ulcers and even cancer, while still others have diabetes or arthritis, etc. All kinds of things happen to us then, because there is amazing unity in the human nature. If the soul is agitated for any length of time, you are then soon faced with some kind of illness. This does not mean that church-oriented people, the believers, those who are on Christ's ship, are never sick – not at all! They likewise become ill, but they bear their illnesses without agitation of the soul, without grumbling, with patience, as a result of which they become even more enlightened and filled with wisdom; they accept their illness as their due, they agree with the misfortune visited upon them, always bearing in mind that Christ their Saviour had suffered innocently as no one else, and they therefore follow His path.
Thus, the entire purpose of life on earth is to be within the Church, but the Church is not an organization, not a society, although to some extent it has that appearance on earth in the form of a parish, a church, external rites. The Church represents a new existence, a new life in Christ, which turns a person who has become a member of this Church into a new being, different from those around him, someone alien to the majority. Such a person does not judge those who surround him and do not live as he does. He is like a guardian of God's mystery, of the grace of the Holy Spirit, which he is terribly fearful of losing, and which he knows he can lose only by committing sin. Sin is every kind of iniquity, everything that is done against the will of God, which the Lord revealed to us in the Holy Scriptures, through the Holy Church Fathers, and through His saints.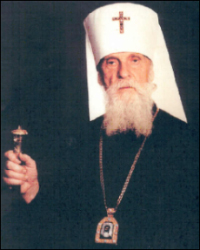 In order to enter this divine organism – the Church – one must, first of all, be baptized and become part of its sacramental, mysterious, and prayerful life. But do not think that a true Christian is an inert being, a dreamer. Even though a Christian lives his own spiritual life here, he shares with the entire pagan, disbelieving, and even godless world that is warring against God, all the cares of daily life, and he works honestly, conscientiously, because he works not for the sake of his boss or director, but for the sake of the Lord Himself.
Thus I have described to you the life which Russia had forsaken and to which it must return by means of repentance. No political parties, parliaments, or other efforts can help it. Through whatever door it left, through the same door it must come back.
(Reprinted from "Orthodox Russia," No. 1 for 2006.)